Securing childhood in a volatile environment
International Children's Day :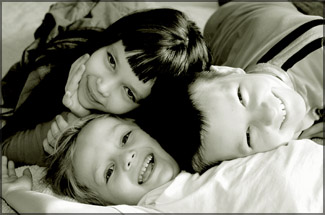 It is an undisputable fact those formative years of an individual not only determines the character of that individual but also the way in which he or she interacts with the rest of the society. Childhood has a lasting impact on casting out a personality of an individual, formation of perceptions with regard to religion, nation and the sense of community. Physiologists have proved that individuals with miserable childhood tend to demonstrate quick temper and violent behaviour as adults and would in the long run pose serious problems to the overall wellbeing of the society. Among the most notable examples for these facts is life of filmmaker Alfred Hitchcock who used to listen to horror stories in his childhood.
Though the outcome of these stories was a legendary film maker, this has not turned positive on many instances. Miserable childhood often lead to imbalance personality development and if a child is not introduced to any religion and aesthetic pursuits such as listening to music, appreciating work of art and to a sports, literature child grows out to be an individual who would indulge in anti-social behaviour such as engaging in rumor mongering, set individuals against one another. However, thousands of children's childhood in Sri Lanka has been marred by various factors such as protracted conflict in the North, large number of street children who had been used for begging and criminal activities such as drug trade and also owing to enter children into commercial sex industry.
Scourge of child combatants
Diverse armed groups and terrorists organizations worldwide indiscriminately enlist children as combatants. LTTE has brain-washed and armed hundreds of child soldiers to argument their depleting cadres, denying these children of their education and childhood. Even if the Government will be able to eradicate terrorism in months if not in week's time, rehabilitation and integrating these child combatants into mainstream society will be a daunting task.
Most of the children were born and grew up in an environment of conflict without ever seeing life other than armed conflict. It should be noted that these children will grown out to be adults and if the issue of child combatants has not been tackled effectively event at this crucial juncture, it would eventually lead to a birth of week nation. For today's children are the future citizens.
Sexually abused of children
Although it has not been estimated, a large number of boys and girls are believed to be engaged in country's flouring sex industry.
Various factors ranging from low level of education, poverty and tourism may have been contributed to situation.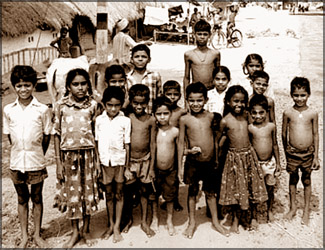 It has been a known fact that destination Sri Lanka is famous not for archaeological sites or pure history that can be traced back to 2500 years but for children. Children are being advertised through websites luring prospective pedophiles into the country. Besides, the hush-hush culture which almost tabooed sex education has prevented children even from enjoying a work of art. Although several attempts were made to introduce sex education into the curricula, they were shelved in, in response to vehement protests by cultural puritans. Lack of sex education not only lure children into watching blue films and experiments with unsafe sex at tender age but also indirectly contributed to spread of sexually transmitted diseases such as HIV. This hush-hush culture has also encouraged domestic violence against children.
Children used as domestic aids
Although the exact figure of children employed as domestic aids and workers at commercial establishments is not known, it has been observed that still considerable number of children have been engaged as domestic aids and labourers at commercial establishments. It could be concluded that vigorous public awareness campaign launched by National Children Protection Authority through media, it had yielded expected outcomes. Still the public cooperation in this regard remains minimal.
Wolves in sheep's hide
With flow of large volume of foreign aids into the country intended to help the rehabilitation of disabled children, a number of NGOs have emerged out of the hat to cash on the generosity of concerned citizens of the world. The nature of the grants is that the grants should be spent through NGOs as the donors do not rely on inefficient government's administrative machinery. Although there are genuine NGOs which really serve for the course, there are also wolves operating in the guise of institutions propagating arts and culture, claiming the therapeutic effect of drama on disabled children. These mushrooming institution operate posing off as research facilities.
They often undertake research assignments from universities and NGOs, INGOs and other structures. A fascinating feature of these bogus research entities is that they cover up their clandestine operations often hiding behind new found terminology such as 'Advocacy and Research'. It is high time that donor agencies really look into these aspects in order ensure that their hard-earned money goes into the welfare of the children.
As the world celebrates International Children's Day, it may serve as a day of reflection upon the state of children in Sri Lanka and the challenges posed by changing environment hostile to children. Ultimately it is the responsibility of all citizens to make sure a secure childhood for children in Sri Lanka and to ensure them a decent education that would fit them to face challenges of the next millennium.
***************
Global situation
Every day, on average more than 26,000 children under the age of five die around the world, mostly from preventable causes. Nearly all of them live in the developing world or, more precisely, in 60 developing countries. More than one third of these children die during the first month of life, usually at home and without access to essential health services and basic commodities that might save their lives.
Some children succumb to respiratory or diarrhoeal infections that are no longer threats in industrialized countries or to early childhood diseases that are easily prevented through vaccines, such as measles. In up to half of under-five deaths an underlying cause is under nutrition, which deprives a young child's body and mind of the nutrients needed for growth and development.
Unsafe water, poor sanitation and inadequate hygiene also contribute to child mortality and morbidity.
In 2006, the most recent year for which firm estimates are available, close to 9.7 million children died before their fifth birthday. Although the numbers have changed, the problem is no less poignant today than it was 25 years ago when the 'child survival revolution' was launched by the United Nations Children's Fund (UNICEF). The current focus of the development community in relation to child survival is Millennium Development Goal 4 (MDG4), which aims to reduce the global rate of under-five mortality by two thirds between 1990 and 2015.
Since child deaths in 1990 numbered around 13 million in absolute terms, meeting MDG4 implies that during the next seven years the number of child deaths must be cut in half - to fewer than 13,000 child deaths per day, or fewer than 5 million per year.1 The enormity of the challenge should not be underestimated.
The world will have to reduce the number of child deaths between 2008 and 2015 at a far faster rate than it has managed since 1990 (see Figure 1.6, page 7).
Moreover, the bulk of the efforts must be focused on the most difficult situations and circumstances: in the poorest countries, among the most impoverished, isolated, uneducated and marginalized districts and communities, within nations ravaged by AIDS, conflict, weak governance and chronic under investment in public health systems and physical infrastructure. (UNICEF)
**************