Work testify the author
Prolific writing of a young Sri Lankan: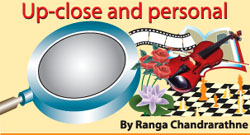 Q.Your style of writing is marked for its construction of sentences and Englishness and there is absolutely no sign of Sri Lankan English. What is the secret behind this elegant style of writing?
Lishan Perera is fourteen years old and attends Colombo International School. Early childhood, this amazingly gifted boy has proved his metal as a writer of fiction in English. He has already shown maturity in crafting plots and marked for creation of real life characters. Here is a budding writer that Sri Lanka can really be proud of. Compared with most the of writers in English in the Sri Lankan literary scene, Lishan's writings are marked for their material richness, appropriate dialogues and superb characterization which I would say second to none in comparison with established thrillers like Dan Brown's "Da Vinci Code".
Lishan writes in perfect English with idioms appropriate to the plot. His is a language bereft of Ceylonism or Sri Lankan usages in English and stands out on that account among contemporary Sri Lankan writers in English.
A.In my opinion, the secret behind this is practise. If you were to read my novels, you'd quickly realized that the standard of writing in The Killer(my debut novel) doesn't even compare to the standard of writing in Pure Evil(my third novel). With time and experience, my style of writing has gradually matured; my construction of sentences had improved and my use of vocabulary has grown more extensive.
The principal reason as to why neither The Killer, Time to Dienor Pure Evilhad absolutely no sign of Sri Lankan English is because they are based in the States and feature American characters. Hence, I didn't feel it appropriate to include tell tale signs of Sri Lankan English in them as it would take away from the authenticity of the novels.
However, my latest collection of short stories set in Sri Lanka, unlike my previous publications, is full of Sri Lankan English - and in this case I believe the Sri Lankan vocabulary I have used adds to the genuineness of the stories.
Q. How did you cultivate the habit of writing?
A. I believe my writing habit is chiefly attributed to my passion for reading. I was always a voracious reader - my parents started reading to me when I was merely a toddler and from then on the habit just stuck with me. I indulged my passions in books and read the works of many authors including Enid Blyton, Roald Dahl, R. L. Stine, J. K. Rowling and Christopher Pike. I'm in Year 10 doing my O-levels, but I still find the time to both admire and read novelists such as Anthony Horowitz, James Patterson, Sidney Sheldon, David Baldacci Jeffrey Archer, Mary Higgins Clark and Dan Brown. I am confident that it was through reading that I developed a fertile imagine, a good vocabulary and an overall passion for literature and all these helped me cultivate the habit of writing.
The first short story I ever authored was about a Rabbit Who Went To The Moon and the reason I wrote it was not because I wanted to, but because I had to. I was six years old at the time and we had been given a creative writing assignment for homework. I sat down at my desk, let my imagination run wild, put pen to paper and one hour later I was done - a three hundred word story before me. Furthermore I had thoroughly enjoyed myself writing it! From that day onwards I knew I had (I know I'm not being very modest here!) a talent and a flair for writing, and I've kept writing ever since.
Therefore, it is also very clear that I also have my school (Colombo International School) to thank for helping to nurture and cultivate my writing habit and for that I'll always be grateful.
Q. Is there a special reason behind your preference to write thrillers?
A. Well, I think the main reason I write thrillers is because I tend to read heavily in that particular genre. Most of my favourite novels of all time are crime thrillers - Deception Point by Dan Brown, The Alex Rider Series by Anthony Horowitz, The Silence of the Lambs by Thomas Harris are just a few examples.
So naturally, when the idea to author a novel entered my mind, I decided to make it a thriller - just like one of the many magnificently written thrillers that had influenced me at some point in my life.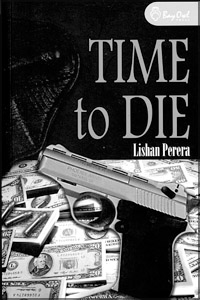 I love to both read and write thrillers for a number of reasons, namely because they are fast moving and action packed and not long winded with unnecessary details which bore the reader. I try to include as much suspense as possible in my thrillers and attempt to end each chapter with a powerful cliff hanger so that the reader will want to find out what happens and inadvertently get hooked onto the novel in the process.
Q. Who were and are the authors who influenced your literary career?
Although my preference is thrillers, I endeavour to read a wide range of literature and not stick only to novels which fall into one particular genre. Being an avid reader, I must've read hundred of different authors. However, there have been a few selected novelists who have had a lasting impact on me and greatly influence my literary career.
They are, in no particular order Anthony Horowitz, R. L. Stine, Jeffrey Archer, James Patterson, Dan Brown, J.K. Rowling, Enid Blyton, Sidney Sheldon, David Baldacci and Stephen King. These writers are masters in their own literary genres and what makes them stand out from the rest is their acute eye for even the most minute details, their rich vocabulary, their magnificently crafted plots, their unique and gripping writing styles and their ability to give their work a realistic and authentic feel to it.
It is novelists like them that influenced me to take up writing and gave me the support and willpower to keep at it even during turbulent times.
Q. Do you also read works by Sri Lankan writers in English?
A. Yes, I enjoy books by Sri Lankan writers such as Nihal de Silva, Ashok Ferrey, Brandon Ingram, Michael Ondaatje, Yasmine Gooneratne and Lal MedawattegedarA. Some of these authors are witty, others serious, some deal with light and comical topics whilst others explore darker themes such as child prostitution and civil war. However, each of them is unique in his or her own way, and this is perhaps why I love reading their works.
Q. What inspired you to write your best seller "The Killer"?
A. Did you intend to say that any person has a dark side? Once again, I think it was reading great novels by great novelists that inspired me to write my own bestseller The Killer. I had written short stories and poetry since I was six, and at the age of eleven the idea of author a novel quite literally popped into my mind. At the time it was like a dream to me and I knew it would take a lot of hard work and perseverance to make this fantasy a reality. However, my parents encouraged me to keep at it and believe it or not, within a few months I had managed to complete a first draft of the story that would ultimately become The Killer.
Although I intended The Killer to be a short, fast read and not a piece of literature which would be critically examined by experts, the book does contain a few underlying themes.
One such theme I have presented in the novel is the darker, shadier side of the human mind.
I believe that any person has a dark and dangerous side - much like William Golding believed that every human being was born with an "innate sense of evil". Most people are able to keep this dark side of theirs under control.
However, a particularly jarring event, such as the death of a loved one, can cause an individual to lose control of his or her dark side - and it is something like that which happens in The Killer.
Q. What are your works in the pipe line?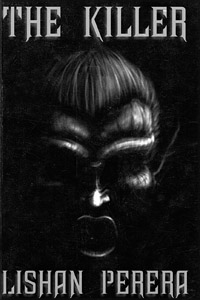 A. Having published three thriller novels which were based in America, I decided to vary my style and write a collection of short stories based in Sri Lanka, dealing with themes like the tsunami, the civil war and various other local traditions. The collection is currently being published under the title of No Second Chance and Other Stories and should be out soon (hopefully by late 2008). I am currently working on a fifth book - another collection of short stories based in Sri Lanka, which once again explores a wide range of themes.
Q. Don't you like to change the genre from thrillers to romance and pen novels that reflect life in Sri Lanka?
A. So far I haven't considered writing any romance novels, but who knows what the future has in store for me? As for penning novels that reflect life in Sri Lanka, yes, I decided to write a collection of short stories with Sri Lankan characters, revolving around life on this tropical island and I loved it! Switching genres proved to be both exciting as well as a challenge, because I had to alter my style of writing, but in the end it wasn't as difficult as I anticipated it would be.
Writing about my motherland was a new and stimulating experience for me and I sincerely hope my readers will enjoy my latest collection of short stories.
Q. What are your views on Sri Lankan writings in English?
A. I strongly believe that there are a vast number of Sri Lankan writers who are every bit as good - if not better - than world renowned British and American novelists. However, these individuals (with the exception of a few such as Michael Ondaatje Shyam Selvadurai and Romesh Gunasekera) sadly have not received worldwide fame or prestige and I think this is directly attributed to two main causes: Firstly, Sri Lanka is a LEDC, hence Sri Lankan novelists are not considered to be of great importance by many people in the western world.
Secondly, and more importantly, locals here simply do not give Sri Lankan authors a chance. Not only do they choose international bestselling writers over local novelists, but they go as far as running down and discriminating Sri Lankan authors who write in English. How can Sri Lankan novelists achieve worldwide fame if they aren't even read in their own country?
Q. What is the kind of advice that you can give to budding writers in English?
A. Read, read, read. And write, write, write. These are the two most important things any writer, budding or published, young or old, renowned or unknown can do. By reading you will widen your imagination, improve your vocabulary and have a better command of the English language. Writing will help you develop, improve and master your literary skills. After all practise makes perfect.
Secondly, don't be discouraged. Even if the whole world puts you down, if you believe in yourself anything is possible. When I started writing, people often laughed at me because of my age. But I ignored them, kept on working hard and achieved my goal.
No matter who you are, you have the right to write. No one can stop you. Have faith in yourself and you'll achieve success!
Q. "Time to die "is, perhaps, one of the exhilarating thrillers or horror stories which was entirely based on USA. When you detailed on air planes and their operations, did you study them before hand. However, readers would like the central theme of your novels that no one could escape from the wheel of justice. Please comment .
A.Time to Die is a crime/thriller novel set in the bustling metropolitan city of New York. The book also features NYPD Detective Matt Masters as the protagonist.
I was able to provide so much details about air planes and their operations because I'm an aviation enthusiast - in fact my ambition is to become an aeronautical and aerospace engineer - and I have done a lot of reading up about aircrafts over the years.
The central theme of the novel (many crime/thriller novels have a similar central theme) is that no criminal - no matter how cunning, skilful and careful he or she is - can escape the wheel of justice. The reason I decided to introduce this particular central theme was because in most countries criminals and murderers cannot flee from the law and are more often than not captured in the end. (Sri Lanka is clearly an exception).
Q. Don't you think that awards committees in Sri Lanka are infected with gangsterism resulting in partisan selections?
A.Yes, sadly I feel that award committees in Sri Lanka are infected with gansterism, and this results in partisan, unfair and biased selections. Take for example a prestigious literary award in Sri Lanka, whose identity I will keep anonymous. In one particular year, the judges on the panel short listed five poets for the award. It was commonly felt that a majority of the short listed candidates' work did not even surpass an average standard and many distinguished novelists who had produced and submitted work of a much higher calibre, were left disappointed and bitter.
Q. Did you also become a victim of this vicious gangsterism which blighted the literary scene in Sri Lanka?
A.Yes, I strongly feel that I became an innocent victim of this vicious gangsterism which blights the literary scene in Sri LankA. On two occasions I submitted two separate novels for a literary award in Sri Lanka, and both years I wasn't shortlisted. I'm not saying that my books were the best amongst those which were submitted for the award. What I am saying though, is that I believe my work was of a considerably higher standard than of the works that did make the short list (In my opinion a majority of them didn't even stand to be published!). This is another example where vicious gangsterism affected genuinely Sri Lankan novelists whose works did deserve to be shortlisted, but weren't because of biased selections.
Q. Some persons try to suppress talents considering age as a barrier.Unfortunately this has also affected in selection of literary works for awards.I believe that work should be judged on its merits and demerits rather than the age, nationality or background of the writer. Please comment on.
I too believe that work should be solely judged on merits and demerits, rather than the age, nationality, background, race and sex of the author.
However, much to my disappointment. I found that I faced a lot of prejudice as a published author in Sri Lanka, mainly due to my age barrier. In fact in May this year, I was invited by the Singapore Book Publishers to be a speaker at one of their forums and I obliged without any hesitation.
However on two occasions, when I asked whether it would be possible for me to take part in an extremely popular literary festival in Sri Lanka, I was turned down and told "there simply wasn't space to fit me in".
I think that one of the main problems we, Sri Lankans face is that we are far too narrow minded and unwilling to accept change - despite the fact that we are living in a rapidly changing world.
Abroad, people have recognized me as one of the youngest published authors in the world, but ironically enough, here in my home country, I haven't been recognized.Hence I believe that in Sri Lanka, the age barrier does prevent young, aspiring authors from succeeding, and this should not be the case.