A veteran artiste still at work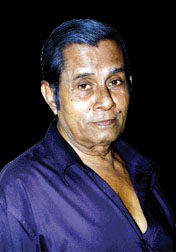 Officially, he is a retired teacher, yet he continues with his work regardless of his age. Every morning he could be seen in his usual calm environment, going about his daily rituals just like in his heyday. The pen, ruler, the level, the trowel, the paint brush and all the other equipment work under his order, even though his left arm is paralysed. The master craftsman, the artist, the sculptor, the dramatist and script writer, Tissa Gunewardene is a versatile personality who cannot be kept down by age or illness.
Even though he descends from Baddegama, he resided at Kalutara and attended Kalutara Vidyalaya, which was a very famous school for artists then. Veterans like Amaradeva, Chithrasena, Vajira and Narada Dissasekara have studied performing arts at this school.
According to Tissa Gunewardene, he had a strong inclination to draw, act and sculpt as a youngster. "I always drew pictures and engaged in sculpting. I had a strong desire to do something great someday, like make the world's largest statue", he explained with a smile.
"So, wherever I went, I had this habit of bringing back some clay from that area to do sculptures. Most of the time I went towards Horana to get clay. I used to store it in the garage," he added recalling his early days.
Sometimes, he had been very much disturbed to see some of the items he had painstakingly turned out the previous evening, lying all cracked up the next morning. But he hadn't given up on his work. His siblings had also helped him in his endeavours and given him all the freedom to work undisturbed.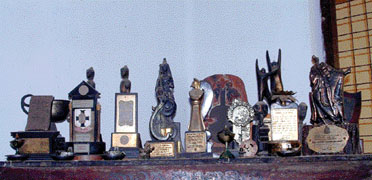 Some of the awards Gunewardene has won
"The principal of my school helped me a great deal and even gave me an opportunity to showcase my creative work, which became famous in the school. I had complete freedom to pursue my talents with the full support of both my teachers and fellow students. When the principal proposed that I hold an exhibition of my creative work, I was only 15 years old. But with the help of others I did it," he said, obviously feeling great about his achievement at such a tender age.
He claims he didn't let any precious time pass by without putting it to good use. He had always been busy, either writing stories or reading books. He always had some kind of work to do.
When he completed a drama script, he always thought of it as the best. His acting career took shape not only in the school, but also at home where he used to act out various roles. And guess what? The humble hut which was used to store hay became his stage and his brothers, the audience! Even though he was the sole actor on this improvised stage, the audience was happy.
Reminiscing about these happy, carefree times, he said, "Sometimes I used the tablecloth as the curtain and did all my acting under the table. Those days I read a lot, some heavy volumes too, but none of these had a negative impact on my studies," he added.
At the end of 1959, he received an appointment as a teacher of arts at Prince of Wales College, Moratuwa. Ever since then, he has continued to be a teacher, even after his retirement.
He emerged into the drama field with 'Kekille Rajjuruwo' and todate has (produced) over 100 dramas with the students of Prince of Wales College; he has received many awards for his work.
He claimed he could direct many a child in the correct path through his dramas and added that they learnt a lot while working together.
Among the many artists who have been guided and trained by him and became popular today are Ashen Manjula, Jagath Chamila, Rukmal Niroshan, Rajitha Hiran, Dasun Madusanka, Sanath Wijesekera, Suranga Sagara and Chamara Jayaweera.
The veteran artist explained that in the past, it was very difficult to get children to participate in dramas because parents were more focused on their education.
"Some children managed to get permission after much persuasion," he added. However, little by little, things began to change with time, he said.
"When writing scripts, I had to think twice because I was dealing with children. I had to be extra careful about every single word I used in my script because I knew children would watch these dramas and imitate them. I strongly believed that we should only concentrate on scripts that were suitable for young minds," he claimed. He tried to give the children something new and positive in all his creations; dramas, paintings, carvings or even in songs.
Those of you who are attending or have attended Prince of Wales College, Moratuwa may be aware that the imposing statue of Henry Charles de Silva, the founder of the college, has been created by Tissa Gunewardene. In fact, it is considered to be one of his best creations.
The Sandakadapahana (moonstone), which he has created in the school premises, is considered to be one of the biggest in Asia. The Samadhi Buddha statue in the school is another fine example of Gunewardene's creative skill.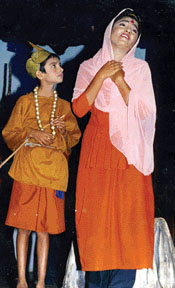 A scene from one of
his dramas
Through his creative work, he has succeeded in changing the thoughts, feelings and lifestyles of many children. He added that the majority of children who participated in his work were also good at their studies. That is why they are doing well even today. They were always prominent in the school.
The little actors of yesterday have become famous personalities of today and according to Gunewardene, they are the most valuable treasure he has. Advising the younger generation, he says, "If you depend on the television too much, you wouldn't be able to do much work and achieve anything in life.
You need to develop your own skills without trying to imitate others. It is important to strive to gain recognition and fame that would last a lifetime than become famous overnight doing a one off thing and fading out of the limelight".
Even though the facilities available those days were limited, they had made maximum use of them. Today, the children have a wide range of facilities and an array of fields to pursue.
So they should engage in some extra-curricular activities without concentrating only on studies, he said.Today's children are intelligent and very advanced, but they are less patient, he added.
He also said that as children have different talents and abilities, parents have to allow them to pursue their talents and guide them without trying to pressure them all the time.The greatest victory one could achieve in life would be to do whatever work one undertakes to the best of one's ability, not giving priority to monetary gains, but to the joy and self-satisfaction one gets from it, he added with a smile.