Action plan for tamed elephants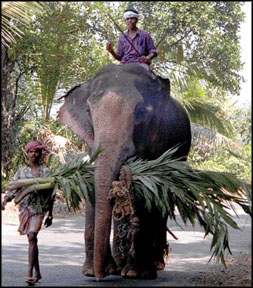 The Environment Ministry will soon formulate a national level action plan with regard to tamed elephants so that their well-being is assured, Environment and Natural Resources Minister Patali Champika Ranawaka said.
The new regulations which are to be encompassed(contained) in the action plan will comply(fall in line) with international conditions too, the Minister told a gathering at the Kotte Raja Maha Vihara after opening the sacred relic exhibition which was held at the conclusion of the temple's 108th annual perahera.
There are many instances of tamed elephants being ill-treated by their owners. Despite unplanned development which created a non-conducive environment for these giants, the elephant population has doubled during the last decade.
However, there are only 137 tamed elephants in the country out of which only 27 are tuskers, the Minister said. The Ministry is distributing tusks in the possession of the Wildlife Conservation Department to the Maha Nayakas and temples.
The Minister also provided bins to ensure proper garbage disposal in the temple under the Ministry's Pilisaru garbage management project.