Ramadan festival this week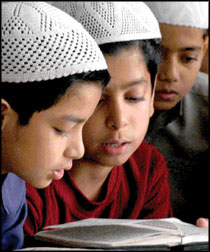 The 'Eid ul Fitr' festival, which falls this week, celebrates the end of Ramadan, a period of fasting. It is a happy occasion when Muslims mark the accomplishment of fasting and thank Allah for giving them the self control to succeed.
Islam has bestowed two festivals for its followers; Eid ul Fitr - the Ramadan festival and Eid ul Azha - the Haj Festival. Both are celebrated after some sacrifices, which make them even more valuable.
The festival begins at the first sighting of the new moon. Muslims, after attending special morning prayers, will visit friends and family. During these visits, many people wear their best clothes; special foods are served to the guests.
The Ramadan festival comes after a month-long fasting. This festival generates immense satisfaction among children and adults due to the successful completion of fasting on the command of Allah.
Ruzaik Farook