Expressions
Drawing - my hobby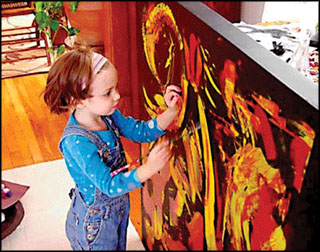 My hobby is drawing. It brings me great pleasure and joy. I look at anything with admiration. My imagination is turned into art.
I have the ability to draw anything by just looking at it. The best thing I can draw is our national flag.My art class teacher helps me a lot to improve this hobby.
I have sent my drawings to newspapers and competitions and I get great pleasure when my drawings are selected. Like me my little brother also draws a lot. My family helps me greatly in this pastime.
M.A. Zainab,
Muslim Ladiesí College, Grade 1-E,Colombo 4.
---
Street children need a helping hand
Street children are very poor and helpless. They dont have love, affection, protection or even a proper place to sleep. They havenít their parents to look after them lovingly, like we do.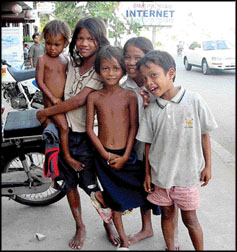 Some of these children have ended up on the streets because of poverty. They roam the streets to find money. Some even go from house to house looking for odd jobs to find money. They struggle to survive and often end up on the wrong side of life.
Some street children steal othersí belongings or money. Due to lack of education, street children donít know good habits or good manners. They donít think about their future because to them their future seems like an empty world. They donít even attempt to learn.
Without an education how can they do jobs? It is said that an educated person always works toward the development of a country, but a fool always destroys the country. So, if there is no proper education these children would also destroy the future world. The responsibility to educate them lies with the government. Otherwise our country will be filled with not only uneducated people, but those who resort to various crimes.
Street children need to be educated and rehabilitated.They havenít any guidance, so they work according to their own free will. When they get any money, they sometimes use it to smoke or take drugs.
One day I will be an educated person. Then Iíll set up an institution just for street children and teach them to become good, useful citizens in society.
R.L. Kawmini Kawushalya Karunarathna,
Grade 9-A,R/Rathnaloka Navodya Vidyalaya,Rakwana.
---
Wonders of science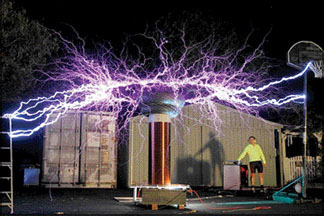 This is the age of science. It has changed the entire world. It is so different to the world which our ancestors lived in. Science has made our life more easy, comfortable and beautiful. Science has conquered time and distance very fast through means of communication and transport. Some of the scientific inventions that have made the world smaller are the telephone, radio, television and internet.
Electricity is another wonderful gift of science. Its uses are unlimited. It lights our houses, shops and streets. It provides the power to operate many items that help people to do work easily at home, office or factories.
Science has given us the marvels of medicine. It has helped us conquer even epidemics. Today, heart, brain and kidney operations are done and people can live healthy lives.
Even organ transplants are carried out due to the advances made in science.
Travelling is safe, fast and comfortable. Even spaceships are invented to travel into outer space. In the world of agriculture, education and entertainment, science has proved to be a great asset. It has given us many wonderful inventions in almost every sphere of life.
Thilini Shulakshana,
Grade 7, Rotary International school, Nugegoda.
---
My loving grandson

When you came
To my empty life,
My loneliness,
Went far
from me ...
Happiness and joy entered
You gave me a new life ...

But suddenly,
Your parents
Sent me away to
A grey place called
ďEldersí HomeĒ ...

Thousand feelings
Came to my mind,
At that sorrowful time,
Except anger and jelousy

Dear grandson,
You were the only one who
Showed me kindness,
My whole life ....
W. M. G. Thilini Thusharika Ranaweera,
Grade 10-A, N/Poramadulla Central College,Rikillagaskada, Nuwara Eliya.
---
Letís respect elders
Even though we often hear of respecting elders, only a few people seem to know the meaning of it. Today many young children donít know how to respect elders. Respecting elders is something that we all should do.
Our ancestors had good habits such as respecting the elders. They respected their teachers as gods. They did all the work given by teachers without any objections. But today many students donít even know how to speak to their teachers.
We see and hear how students in schools, universities and other educational institutes treat their teachers.
The most valuable people in the world are our parents. They are the ones who bring us into this world and take care of us. They give everything possible to make us healthy and wealthy. They guide us in the correct path, try to give us a good education and bring us to a higher position in society. They never think of themselves.
They are very selfless and sacrifice their whole lives for the betterment of their children.But today most children donít accept the advice given by their parents and they also donít look after them. If they love and respect their parents there would be no need for eldersí homes.
When elders or parents get sick, itís our responsibility to look after them. But most often, when parents get old, their children are not with them to give even a glass of water. Many are sent to elderís homes or left to fend for themselves.
The main reason for all these problems in society is the lack of respect for others as well as elders. If all of us go in the correct path and learn to respect elders, we can become good people in society. We can make the world a better place. So letís respect elders, especially our parents.
Tharuka Prabodini Perera,
Grade 9F, St. Anneís Balika Maha Vidyalaya,Wattala.