Victoria Beckham's new hairdo
At the New York Fashion Week opening all paparazzi's attention was chained to a singer and designer Victoria Beckham. The reason for that is a famous football player's wife's new hairdress.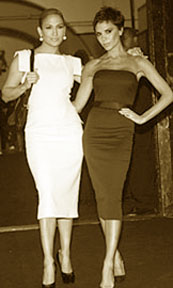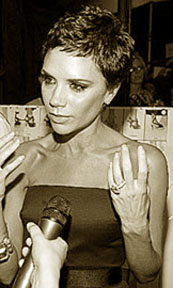 Jennifer Lopez was the first to estimate Posh's new hairstyle. During Marc Jacobs collection show, celebrities sat together, and after defile they posed in front of the cameras with pleasure.
Stylist Garren is an author of ultrashort Posh's hairstyle. The designer of hairdresses admitted amazing lines of her face and chocolate-brown eyes inspired him on creation of a new image for Victoria.
"I wished to underline her beauty, individuality and symmetry", - the stylist admitted. Celebrities often used such short, man's hairstyles.
Vivid examples: Halle Berry, Audrey Hepburn and Mia Farrow. As to Victoria, Garren was not mistaken: in a new image Beckham looks younger and more attractive.
Image change coincided with a release of a new collection of dresses by Victoria Beckham. She admitted she finally realized her old dream. "I've been working over it for 34 years. I always wished to be a designer. But there was Spice Girls group, which opened many doors for me, and at the same time, a lot should be overshadowed.
But now this time has come to an end. I've never dreamt to be the best singer in the world, but I hope that I will become a good designer".
---
Whispers of a Jolie-Pitt split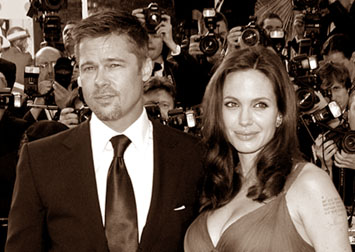 It would have been the ultimate tabloid irony: After countless stories predicting doom for Brad Pitt and Angelina Jolie, they break up during a week in which their supposed relationship issues aren't featured on a single glossy cover.On Thursday, spurious reports began flying that the most famous/fabulous/fertile flames on the planet had - say it ain't so!- called it quits.The speculation was apparently kick-started by the recent dearth of sightings of the knee-deep-in-dirty-diapers duo out and about together.
But before anyone even had a chance to cry to the heavens, "But what will become of poor little Maddox, and Pax, and Zahara, and Shiloh, and 2-month-old twins Vivienne and Knox?" the rift rumblings were summarily shot down.Angelina's rep assures "Entertainment Tonight" that the Jolie-Pitts remain domestically blissed out, dismissing the split talk as "absolutely not true."
Need further convincing?
US says the entire clan chowed down together in recent morning, enjoying a "big breakfast" al fresco at their $70 million French chateau, where they've been holed up since the spring.
(By the way, the chateau is the setting for one of the only tabloid tales this week, with Star dubbing it a "pigpen castle" and a source saying, "It's actually pretty disgusting. Every room looks like a war zone.")
While Jolie has remained out of sight in recent weeks, Pitt has been jumping time zones to promote "Burn After Reading," hitting both the Venice Film Festival (with Maddox, 7, and Pax, 4, in tow) and the Toronto Film Festival.
"Everyone is healthy," he said in Toronto (via People Magazine). "No sleep though ... Sleep is something you long for, but it's alright. We'll get it."
When a reporter asked whether he and Jolie had any plans to work together again, the actor responded, "Angie and I are working together every day, I guarantee you."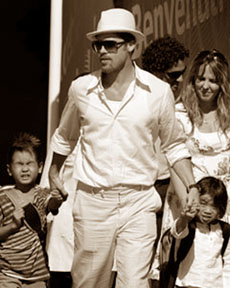 Jolie will be back in the spotlight later this month as she begins stumping for "The Changeling," the Clint Eastwood-directed drama that's already earning her Oscar buzz.
Her stylist recently told People that she "feels some pressure" to find the actress just the right outfit for the film's Oct. 4 premiere, which will mark her first time on the red carpet since delivering the double bundles.
In between taking care of his brood and maintaining his spot at the top of the A-list, Pitt has been busy doing that do-gooder thing he and Jolie do so well - and infecting unsuspecting fans in the process.
Recently he donated $100,000 to help defeat an initiative that would ban same-sex marriages in California, a contribution that came just a few days after he and Angelina gave $2 million to the "Global Health Committee" to fund a children's clinic in Ethiopia that will be named after Zahara.
Meanwhile, virus-fighting software company McAfee announced last week that Brad has beaten out Paris Hilton to become the most dangerous celebrity to search for online, courtesy of a pop culture-savvy cybercriminal element that wants to hit you with spam, spyware, viruses and other assorted computer plagues when you search for a pie-cute pictures of the Brangie bunch.
---
Princess Diana auto will be tendered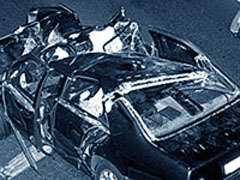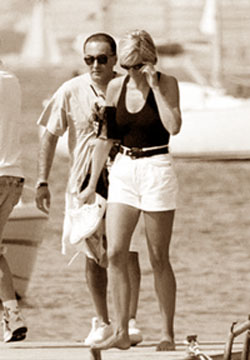 A French company owning the car on which princess Diana and her friend Dodi Fayed were broken 11 years ago, decided to expose the car on the auctions.They expect to receive rather large sum for it.After failure the car was forwarded from France to England to investigate the reasons for what happened. Investigation lasted some years, and 5 months ago investigation came to a conclusion that failure was an accident.
Now the owner of Mercedes, French company "Etoile Limousines", demands to return the car. The company plans to expose it on the auctions and expects to receive not less than 2 million dollars for it."This car can bring us a considerable sum. We have not obtained any compensation for it - the police just took it away. And it is illegal. Nobody has the rights to dispose of it, except us" - Etoile Limousines" manager, Jean-Francois Muza, declares.
Diana's sons and Dodi Fayed's father disapprove this idea extremely. They consider desire of Etoile Limousines company to make profit of their tragedy as immoral. But, as it is informed, the company already received many informal offers on Mercedes purchase.