Food for thought
With the perspiration dripping with your head feeling as heavy as your legs, you search for the magic elixir that will provide cooling relief to your overheated body.
Water helps, but what you crave is a salvo for the body. Something that alleviates hunger and quench the thirst and provides a longer relief to body's heat!Did you know that solid foods can soothe and cool a body as well as hydrating fluids help keep our body's temperature down?
Here are some food for thought... never leaving the best nutrient, "H2O" far behind.So, choose wisely and enjoy a deep chill when the sun's glowing so hot!
---
Red watermelons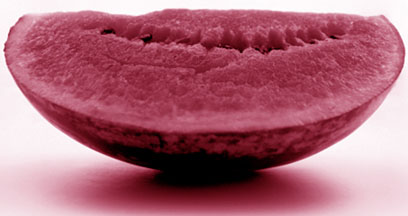 The name conjures up a satisfying and thirst quenching feeling of coolness as you feel a drop in your body temperature. It contains high level of water (96 per cent). What's even better is that it is very low in calories. One cup of the cut fruit (approximately 150g) gives you a mere 52 calories.
The satisfying cantaloupe is another melon that has been unappreciated despite its nutrient benefits by most of us. This melon also contains a lot of water (Almost 95 per cent) and is equally low in calories as the watermelon.
---
Colourful veggies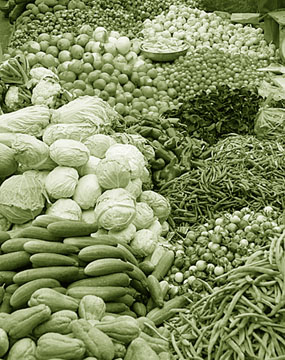 The best summer diet would be to include large portions of salads. (A word of caution: Take care while eating raw food outside during rainy seasons. At home, wash the veggies well before making your salads.) Onions are a great option; people of tropical countries include onion in their diets due to its ability to beat the heat and provide relief from summer ailments.
Ideally your salads can contain onions, tomatoes, cucumbers, etc. with a dash of fresh lemon juice to add the zing. Cucumbers require a special mention because of their high water content (96 per cent), making it a natural hydrant - a must for glowing skin! You can also include some mild spices like sesame, mint and green coriander to the salads to enhance the cooling effect.
---
Citrus fruits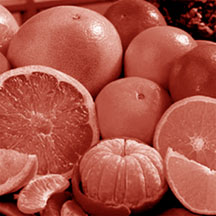 Almost all citrus foods like oranges, sweet lime, and lemon are cooling.These are as juicy within, as they look from outside. You can have them whole or extract their juices and even, store it for a day without any preservatives. Be creative and make mock tails of a combination of citrus fruits and have them with a dash of lime.
Lemon contains high level of Vitamin C (makes you stronger to ward off infections) and also due to its detoxifying properties (makes expulsion of toxins from the body more efficient).
---
Meat
Consume more sea-food as it is considered to be cooling. But remember, that's high in cholesterol.So keep the portion sizes in mind. Keep poultry and meat to a minimum.
NutritionVista.com