Arts
Splendour of many traditions in fusion
The Arakavila Dance and Theatre Foundation presents
The rehearsing platform at Arakavila in Padukka was ready for the young actors and actresses to enact once again difficult exercises, pieces of theater and dancing which make up Chalana, an evening of classical and contemporary dace produced and directed by Janaki Hill.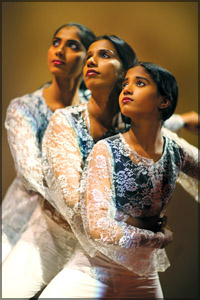 Chalana will be held on October 4, 2008 at Elephinstone Theatre at 6.30 p.m. Chalana which is poised to take Sri Lankan audience by storm is presented by the Arakavila Dance and Theatre Foundation.
From the extraneous rehearsing sessions the young members of the troupe engaged in, it was clear for me that Janaki Hill, the director and producer of Chalana, was not ready to compromise with the artistic quality of the production. Most of the members of the Arakavila Dance Group are drawn from the village Arakavila in Padukka. However, they have proved their metal on the stage before they were inducted into the troupe. Being an accomplished dancer, Janaki herself took part in the rehearsal.
Chalana would differ from many contemporary theatre productions. The entire production is made up of different dance items and pieces of theatre. It is a delicate blend of theatre and dance. For instance, elements of theatre, perhaps, for the first time, are used to introduce the actors and different pieces that are to be unfolded on the stage. The entire production is designed in such a way that incidents occurred in the house hold of a Teacher have been enacted at change over of one scene to another.
The audience is made to understand that diverse dance items presented in the production are enacted by students of a traditional dancing class. The class is conducted at teacher's house.
Apart from introducing dancing items to the audience and taking up change over time from one item to another, hilarious events unfolded at teacher's house (Teacher of Dancing, *Gurunnase*), serve to give an overview of traditional environment of teaching dancing in ancient Sri Lanka.
In ancient milieu, teaching of dancing was done by clan of dedicated teachers belonging to diverse traditions of dancing. The dialogues between teacher (*Gurunnase*) and senior student reveal many aspects of dancing including accurate spell of dancing movements and basic theoretical knowledge of dancing. It is one of the creative ways out from traditional announcing at dance recitals. The announcer often keeps the audience in a lullaby with vacuous statements. Most of the scenes highlighted issues in the field of arts. Issues such as deteriorating of traditional forms of arts, alien influence were the focus of the short pieces of theatre.
Janaki should be commended for the employment of such techniques which in addition to breaking the monotony of the presentation, would help give the audience the zest of theatre. Although Chalana is different on many accounts from contemporary theatre productions, a fact that it stands out among many production is sheer blend of traditions.
Dance items were choreographed based on different traditions. For instance traditions of dancing such as Kandyan, Low Country as well as physical dance and theatre and Baratanatyam have been used in composition of items of dance. Some of the dance items were based on martial art. It is rare to have such elements amalgamated in a production of this nature as far as contemporary productions are concerned. Pieces of choreography in ballet tradition have also been included in the production.One of the singular aspects that strikes the audience is that at no point in the choreography diverse traditions are intermingled. Instead, what the director had done was to incorporate different traditions of dancing into the production with compromising one another. For instance piece of dance based on ballet was done in following the authentic style of ballet.
It should be mentioned here that members of the troupe have done their home work well. This rigorous rehearsing was manifested in many ways; excellent choreography which was noticeable throughout the rehearsal, coordination among members of the troupe and versatility in diverse traditions of dancing. Conversant with diverse traditions of dancing on the part of the members is very important in a production of this nature. Most of the members though young had studies drama and theatre and knew subtle characteristics of diverse traditions of dancing.
For instance, item of dance which was based on martial art, was one of the attractive piece of dance. Some of the trances in martial art were reproduced on the stage as part of the choreography. This was a rare piece where elements of martial art were well integrated into the complex grammar of choreography. Each member had to perform certain trances and acrobatics whilst keeping harmony with the rest.
At the height of the performance, members formed into groups and were engaged in acrobatics. One of the salient features of this item was a delicate fusion of diverse traditions. For instance, some of the acrobatic elements in the Up Country tradition of dancing had been integrated into the piece. For the music, Kandyan as well as low country drums were used.Troupe performed to the rising tempo of the drums. In addition to providing back ground music, drums also served an important purpose. That was to keep tempo on the movements. Though the use of traditional drums of Sri Lanka was not uncommon feature in choreography, the principle different here was that drums were used in piece based on martial art.
Dance item in Baratanatyam was also an interesting piece. Here two girls danced on the opposite sides of the stage. This was one of the colourful pieces of choreography which was marked for its costume excellence. Chalana is one of the projects of Arakavila Dance and Theatre Foundation. The troupe consist 18 members. Samantha Wijesinghe assisted Janaki Hill in choreographing the play. Nihara Ratnayake and Sita Maddegoda helped design the costumes.
The Arakavila Dance and Theatre group is grateful to Wilfred Perera Assistant Director General of National Institute of Education, Meepa for providing them theatre facility in Meepe for conducting rehearsals.
All in all, Chalana presents conglomerate of talents and would be novel theatrical experience for Sri Lankan theatre goers. For the troupe, Chalana would be a litmus test before troupe embarks on its tour to Scotland to take part in the Edingbourge Fringed Festival. By watching the show, in addition to witnessing a novel trend in contemporary theatre, theatre goers will also help a budding theatre group which will represent Sri Lanka at the forthcoming Edingbourge Fringe Festival summer 2009.
---
Semage's Art Exhibition
Local identity for global art scene:
Internationally famous Sri Lankan Artist Jayasiri Semage will hold an exhibition of his latest paintings at the Alliance Francaise de Colombo auditorium from October 3-7. The exhibition will be ceremonially opened on October 2 by the French Ambassador in Sri Lanka.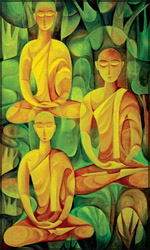 From a humble newspaper illustrator Kalasuri Jayasiri Semage has blossomed into a much sought after artist in Sri Lanka and in the international scene. The village boy from Ambalangoda has gone a long way to perfect his art to international standards with a typical local touch.
His recent exhibition held in Tokyo was well received in Japan. The Sri Lankan embassy in Japan held a cultural pageant at the Yoyogi Park highlighting Sri Lanka's traditional dances, folk songs, and instrumental music. It was complete with an art exhibition of Jayasiri Semage who is noted for his dexterity in maintaining Sri Lanka's identity in his paintings.
Fast on the heels of his one-man exhibition in Tokyo, Semage is going to show his skills to an embassy which represents France that produced numerous painters of international repute. France is well-known for her famous artists and art lovers. Probably the Alliance Francaise de Colombo which is the cultural arm of the French embassy has thought it fit to honour an artist in its host country. The exhibition may pave the way for Semage to hold an exhibition in France in the near future.Semage executes his paintings in oil on canvas and sometimes uses acrylic. He gives life to his paintings in whatever medium he completes them. What is remarkable is that his paintings are unique. In other words, they cannot be justifiably compared to the creations of any other artists - living or dead.
His unusual capacity for art has been recognised by the government. Kalasuri is just one of the awards presented to him by a former President. However, instead of resting on his laurels, Semage moves forward painting, teaching the art of drawing and generally influencing a new generation of artists in Sri Lanka.
Apart from being a top class painter, Semage has exhibited his skills as a pandal artist. His pandals erected for the Vesak festival and other state functions attracted large crowds.
---
Ella Disenchanted at Bishop's College
" Ella Disenchanted ", a theatre production by Devi Balika Vidyalaya, will be held on September 29, at 5.00 p.m at Bishop's College Auditorium. The production is directed by veteran theatre personality Gamini Haththotuwegama. The production is based on DVD titled "Ella Enchanted" and would have been a daunting task for the veteran director as it was translation of work from one media to another.The production is made possible by assistance rendered by Nirmala Kaluarachchi, teacher-in-charge and assistant director, Chamaru Pathirana.
Sangeeta Pathirana, Veranga Mendis and Ananda Kumara had helped conduct the workshop leading to the production. Tickets are available at Devi Balika Vidyalaya till 29 and also at Bishop College.(RC)
---
Japanese harpist in concert with SOSL
Classical music lovers are in for a treat when for the first time the renowned and highly talented Japanese harpist Mayumi Bori will give a concert in Colombo along with her compatriot flautist Kimihiko Akiyama. They will be joined by the Symphony Orchestra of Sri Lanka (SOSL). The performance will be on October 18 at Ladies College Auditorium. The Symphony Orchestra will be conducted by Keiko Kobayashi who was trained by the world class conductor Hikotaro Yazaki.
| | |
| --- | --- |
| | |
| Kimihito Akiyama flautist | Mayumi Bori harpist |
Tutored at a young age by Junko Nobata and Atsuko Sugiyama at the Senzoku Gakuen College of Music Mayumi Bori played the harp with the College Orchestra and Concert Band including an European tour. No sooner she graduated from the College, Mayumi made her formal debut through the Nippon Harp Association and since then has performed in many orchestras and concert bands including the Tokyo Kosei Wind Orchestra. In addition Mayumi teaches the harp at schools and cultural centres in Japan. One area where she has gained high esteem is the novel events she created titled "the Evening of French Food and the Harp."
The flautist Kimihito Akiyama graduated from the Tokyo College of Music in 1984 and in the same year was successful in playing at the 11th Flute Debut Recital held under the auspices of the Japan Flautists Association. His flute studies were not only under Peter - Lukas Graf at the first Bach Academy of japan but under Shigenori Kudo at the International Music Academy of Morzine in France.As a member of the Saito Kinen Ochestra and the Mito Chamber Orchestra with Seiji Ozawa he has performed in more than 25 countries which took him on tour to America, Europe and China. He has performed at Carnegie Hall at the Wiener Festival week and at the Firenze Festival. He has released CDs on the Philips and Sony Classical Music labels, and has written for Japanese music magazine including liner notes of CDs containing flute performances. A conductor of the flute orchestra in a Japanese TV cultural program Kimihiko Akiyama performed with the India-Sri Lanka Goodwill Orchestra at the Asia Orchestra Week held last year in Japan.