Pretty women!
The search continues...Ms Lanka 2008:
Ms Lanka 2008 on 20 December 2008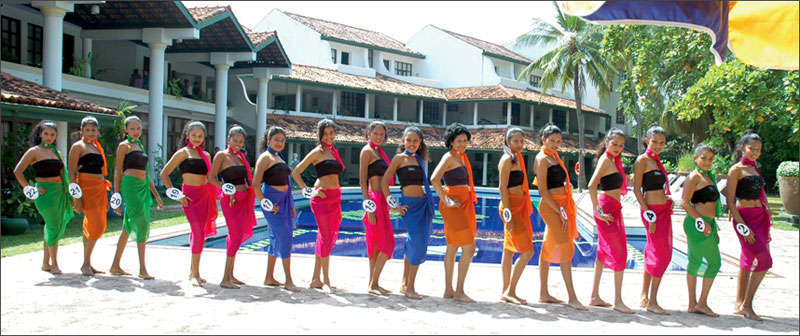 To raise funds to support and improve facilities in the Elders Home for the Blind in Ambalantota, run by the Federations of the Visually Handicapped. The "Beauty for a Cause" pageant now in its 14th successive year, is organised by Mrs. Gwendoline Kuhatheva and her team of volunteers from Technique International
The search continues for the most beautiful girl of any marital status over 17 years of age and citizen of Sri Lanka.
Please send your applications, in the coupon in the Sunday Observer.Ms Lanka 2008 will be held on the 20th December 2008 at the Ceylon Continental Hotel.As in the previous years, "Sterling Flowers", the official florist and "Soft Logic" will provide computer services.
The host Hotel is Ceylon Continental and the Print Media sponsor is Sunday Observer and Max TV and Radio. Apart from the title of Ms Lanka 2008, the Sunday Observer will conduct the Most Popular Contestant title and this year we will also have Ms Continental being selected leading up to the final event - Mini titles; Ms Elegance, Ms Catwalk, Ms Talent, Ms Crowning Glory, Ms Beautiful smile, Ms Beautiful eyes and Ms Body Beautiful will also be held.
Watch out each week in the Sunday Observer for the program of events.We are in the process of ascertaining the need in the Elders Home for the Blind in Ambalantota. We believe it is an honour for us to support and improve facilities, for the Elderly. It would amaze any visitor to this Elders Home to see how well the Federation of the Visually Handicapped looks after these elders.It is a happy place, and such a clean environment, and the Elders in the Home are content not a word of complaint and full of gratitude for all the help that is given.Sponsors for the Ms Lanka 2008 and all who want to be a part of this project please contact the Organiser Gwendoline Kuhatheva, Director Business Development and Education Technique International on 2688787.
-PH