Reflections in colour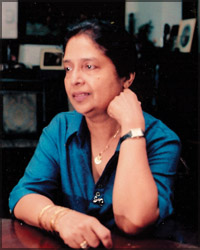 Jayani Pinnawala will conduct yet another oil painting exhibition from October 3 to 5 at the Lionel Wendt Art Gallery. Her exposure both at national and international exhibitions and the knowledge she had gained from reading about leading painters has helped her develop a style of painting of her own to suit her vision.
"I have the simplest of taste, I am always satisfied with the best", the famous writer Oscar Wilde had said.
If some one can paint the best to satisfy the viewer he/she becomes a great painter and a creator. Jayani 's vision is to bring, through her paintings, hope, joy and contentment to the modern society which is burdened with stress.
Pablo Ruiz Picasso, the greatest painter of the 20th century is the one Jayani admires very much. His creations are unique and invaluable. His life and his experiences were visibly displayed through his paintings.
Jayani believes that paintings are related to you, your life, the surroundings, people the nature, ( sky, sun, rivers, ocean and flowers) around you.
In every painting you have one or more of all these features which are part of our lives. On the other hand it also associates with man made features, such as houses, temples and churches, bridges etc. In life, we do face challenges so is in painting.
For one, painting a human being is a challenge whereas to another painting an animal will be a challenge.
Painting is something which is close to your heart, to your life. She says that it is a challenge initially, but finally it becomes an accomplishment. Jayani, a product of Visakha Vidyalay, Bambalapitiya had excelled in studies and later joined the Sri Lanka Administrative Service. She served the Government as an Administrator and had also served in the Foreign Service. From her school days she had taken much interest in music and drama.
She was a member of the School Choir and also took part in plays in school, including 'Visakha Geetha Natakaya'. She also joined Dr. Sarachchandra's drama "Sinhabahu" while studying for her degree at the University of Peradeniya. She started oil painting much later in life.
While serving in Rome, as Deputy Ambassador and Acting Ambassador in the Embassy of Sri Lanka, she was inspired by the rich culture of Italy and the atmosphere created by the art consciousness of the Italian people, to engage in painting.
Italians recognise painters and sculptures as great creators and respect them for their talents. Jayani feels that if she had not lived in Italy she would never get the opportunity, or the interest to start painting, where she studied oil painting under a British painter and teacher for a short period. During this period, her paintings were displayed at joint exhibitions held at the FAO Headquarters in Rome.
Her first oil painting exhibition was held in the Isle of Capri, South of Italy, which was a success. Her paintings display a blend of Eastern and Western Culture.
The Opening Ceremony will take place at 11.30 a.m. on October 3 and continue till 7.30 p.m. on October 4 and 5.The exhibition will be on from 9.30 a.m. to 7.30 p.m.n