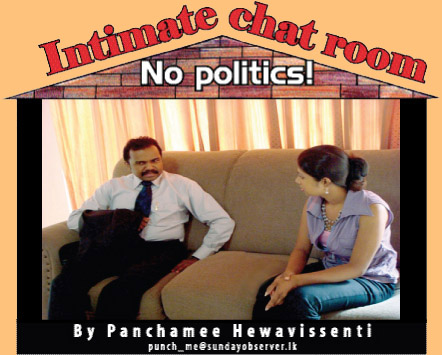 Why do you prefer to be called Murali over Karuna Amman?
I prefer to be called Murali. I have no interest for the name Karuna Amman, which was given to me by the LTTE organisation. But still so many people call me Karuna Amman.
May be people are well familiar with that name...
I think so. I think it will take some time for them to be familiar with the name Muralitharan.
Were you compelled to take the name Karuna Amman?
No. As we joined the LTTE, due to security reasons, we were asked to adopt names and change addressees. I was in India when I was asked to adopt a name. At the beginning I was a bit confused as what name to be adopted and suddenly my beloved uncle's name Karunakaran triggered my memory. So, I announced that I would be called Karuna.
Vinayagamoorthi Muralitharan is an MP and the leader of the TMVP (Thamil Makkal Viduthalai Party).
Was there any special reason for you to adopt your uncle's name?
Yes. He was my mother's brother who was very closer to my life. I could share anything with my uncle and he was very fond of me. I remember he used to buy me toys and sweets when I was a little boy.
He showed a special affection towards me which other siblings of mine were very jealous of.
My uncle was a very kind hearted man. I think the name Karuna suited him. I adopted the name Karuna as a respect to my uncle.
'Amman' is an honourable name given by the LTTE....
Yes, 'Amman' is an honourable name given by the LTTE for those who are famous and popular. That custom exist only in Jaffna.
What's your school?
I studied at Batticaloa Central College, one of the leading schools in Batticaloa.
Were you a mischievous imp at school?
Oh! Many think that I would have been a mischievous fellow who didn't pay any attention to studies. But that's not so. I was a very obedient student at school. I never fought with other students. I maintained a good name among my colleagues and teachers and I was one of the favourite students of my teachers.
Hadn't you ever been punished at school?
Yes, I had been punished but not for any mischievous activities. That's for getting late to go to school.
Why.. you used to sleep till late?
No. Not very late. I resided in a village called Kiran which is situated 16 miles away from the Batticaloa town. Unlike today,we didn't have much transport facilities those days. Sometimes I missed the bus and had to wait for another bus to come.
By the time I reached school, sometimes they had started the second period already.
Our school principal Prince Cassinadar was very strict and we were required to abide by school's rules and regulations.

So, that means you'd been punished only for getting late....What a good boy you'd been?
Mmm.. yes, mainly I'd been punished for getting late to school...besides I played many practical jokes. Don't you know the nature of headstrong boys!
Since it's a boys school, it was a bit boring. But we used to crack jokes at girls who studied at near by schools when we were returning home after school.
Was there your princess charming too, among the girls who you used to crack jokes at?
No. I met her when I was in the LTTE, although she was from the Vincent College, Batticaloa, one of the famous girls' schools in the area.
Heard that you're a sports star at school?
Yeah! Do you call me a sport star? I was not a sport star, but was a very good sportsman.
So, tell us how you held you spectators in trance by your sporting ability?
I was engaged in both track and field events; sprint events like 100m and 200m and field events like high jump. I bagged many medals in sports.
How did you balance your studies with sports?
It was not a big challenge for me as such. I had a passion for studies as well as sports and did both well.
What was your favourite subject?
I preferred rational subjects than arts. I showed a keen interest in science while at school. I did bio science for my A/Ls and my favourite subject was chemistry.
If you were not to join the LTTE, who would you have been?
My ambition was to become a doctor.
Then your university entrance examination?
Had I sat for my A/Ls I would have got selected to the university, because I was a very studious student.
As a result of the 1984 riots, I joined the LTTE and couldn't pursue my studies any further.
How did you join the LTTE?
A group of people who had undergone the horrible experience of the 84 riots approached our village. They came out with their miseries and the determination to fight for their rights. Out of sympathy we provided them with food and other essentials. Having been impressed by the propaganda of those who claimed themselves freedom fighters, I too decided to join the military organisation along with some of my friends.
What's the reason for you to join that particular group of people - I mean the LTTE?
The reason was that they created an entirely different world after winning our rights. I was at that time in my teens. Don't you know, teenagers are a little bit aggressive and opinionated. I think the bolshevik ideas of my adolescent age too were the reasons behind joining the LTTE.
The girl who later became your wife too joined the LTTE at the sametime as you?
Not at the same time. She joined the LTTE during the latter part of 1987 with four other girls. She was good looking and intelligent.
Was that the reason she joined the LTTE intelligence wing?
Oh, I don't know!
But any way, she had been a bright student at school. She did Maths for A/L s and was also interested in science subjects like me and even got selected to the University of Peradeniya. She was a good sportswoman as well.
You're were very popular among LTTE women cadre because you're very handsome. One girl who had been unable to resist her passion for you is said to have come to you with fervent appeals to marry her......
Aha...yes, she made the first move and came near me and whispered into my ears `Nan unnai virumbuhiren' (I like you).
So, were you very demanding because you were already in demand?
I didn't hide my penchant towards her, because I too had a little crush on that pretty young girl, but was afraid to let her know that.
Why?
I was afraid that she might slap me.
Is she a rough diamond?
Hmm.. She is gumptious. Though she is very loving and caring, she was very possessive of me.
How did your love story flow after you'd set your affair in motion?
Our encounters were confined to the wilderness. We met once a week or once in a fortnight. During the stay of IPKF (Indian Peace Keeping Force) we met only once a year. That time she was in Colombo.
We didn't have much facilities to express our love to each other like today's youth. We didn't have parks, beaches or cinema halls to talk in whispers for hours.
I think jungle is the best place for a couple to be isolated.....
Oh.......! may be..may be..but not all the time. We were always on the watch for any impending danger.
However it's a good experience. The time we spent together was very romantic. Though we often had to control our feelings. Since we had to give priority to our duties, our love life got the back seat.
We were very understanding and that helped us to build a strong relationship between us.
So, when did you enter into holy wedlock?
Our marriage took place in 1993, after 6 year affair.
Does LTTE have a special code of rules for its cadres' when it comes to marriage?
Yes. Though the cadres were allowed to fall in love and get married, they could do so only after 6 years of joining the LTTE. Male cadres may marry after 26 years of age and females after 22.
How old were you when you got married?
I was 27 and she was around 25.
Would you like to share a bit of information about your parents and siblings?
Since my father was a land owner we faced no financial difficulties. My mother was a house wife.
I have five elder sisters, an elder brother and a younger brother.
What are they doing now?
Four of my sisters are school principals in Batticaloa. One sister didn't pursue her studies much because she got married soon after her A/Ls.
My brothers too studied up to A/Ls.
What type of relationship you had with your elder brother?
He was more like a friend than a brother to me. We did mischievous thing together and covered up from our elders when we were confronted. He was very closer to me that he missed my presence when I joined the LTTE. When I returned home after two years,he couldn't speak due to the euphoria of seeing me and insisted that he too wanted to accompany me wherever I go. I had no option but to accompany him.
When you split from the LTTE, your brother too came out with you?
Yes. We both had to face threats after that. I was worried about my brother and pointed out the risk involved in his stay in Sri Lanka. But he didn't want to leave me. Such was his attachment to me.
Was that the saddest ever memory in your life when you lost him?
Yes. It was traumatic to lose the closest person in my life. My loving brother was shot dead by the LTTE two years ago.His memory still haunts me.
Do your wife and children stay with you?
My family is residing in London. Though they love to stay in Sri Lanka with me, they have to stay abroad due to security reasons. I miss them a lot.
How old are your children?
My eldest daughter is 12. The other one is 10 and my son is 7 years old.
Is your wife employed?
No. She is about to finish her studies. That's a fine opportunity for her, because she needed to pursue her higher studies. She couldn't enter university here due to the prevailing condition then. Now she is happy that she is able to achieve her long standing goal.
How often do you communicate with your family?
I call them on a regular basis. The tinge of feelings are inexpressible when I hear their voices over the phone. Unlike other fathers, I'm unable to see my children and they too are deprived of their father's closeness. My wife too undergoes that predicament unable to live with her husband.
When did you last meet your family?
I haven't seen my children for three years. I went to London last year to see my family. But I faced a mishap. I had to alter my name in the travel documents due to security reasons.
When I was in the jail, I advised my wife not to let the children see their father behind bars.
Would you like to share a few of experiences when you were in the LTTE.......
That was a remarkable period in my life that I regret to recall.
When I was in the LTTE, I always maintained a friendly relationship with my cadres. I think that was the reason behind my popularity. Although I always observed strict discipline, I earned my respect from everyone.
What did you do during your leisure time?
We played sports like cricket and football to keep ourselves fit. We used to get together in grounds and make military plans. I used to draw maps and explain to them. Grounds were very relaxing to make plans than in rooms.
Also during my leisure time I used to feed the leopards that we used to rare.
Besides I used to spend my leisure time reading and watching military films.
You're also known as a bookworm......
I read a lot. That's my hobby. I could gather a lot of knowledge by reading books.
What ares do you like to read on?
I used to read a lot of books on military techniques when I was in the LTTE. I read a lot of books on world wars.
Apart from that, Economics and politics were among the most read.
Didn't you get any opportunity to read romantic novels?
I liked to read on romance, but due to the LTTE's disciplinary system, we were not allowed to explore more into those areas.
How did you sharpen ability in your English language?
I strove to improve my language on my own. When I joined the LTTE,I was not that conversant in English. Now I'm able to communicate in English without any problem.
But I regret in not having an opportunity to learn Sinhala. We were strictly forbidden to learn Sinhala while with the LTTE.
Now I'm learning Sinhala with the help of my friends. I can manage to express a few words in Sinhala now.
How was your relationship with Prabhakaran?
Once I was one of his most credible and best cadres. I served for some times as his body guard. I used tell him the best freedom fighter is Nelson Mandela and to follow his path. But Prabha turned his deaf ears to those things.
Whenever the top brass like Pottu Amman, Thamil Chelvam and I gathered for special discussions, Prabha used to prepare his favourite dish the mutton curry and feed us all.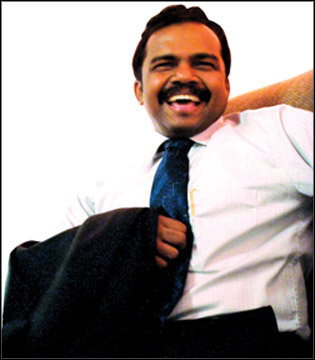 What is your hobby?
Time factor always stand on my way. If I get an opportunity, I like to watch TV and movies and listen to music. But I do not let my leisure time be wasted without reading books. Now I read more on political science, law and constitution since the knowledge on those areas are essential as an MP.
Did you ever imagine yourself becoming an MP?
That never crossed my mind. It came to me all of a sudden. When I was in school, my ambition was to become a doctor. When I was with the LTTE, I always focused on my military promotions.
What's your favourite dish?
Sea food.
Drink...?
No hard liquor! I maintain the same discipline which I observed while I was with the LTTE. Taking liquor or smoking is strictly forbidden. Since I didn't take liquor for the past 20 years, I'm not keen on them either. Even when I went for the peace talks, when others were enjoying taking liquor, I politely refused them all.
I like orange juice very much.
What's your favourite destination abroad?
Switzerland is my favourite country. It's very peaceful.
I like to go to Buddha Gaya, because it gives one some sort of feeling. I have been there once and hope to go again to worship the birth place of Lord Buddha.
What about in Sri Lanka?
I have only been to the North Eastern parts of the country and Colombo. I like to travel around the country, not right now when after the situation gets better.