Elephantine misconceptions
From human-elephant conflict to human-elephant coexistence:
People and elephants have lived in harmony for nearly thousand years. So why have reports on human-elephant conflict escalated as of late?
With the liberation of the East, as more protected areas have become accessible and with the increased man power the records of conflicts have invariably increased, coupled with the undue publicity given by some media to such unfortunate confrontations giving the false impression that conflicts have increased in number.
Although there undoubtedly may be an increase in the number of incidents, there are many misconceptions about our gentle giants.
Apart from the irresponsible conduct of some media in providing unnecessary publicity to incidents of human-elephant, Minister of Environment and Natural Resources, Patali Champika Ranawaka identifies that, increased number of recorded elephant deaths due to the increase of vet surgeons, gives the false impression that conflicts have escalated.
"New counts in newly liberated areas like Batticaloa have helped to increase the numbers. But that doesn't mean that the human elephant conflict has escalated. This has happened in these very same areas before, it's just that nobody was there to record them."
The Minister pointed out that dealing with human-elephant conflict and elephant conservation - keeping in mind both the interests of the people as well as the elephants is easier said than done.
"The major difficulty we face, in terms of management, is terrorism." The Minister pointed out that Wilpattu and Yala make up 50% of national protected areas, both of which were affected by terrorism. If favourable conditions for elephants are not maintained in the protected areas the carrying capacity (number of elephants the area can support) is bound to go down.
Consequently the Department of Wildlife Conservation adopts habitat enrichment methods such as taking out invasive species, maintenance of water holes in the area and controlled burning, to facilitate the growth of new young grass as a food source for elephants. "But habitat enrichment is impossible if the protected area is under continuous terrorist attacks."
Dr. Prithiviraj Fernando, Chairman CCR (Centre for Conservation and Research), speaking with the experience of tracking a heard of some thirty elephants with the help of radio collars, stressed the importance of understanding elephant ecology for elephant conservation.
"Just putting up a fence is not conservation" he said, as opposed to the popular belief. Their research indicates that the best elephant habitat is a mosaic of open areas and regenerating forests. He said that although one can never be certain about the total figure of elephants in Sri Lanka there are around 6000 elephants (10% of world elephant population) using only 2% of the total land area of Sri Lanka. The home range of a Sri Lankan elephant is 50 to 100 square km as opposed to 500 to 1000 square km of Indian elephants.
As Dr. Fernando explains the secret behind the increased carrying capacity is the land use patterns of the Sri Lankan people. "People have been generating favourable conditions for elephants for over 1000 years now."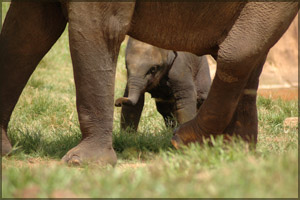 The chena provides them food while the irrigation system provides them water they would have otherwise been forced to find themselves. But the human elephant conflict arises when human territory and habitats overlap. The Minister told the Sunday Observer that the main reason for the escalation of human-elephant conflict is unplanned village structures.
"50% of the human elephant conflicts in Sri Lanka takes place in and around Irudeniyaya," an unplanned settlement situated between Thabbowa and Thahallapallekele. The Minister explained that during the dry season the Thabbowa sanctuary dries up. As a result elephants migrate to Thahallapallekele during the dry season for foraging.
"But Irudeniyaya was built in the middle of their natural migration path. Conflicts are inevitable." He explained that for the time being the only temporary solution is to drive the elephants to either side. "But then the elephants forced back to Thabbowa will not have adequate food."
The Minister identified unplanned plantations as another instigating factor. "Elephants love sugarcane and the sugarcane cultivations in Lunugamwehera acts as an attraction to elephants resulting in conflicts."
Garbage dumps are another instigating factor. The Minister said that they are fully aware of the adverse effects of 'elephant drives', but do not have a choice but to do so when the elephant habitats and human territory crosses paths.
"We are fully aware that the elephants return to the same place year after year. But we don't wont to take a risk where human beings are concerned." But is there a way for humans and elephants to live in coexistence. Both the Ministry as well a the academics have many tricks up their sleeves. Protected areas of Sri Lanka, which adds up to 1.2 million ha, if perfectly managed, has a carrying capacity of around 1200 elephants.
But then where are all the other elephants? "Outside the park." says Dr. Dewaka Weerakoon, Senior Lecturer, University of Colombo. "Space outside parks is, therefore, of critical value to elephants. Driving elephants into parks is not a solution." He explains that one must always keep in mind the issue of carrying capacity.
"If the parks are over their carrying capacity, driving more elephants into the parks not only endangers the new population but also the existing one." "It's like squeezing 200 people into a whole that can hold only 100 people." Said Dr. Prithiviraj.
Dr. Prithiviraj claims that The Managed Elephant Reserve, done in collaboration with the Department of Wildlife Conservation - as part of their National Policy - is a foolproof strategy. This involves a radical method of integrating human and elephant habitat to ensure coexistence of the two species by cultivating chena! "Chena provides a rich source of fodder for elephants."
He further explained that they are by no means trying to advocate chena cultivation, which is technically illegal in Sri Lanka. "But people are still doing it anyway, outside Protected Areas, in state land. So what we are proposing is, that the existing chenas be regulated. Protected Areas will continue to remain untouched by human activity."
Dr. Prithiviraj and Dr. Devaka points out that there are around 1000 square km of chena that support 3000 elephants, while the 6000 square km of National Parks support approximately 2000. Dr. Prithiviraj claims that this indicates that a large number of elephants are supported by chenas.
Supposing that chenas are able to support the populations of elephants living outside parks, what prevents them from attacking human settlements? Dr. Devaka explains "The problem never arises. For almost a thousand years humans and elephants have managed to live in harmony.
During the wet season people cultivate chenas and during the dry season - when cultivation ceases and people move out - elephants move into chenas, since there is not enough food for them within the parks." But admitting that it is always better to take precautions, Dr. Devaka suggests that electric fences be put up around villages.
"Keeping people in an elephant habitat and trying to drive the elephants out won't work." explained Dr. Devaka. "The settlements will be subjected to repeated attacks, because elephants will always attempt to return to their habitat."
But, as identified by Dr. Prithiviraj and Dr. Devaka, the main obstacle for this sort of a coexistence is that the people consider elephants as a problem. "But if we show them that they can also benefit from elephants, they will learn to tolerate elephants." Dr. Devaka explained that eco-tourism can be adopted as a source of extra income for the villagers. "It will be a win situation. This way villagers will realise that elephants are not just another 'problem'."
The best thing about Managed Elephant Ranges - as pointed out by Dr. Devaka - is that the elephants do not have to be forced back to the park. "There is more than enough food for elephants in the parks during wet season. They always go back to the park without any prompting.
" They strongly believe that Managed Elephant Ranges are the best method for areas with seasonal land use methods - specially considering its economical viability - and claimed that this method would be very practical for the southern regions of the island as well.
But the Ministry for their part, had not remained idle. "We want to redefine Human-elephant conflict as 'Human elephant-coexistence'." And their plan is habitat enrichment. He explained that the Ministry hopes to focus specially on areas that have been affected by terrorism, taking out invasive species like cows that have become a threat to elephants of Lunugamvehera and Udawalawe.
The Udawalawe Eth Athuru Sewana is also proposed to be expanded. An accelerated programme of installing electrical fences, is currently under way and will be finished by 2011. 800 personnel will be appointed to different protected areas, under Department of Wild Life's newest programme Gajamithuro.
Task forces of local, regional as well as national levels will being formulated, the pilot project of which was successfully completed, recently in Kurunegala. Concurring with Dr. Prithiviraj on the prospects of eco-tourism, Minister Patali Champika Ranawaka claimed the Ministry wishes to promote eco-tourism of elephants and the blue whales.
But the most promising prospect may be the proposed elephant hoarding grounds for problematic elephants. Both Lunugamvehera and Ritigala hoarding grounds comprise of 5000 ha.
The Lunugamwehera elephant hoarding ground is to be opened in December. Dr. Prithiviraj identifies elephant hoarding grounds as one of the sound solutions to the human-elephant conflict, providing necessary consideration given to issues like practicality and carrying capacity.
"Translocation of elephants only translocates the problem. An adult male elephant that is translocated due to its behaviour, will cause trouble wherever it goes. Our idea is to relocate not only the elephant but the problem as well."