'Mahela is my first and last love' Christina speaks of life with Sri Lanka Cricket Captain Mahela Jayawardena: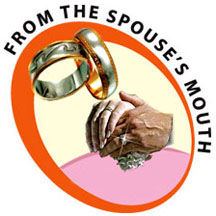 "The very first time, my father saw Mahela on TV in a Cricket Match, he had a premonition. He told my Mum `that's the guy whom Christina would get married one day.' I was far away in India at that time, and has not heard of anybody called Mahela at that time," recalls Christina.
"He pestered me for nearly one year as I was not at all interested in having a serious affair since I had just started to work. Now he says he gets pestered by me," she laughs revealing her eight year love affair with her husband Mahela Jayawardena, the Captain, Sri Lanka Cricket Team.
Christina, facing her first interview with media exclusively for the Sunday Observer - `From the Spouse's Mouth' has many thoughts to share.
Feeding him with delicacies prepared to Eastern, Western style or whatever recipe that comes to her hands is her favourite hobby. "Fortunately he burns them all, otherwise Mahela tends to end up in having high cholesterol level," she went on with her usual serious cum charming grin, "But, I think he needs energy to bat as well"...
Christina Sirisena was born on February 12 in 1981, to Sri Lankan - Danish parents; Gamini Sirisena, a planter whose home town was Heerassagala, Kandy and Marianne Pertersen of Denmark. "Both my older brother and I were born in Denmark. I was two years when we first came to Sri Lanka with my parents on a holiday. We settled down here permanently in 1990," she says.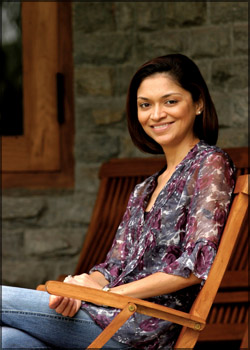 "How my parents met each other is also an interesting story. My paternal family had been planters. When my father was about 19-20 years, he had decided to roam around the world. It was late 1960s. My father was a huge Elvis fan.
Once he was in France and wanted to fly to Las Vegas to see Elvis. But, for some reason he had found out that the particular flight was getting delayed, and decided to take the flight to Denmark. Both my Mum and Dad had worked at the same place, and that was how it ended up in them getting married," recites Christina.
Her father returned home with his Danish family and settled in Kandy. Christina and her brother's mother tongue was Danish. The first few years of their schooling was in Denmark.
Since their father wanted to bring up his two children according to the Sri Lankan traditions, he entered them to schools to study in the Sinhala medium; Christina to Holy Cross and her elder brother, Alex to Trinity.
"Dad always used to talk with us either in English or Sinhala since we were in Denmark. He thought it would make us easy to catch up the two languages, though we always answered to him in Danish," she says.
Question: You speak English extremely well. How's your Sinhala?
Christina: My Dad's endeavour to make us study in Sinhala was not a success though he tried to give us tuition and so on. My brother and I then entered Kandy International School and we went up to O/Ls. We could speak Sinhala to a certain limit, but unfortunately unable to write or read.
Alex went to Switzerland to do a Hotel Management Course. He lived there for 5 years, via Germany moved to Denmark and settled down their after getting married to a Czech girl (Czech Republic). Alex is a Dad now. My two-year-old nephew speaks, Danish, English and Czech. My parents though live here, they speak Danish at home.
Question: Did you continue your higher studies?
Christina: I did my A/Ls at Mount Carmel College, Bangalore, India. It was the period when I added experience to my life in abundance. I was in the hostel. I could say, I grew up a lot when I was there. I made my best life long friends there. Both my brother and I have been very close to Mum and Dad.
The hostel life made me mature and quite independent. Got the chance to travel a bit around India. The College which was run by Carmalite nuns was very strict. This taught us discipline and to be more methodical. Unfortunately I didn't go for the degree. However, I was not that much of a study person. I stayed in India for two years, and I felt that was enough.
One month after Christina returned home, her father who saw an advertisement in a newspaper, asked her to apply for it as an Air Stewardess in Air Lanka (SriLankan Airlines). "I applied and got it. I was under training. It was the end of 1998. And it was the time I met Mahela for the first time," she recalls.
Denagamage Prabath Mahela de Silva Jayawardena was born on May 27, 1977 at Mulleriyawa to Senerath Jayawardena, a Technical Officer at the Sri Lanka Rupavahini Corporation and Sunila de Silva. The biggest traumatic tragedy in his family occurred in 1994, when Mahela's one an only sibling, his younger brother, Dishal died due to a brain tumour.
"I've heard that both Mahela and his brother were very close to each other as they had only one year difference in age. Mahela says Dishal also played Cricket and would have been much better batsman than him. Both were Nalandians," butts in Christina.
Mahela entered Nalanda Cricket at the age of 11 in 1988. He did a bit of school athletics until he was 15 years and gave up when he realised his interest was only for Cricket. Mahela captained the school team (under 19) in 1995, and entered the National team in 1997. "And it was this period that I started flying," breaks in Christina.
"I wanted to enjoy my life at Air Lanka. I love travelling, and have really enjoyed my life there. I wanted to see the world, and not to have serious love affairs which would tie one down. I met him through Cricketer Avishka Gunewardane, whose was my friend as well.
From the day Mahela saw me he was interested in me and kept on calling me and pestering me. It went on for nearly one year. Since the nag was intolerable I thought of giving it a try", laughs Christina.
"Both our families were very open minded. I must say a word or two about Mahela's parents. Though they were conservative and old fashioned they were so open and warmly welcoming, and gave us all the freedom we wanted. After I left Air Lanka I worked for a UK travelling company for three and half years.
My job was to arrange holidays between Sri Lanka and Maldives. Since it's totally net work based company I had time to travel along with Mahela. I gave up that also in 2007, in order to give my full co-operation to him. Mahela and I carried on for so long - nearly eight years. We wanted to know each other first.
We were together and I even travelled with him when he went abroad. I had to travel and stayed separately as only wives and not girl friends were allowed to be with the team. Still we didn't mind. None of the parents worried us to get married. It was our sole decision to get married, and that was when we thought it was the right time to settle down. We got married on November 3, 2005," she recalls.
Question: Wow!, Happy Wedding Anniversary, Captain Mahela and Christina for your third year anniversary which falls tomorrow! Accept the wishes from our staff and readers as well. When are you going to think of adding the third member to the family?
Christina: Mahela would have a baby even tomorrow if he could. He loves children. Hmmm... I should think about it too. I sometimes feel that I'm still not prepared for that. However, tell the Sunday Observer readers that we'll give it a serious thought. (laughs).
Question: You rarely miss his matches, and could be seen at the pavilion giving all your moral support to him. Hope you would be seen soon with a cute bundle, (colour is immaterial, whether it's `Pink' or `Light Blue') cheering him at his future matches. All the Best!
Christina: Thank you! (laughs)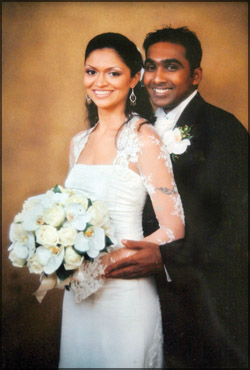 Question: Don't you miss Denmark?
Christina: I've been in Sri Lanka quite a long time. I do love both countries. My maternal grandma still lives in Denmark. My parents go and stay with her for a few months as an annual routine. I too try to go there every year since my brother lives there.
In their white mansion at Pelawatte, Battaramulla, Christina and Mahela benevolently spend their life in peace. The green garden is marginalised with a small pool, and the wire mesh through which the scenario of the Parliament of Sri Jayawardanepura and the serene city of Battaramulla could be viewed. The big antique hanging in their dinning room depicts `Devas' (gods) worshipping `Salumina Seya' adds a bit of colour and a serene mood to the simple spacious atmosphere. "This was found from a temple affected by the Tsunami.
Its a bit damaged, but still has it's value. Both my father and I love antiques. We moved to this place recently. There's a lot more to be done," she says.
Question: What faith or religion you follow?
Christina: I'm a Buddhist. My father even though he was a ardent Buddhist, never restricted me or my brother to follow one religion. When we were in Denmark, we went to the Church. And, here, we go to Buddhist temples and even to the Kovils. I respect all faiths and religions. Also I believe that as long as you don't harm anybody and lead a good life hat's a blessing that showers upon you. Even the Buddha has taught it. I don't think afar, and I take each day as it comes. I live for the moment and enjoy life. I'm a very methodical person, and Mahela thinks sometimes it's too much.
Question: Your pastimes?
Christina: Both my brother and I were good swimmers. I even swam for the National team representing Sri Lanka in South Asian Games in 1992. Unfortunately I didn't win, and gave up as the training was in Colombo and we were living in Kandy at that time. It was strenuous. I don't believe in getting involved in things are not interesting.
I read a lot, anything that comes to my hands, except
science fictions as I don't exhaust myself thinking about the future predictions. I'm a person who prefers to live only for today. I love photography. My grandma is a good photographer. Apart from that I like shopping, and to organise get togethers with our friends. Actually, we do a lot of entertainment.
Question: You seem to easily give up on things. For example; your studies, jobs and even sports. What do you think about marriage which is based on give and take policy?
Christina: I agree with you. That's why Mahela and I waited so long to get to know each other. Nothing is perfect in this world. We also have ups and downs, but I believe those make life more interesting, and otherwise it would just flow monotonously. Both husband and wife should be able to give and take equally, and it's unfair to expect only one party to work for it.
Question: Mahela, as a husband?
Christina: Extremely loyal, honest and very generous. Also lazy, neglectful, and I cannot ever expect him to replace anything what he takes up. Extremely messy (laughs). Those are the things that make me angry. I have got my father's temperament. My mother is a cool person. Mahela, in that case never gets angry. I hardly see him even raising his voice.
In his sports world, Cricket is his first love, Golf becomes his second love. Oh! sometimes I too walk with him along all the 18 or 19 holes in the Golf Court. He tries to provoke me also to play Golf, but I don't think it fits with me (laughs). His mother says he has been holding the Cricket bat since he was a two-year-old. He has had no other hobbies (no time actually) other than for Cricket.
Question: You said something about your father's prediction of Mahela and you.
Christina: He had seen Mahela on the TV first at a match played in Galle. I was in India at that time. His premonition was told to us by my Mum after Mahela and I got involved. Also there's another interesting story. We were celebrating Mahela's birthday at his parents' place. I just sent a SMS to my Grandma in Denmark saying about it. In return, I got one from her saying that co-incidently, it was her grandmother's (my great great grandmother's) birthday as well.
And after a few minutes, she sent another SMS saying that she had found that her grandfather's (my great great grandfather) birthday fell on my birthday. We all were shocked! It was a pleasant surprise I've ever had. My great great grandparents were born on the same day that of mine and Mahela.
Question: One can affiliate it to one's re-birth. Do you believe so?
Christina: Yes, it could be. Mahela is my first and last love.
Hope Cancer Hospital, the dream of Mahela after his brother's death, is still under construction at Maharagama. "It was started in 2002. I have been helping Mahela's father in raising funds. It's a separate body from the Maharagama Cancer Hospital, but comes under Ministry of Health. We hope `Hope' will be real soon," hopes Christina.
Question: As the final question, I would like to ask how do Air Stewardesses enchant so many Cricketers like this? A number of Cricketers have married Air Hostesses? What's the secret?
Christina: (laughs) You better ask them. But Mahela got involved with me only when I was under training and not as an Air Hostess. I loved him not as a Cricketer, but as who he was. We hardly had time to meet each other in our first two years as I was flying and he was fully involved in his matches. I do understand his lifestyle as a Cricketer. That's the secret that keeps us going.