`Love stands the test of time'
Athula Adikari and Samitha Mudunkotuwa are no strangers to the Lankan music audience. Let's see what Athula has to say about themselves to `Spouse's Mouth'....
"We warmly welcome the gossip spread about us. Bollywood people do it by their own selves in order to get more publicity. It is a well organised tactic. But, in our case we're getting it free," laughs Athula blending together his usual charm, mischievous and sportive looks.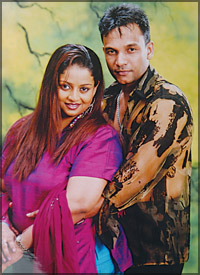 "I was a bachelor when gossip spread around that I eloped with a young female singer who by that time was on top of the fame list. Another wonderful rumour was spread after I got married to Samitha. My daughter was a baby at that time. It was said that I who was drunk at a party threw my little one up for fun and missed catching her back, and she fell and died. Third rumour cropped up very recently, after a few months my son was born, entangling Samitha with a popular politician. What I believe is that if you can't live with your spouse or partner, it's always advisable to separate rather than suffer and live together under one roof. That's my policy. Samitha too knows about it. So, if she wanted to get away from me, she could have talked about it with me and come to a conclusion. She didn't need to elope," explains Athula.
Question: How does it affect your personal life?
Athula: True enough, at the beginning, it worried us. When you mature, you look at things in a different angle. What Samitha and I thought was, all these happened due to our fame. If we were just an ordinary couple, nothing of that sort would have taken place. Why should we worry about things which are not relevant to us?
Question: But, how would it affect your children as they still live in a society with a traditional frame?
Athula: My daughter is 12 years old and son is 6 years old. They are both studious, and both Samitha and I are really happy about them. We are a friendly family who have nothing to hide. So far my daughter has not inquired about the rumours that go around about her parents. Even though such talk reaches her ears, our girl will not get affected since she, sees for herself what's happening at home, how her parents live with them. Todays children cannot be fooled easily (smiles).
Question: If you know the parties who are trying to harm your dignity, can't you take legal action against them?
Athula: Why should we bother? We've been keeping quiet. They said I was drunk at a party and missed catching my baby daughter. You see, I'm a teetotaller. Also we have no time to worry about who has spread such `news'. We have more important work. Furthermore I've gauged the interests of such people and their mentalities. Some of them are people who have their own personal problems, and are jealous when they see a family living happily. There's another set in society who love to entangle their names with popular characters in order to get themselves into the lime light. And some live in their own fantasy-world imagining famous characters as their lovers. Such fans who go crazy over the famous personalities try their level best to get at them and then start a love affair with them. Failing that, out of shame, their 'love' would changes to `hatred' and they would go to any extent to hurt the other party. Different persons have different mentalities. What can we do about them? (smiles). Even if people see us chatting for a while with somebody of the opposite sex, soon we'll hear gossip coupling us with that person. My daughter will soon reach my height, and I would not wonder if they say that `Athula is seen going with a girl in his car' if they see her with me sitting in the front seat next to me in the car (laughs).
Adikari Mudiyanselage Pubudu Athula Adikari was born on March 8 in 1966 at Mahawewa in the Chilaw District to A.M. Kumaradasa Adikari and Lalitha Wickremanayaka. Famous singer Nelu Adikari is Athula's only younger sister. Athula's was a musical family. Though his father taught English and Science subjects at school, he loved to play music instruments and sing along with Athula's mother who was a music and dancing teacher. The background his sister and he got since their childhood moulded them to reach the peak as of at present though they never had any intention of choosing music as their profession. Every one born to this world is gifted with some talent to live. To what height they can climb up is decided by their previous Kamma (good deeds). However much you try to divert one's path of destiny, it won't change. Athula's was also a similar story. Athula studied the alphabet first at Ananda Vidyalaya, Chilaw where his mother was a teacher. He then entered Royal College, Colombo through a Grade Five Scholarship. "I was at the hostel. After a few years I had a problem in finding a place to stay. My parents who noticed that it was affecting my studies, took me back to Ananda, Chilaw, when I was in grade 9. And that was how my fate directed me towards music," recalls Athula.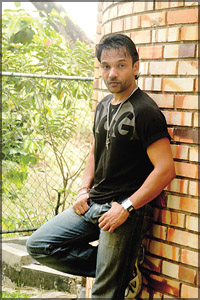 Athula studied Trinity College piano music upto grade 5. The Guitar was always an attraction. He learnt the Eastern music notes in singing from his mother. Music was his forte, Tennis and Badminton were among his few hobbies. Neil Warnakulasuriya, a guy who was a few years senior to Athula, was also from the same village, Mahawewa. Neil was at Thurstan College, Colombo, and after his exams he decided to form a band of his own. Neil and Athula knew each other since they were kids. As Athula re-entered Ananda Vidyalaya, Neil who was in search of young musicians invited Athula to join them. "My father always backed the idea, but Amma was not that happy and wanted me to concentrate on my studies more. She knew that I would neglect my studies if I started with music. However we, started our band `Sunflower' in 1981. I was in grade 9 at that time, and joined Neil as the keyboardist," says Athula.
`Sunflower' which blossomed in Chilaw spread its popular fragrance all over the island within a short spell of time. Meanwhile Athula managed to sit for A/Ls in 1984, and inevitably strengthened his partnership with the band. `Sunflower' released their first cassette in 1986. Athula was the keyboardist and had not tried his talents as a singer. But, in 1988, he tried his luck as a singer and released his first solo `Ran Palase'. Out of 12, six songs were hits. Not merely girls, but little ones, middle aged and elders soon became his fans.
If he says he has never had a crush before he met Samitha, it is inaccurate. He has had a few, he accepts. But, Samitha changed his life. "I first met her at `Janakala Centre' when she came for a record her very first song `Ira Paya'. She had sung the song in her first teledrama where she played the main role in 1988 under the direction of Chandraratne Mapitigama. When she came to record her second song, `Rosa Puranaya' both of them eventually developed an attraction to each other.
Samitha Kumari Erandathi Mudunkotuwa was born on January 7 in 1973 at Horana as the only child to the famous music duo, Premadasa Mudunkotuwa, the first Masters holder from Bhathkanda Music College, India and Kumari Bothota, folk singer at the Sri Lanka Broadcasting Corporation (SLBC).
Samitha first had her education at Shripali Vidyalaya, Horana and then entered Buddhist Ladies College. She excelled in music under her parents, and learnt dancing under Piyasara Shilpadhipathy. Her father was the `Guru' of many celebrated singers of today. Samitha being the youngest candidate, passed the Visharada exam at the age of 16 years. Unlike others, she had to face the examination for nearly two hours conducted before the Indian maestros who came to Sri Lanka as examiners. Since she was the daughter of the `Guru' they took a longer time to come to an impartial decision about her talents.
In 1988, the famous musician, Rohana Weerasinghe who happened to be one of the judges at an All Island folk singing competition held in Colombo, was quick to recognise the talents of the pretty school going teenager Samitha who won the first prize at the competition. Until Rohana reached her residence at Horana to meet her parents to get permission for her to act and sing the theme song of Mapitigama's newest teledrama `Ira Paya' for which he was the music director, he didn't know who her family was. "No wonder I had an intuition about her, not knowing she is the only offspring of the talented Mudunkotuwa duo," admitted Rohana when talking about Samitha.
`Ganga and Nishshanka' was her second tele drama in which she sang and acted. Lakshman Wijesekara was her music director. In 1995, after her marriage, she took part in the single episode tele `Mudiyanse Mama' based on Martin Wickeremasinghe's short story. Her last tele drama was `Dala Rala Pela' directed by Chandraratne Mapitigama in 1998.
Samitha released cassettes - `Ira Paya' (1988), `Rosa Mal Mawathe' (1991) and `Kolompure' (1992). `Muthu Kumari' (1995), `Adara Sulanga' (1998) and `Sansaranya' (2002) were her CDs. Her talents have won her acclaim in Sri Lanka as well as abroad. Any Sri Lankan expatriate who lived here at least till the end of 1980s, cannot forget her charming pretty face and her melodious voice.Athula who broke many thousands of hearts of his female fans by tying the knot with Samitha, has also tried his talent not only in singing and music, but before the tele camera as well. Ashoka Handagama's `Synthetic Sihinaya' was his first tele in 1988, and Senesh Bandara's `Arunoda Kalapaya' (2004) was the second. Roy De Silva's film `Salamuthu Pinna' was his first ever experience of the Silver Screen. `Ran Palase' (1988), `Ran Podak' (1991) and `Sihine' (1994) were the cassettes he has released so far. `Surya Nagare' (1998), `Kale Ne Muthuth' (2005) and `E-mail Kavi Kariya' (2005) were among the CDs of his that made a hit.
`Sanda tharu mal mata gena dun'... Athula starts humming the duet he sang with Samitha for their daughter, Kavindya Devindi, composed by Rambukkana Siddhartha Thera and music by Rohana Weerasinghe on the day of her birth. `Sanda sumuduyi mudu sisilayi', the song they sang for their son, Shane Athula will also be a hit soon.
"Samitha," he went on to say, "to me she is just my wife who looks after my children and me. I'm really proud of her talents, and it was she who was behind my success after our marriage. She is a cool cucumber, and rarely looses her temper. I get angry a bit more," he smiles.
"Samitha keeps a watchful eye on our children and looks after their studies and so on as I have a little time to spend with them with my busy schedules. She is a wife who never nags. Whatever she does is for the family," says Athula.
Question: You with a sporty mischievous outer appearance, you seem to be a deep thinker.
Athula: Yes. I'm totally different from my outward appearance. From the time I was a teenager I got the opportunity to associate with friends who were more older than I. Hence I also used to think like them and eventually became mature before my age. That was why I decided to leave `Sunflower' after my marriage as I knew it would be difficult to carry on a married life while playing in a band. It was a big risk as I was not sure whether I could survive as a soloist. Also it was a hard decision to leave my friends who were with me for so long. I gave early notice to them to find another keyboardist for the band much to their displeasure. I played with the band, on my wedding day March 25. That was my last day with them. Like that I have made decisions over what I've felt right. I dont like to postpone things.
Even having meals I do it on time. I have my breakfast at 6.30 am, lunch at 12.30-1.00 pm and dinner at 6.30-7.00 pm. I take my meals on time even if I'm hungry or not, to finish that session off.
Question: Your future plans?
Athula: Both Samitha and I don't have intensive plans for the future. To make a better future for our children is our main hope. She helps out in her parents' music institution.
Whatever the help we can render to the new comers we don't hesitate to do it. At present I work as the music director of `Derana Dream Star' programme on Derana TV. I've lined up my `A*O2' band for that. I hope to do a musical concert and release a CD with Samitha next year. Though I have not much time to attend to charity work, both Samitha and I have taken part in many fund raising shows, especially in the campaigns for the Forces.