Tamil politicos satisfied with rehabilitation process
Former Vavuniya district Parliamentarian and People's Liberation Organisation Tamil Eelam Leader D. Sitharthan along with the General Secretary of the Eelam People's Revolutionary Liberation Front (NABA) T. Sritharan who visited the rehabilitation centres set up for former LTTE cadres in Ambepussa and Pallekele have expressed satisfaction over the rehabilitation measures carried out in those centres.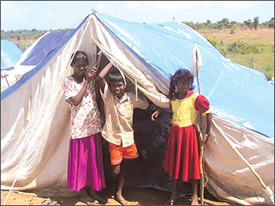 Sitharthan and Sritharan visited the Ambepussa and Pallekele rehabilitation centres on Friday accompanied by the Secretary to the Ministry of Justice S. Gamlath.
Sitharthan told the Sunday Observer that T. Sritharan and he were the first Tamil politicians to visit those two rehabilitation centres set up for former LTTE cadres and they were extremely satisfied over the measures adopted at the centres with regard to rehabilitation activities.
"We presented various gifts to the former LTTE child cadres - around one-hundred members - girls and boys who are being rehabilitated at the Ambepussa centre. They have been provided all facilities and vocational training. The youngsters have been trained to handle computers. Those who handled guns are now conversant with the computer," Sitharthan said.
He added that the LTTE proxies were carrying out adverse publicity on the cadres who had surrendered to the Security Forces.
But, we had seen everything in 'black and white', the way the rehabilitation is being carried out. Everything is in order and the former LTTE cadres are treated with extreme care. "In Pallekele there were around 800 former LTTE cadres, including certain senior members of the outfit.
The officials and civilians who are attending to these cadres are acting with great concern and all their essential needs are met," he said.
Meanwhile, Major-General Jagath Jayasuriya, Wanni Security Forces Commander said that all measures were in place to distinguish the LTTE cadres from the IDPs. We scan all the IDPs at Omanthai and separate the cadres from the lot.
There were 58 underaged cadres and a 14-year-old boy was among them.
We have sent all of them to the Ambepussa centre where the UNICEF and the Ministry of Justice are looking into the rehabilitation process of the former young cadres.
We took some of their parents also to the Ambepussa camp and showed them how the rehabilitation process is being carried out." Maj. Gen. Jagath Jayasuriya said.