Martin Wickramasinghe:
He wrote for children too
Martin Wickramasinghe is one of the all-time great writers of Sri Lanka. He is hailed as the foremost writer in Sinhala in the 20th century. He wrote novels, short stories and essays on our cultural heritage, and a history of Sinhala literature. He wrote mainly in Sinhala, but he wrote in English too. He also wrote especially for children.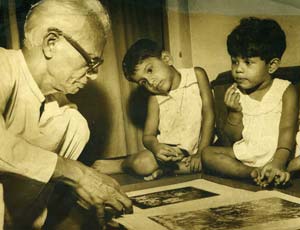 Madol Duwa, an adventure story has been read by millions of children since it was first published in 1947. It was made into a film by Lester James Peries. Madol Duwa has been translated into Tamil, English, Japanese, Chinese, Russian, Dutch, Rumanian and Bulgarian.
Apay Gama is about life in a southern coastal village, about 100 to 110 years ago. The English translation is titled Lay Bare the Roots, Wickramasinghe wrote for children the Sinhala versions of stories from European literature like Gulliver's Travels and Tales of Yesterday by the German writer Hoffman.
Rohini, a historical novel set in the Dutugemunu - Elara period is about a warrior in Dutugemunu's army and his lady love Rohini. It was not written especially for young people. As it was a textbook for the JSC exam (Grade 8) it was read and enjoyed by thousands of students.
Martin Wickramasinghe also wrote books that made children aware of creatures big and small around them. This was in the early 1930s, long, long, before people started talking about the environment. The aim of these little books - 'Kurumini Satthu', Ves Marukarana Satthu, Moodu Verala - later published under the title Vidya Vinoda Katha was not to teach or inform, but to show children how fascinating the world around them was.
Satva Santhathiya was a remarkable book for that time (1930s) when the average reader in Sinhala and even students studying in Sinhala had only heard of Darwin's theory of evolution. In this booklet Wickramasinghe gave an inkling into Darwin's theory and in the process enriched the language by introducing many new words.
Martin Wickramasinghe was born on May 29 1890, that is 128 years ago in Koggala, a very popular tourist resort today. In 1890 it was one of the many small villages between Galle and Weligama.
You have heard, I am sure, of the Second World War from 1939-1945. During the war the British who ruled our country then, wanted to set up
an airfield in Koggala. The village folk were given 24 hours notice to leave their homes. Their houses were pulled down to make way for the air-field and camp. By some strange `fate' Martin Wickramasinghe's home was not pulled down. One of the officers liked the house very much and he wanted it for his quarters.When the war was over and the air-force left, there was this one house in the deserted village - a lone reminder of the once active and quite prosperous village of merchants and small land-owners. The house and the whole area around was now government property.
In 1961 the Government of Sri Lanka gifted this house and land to Martin Wickramasinghe. He was then 70 years old and living in Nawala, just outside Colombo. It was a very welcome gift. He enjoyed spending a few days, ever so often, in his birthplace and walking on the Koggala beach where he had spent many happy hours as a boy and youth, and this was very unusual for a boy of that young age - observing the myriad(innumerable) creatures on the beach and on the reef. What he saw and enjoyed watching them, became the material for his books, Vidya Vinoda Katha.
The house where he was born, which is still there, was known as Punchi Opisara Gedara. Opisara is the Sinhala word for officer, a man respected by the villagers who was appointed by the government to keep law and order in the village. When Wickramasinghe's father's elder brother who was the Opisara died, his father was appointed Opisara and his house was called `Punchi Opisara Gedara. Those days houses were known by the profession or office of the chief householder Veda Gedara, Guru Gedara, and so on.
Martin Wickramasinghe was the ninth and only boy in his family. So, he was the mother's darling. He was first taught to read and write by Andiris Gurunansey. After a short spell at the village temple where a bhikkhu taught the boys, Wickramasinghe was admitted to Buena Vista School, a Christian Missionary School in Galle, where the children were taught in English. Buena Vista is the hillock rising from the eastern end of the Galle harbour. Locals call it Roomassala Kanda.
He was in Grade 5 at Bouna Vista when his father died. Shortly afterwards his family fell on hard times. His mother couldn't afford the school fees, so Wickramasinghe had to leave Bouna Vista.Back in the village and the temple he began to learn Sinhala, Pali and Sanskrit from Pundit Dheerananda Thera, a cousin of his. He was admitted to the Ahangama Government school, but he started playing truant, roaming the village, boating in the Koggala Oya and swimming in the sea, in the company of youths much older than he. This upset his mother. She decided to send him away from the village. A relation got him a job in a shop in Colombo. Wickramasinghe was about 16 years then.Out there in Colombo, alone and far away from home and friends he began to read to while away his time newspapers, books, pamphlets, anything that came his way. Reading became so enjoyable that he started buying books. He sent a part of his salary to his mother and used much of the balance to buy books.
After reading the novels by Piyadasa Sirisena, Simon de Silva and others, he attempted writing a novel himself. This novel Leela, was published in 1911. When he proudly showed a copy to a cousin, his comment on reading it was 'Maha moda kathawak' (a very silly story). His pride was hurt, but he was not discouraged.His boss, shop went out of business and he was back in Koggala, unemployed and still doing dare-devil things with his friends. His next job was managing a shop in Batticaloa. While continuing to read avidly as before, he also started writing to newspapers. An essay on rebirth Vrukshalatha Saha Sathvayo, (Trees and Animals), published in the Dinamina impressed the newspaper's proprietor D.R. Wijewardene and he recruited Martin Wickramasinghe to the editorial staff of Dinamina This was in 1920. In a short time he was promoted Assistant Editor.In 1924 he married Prema de Silva of Kathaluwa, a village close to Koggala.They had three sons and three daughters.After marriage they came to reside in Mt. Lavinia and soon Wickramasinghe built his own house in Samudrasanna Road. It was here that many of his early books were written. The house was close to the sea he loved. On Sundays he took his children to swim in the sea near the Mt. Lavinia Hotel and played with them on the beach. He was as much a friend to them as a father. Wickramasinghe had a long spell at Lake House as Editor of Dinamina and Silumina The column he wrote weekly under the pen-name 'Mayurapaada' was entertaining, educative and very popular. It was while he was Editor Silumina that 'Gamperaliya was published in 1941.It was a landmark publication. One critic said, 'The Sinhala novel has come
of age' (reached full development). The book sold fast Gamperaliya was the first in a trilogy, the other two are Kali Yugaya and Yuganthaya. Gamperaliya showed the village changing as urban customs and values came into the village. In Kaliyugaya, the setting is 20 years later - the characters of GamPeraliya leave the village to take up residence in Colombo, and are fascinated by the city life. In Yuganthaya we see them aping the Englishman and English speaking locals. Gam Peraliya has been translated into English Tamil, Italian and Russia. The English translation is titled 'Uprooted.'
In between the writing of the trilogy, he wrote a history of Sinhala literature and many more books, too many to list here.Martin Wickramasinghe was a self-educated man. His formal schooling didn't go beyond grade six. But he was a man of vast learning. He read avidly, remembered what he read. He also took note of what he saw and heard around him and linked his observations to what he had acquired from books.
He left Lake House in 1947 and concentrated on his writing - fiction, literary essays, critiques. He had numerous honours conferred on him four universities conferred honorary degrees, Queen Elizabeth conferred the MBE (Member of the British Empire) when she visited Ceylon in 1954. Wickramasinghe accepted this honour as an honour conferred on the hitherto unrecognised writers in Sinhala.
To mark his 70th birthday he brought out his autobiography Upan Da Sita from the (day of my Birth). The first two or three chapters of this autobiography have been published as a separate book especially for children. Get a copy of `Baala Viye' and read it. There must be a copy in your school library.He continued to write for another 10 years, until failing eye-sight made reading and writing impossible. His last work 'Sinhala Language and Culture was published in 1973. He passed away on July 23 1976 and his remains were cremated at the abandoned air-field in Koggala. His ashes are interned in the grounds of his home 'Punchi Opisara Gedara'.The Martin Wickramasinghe Trust which comprises his children and a few very close associates of the writer has set up a Folk Museum in the grounds of his home which is preserved as it was a hundred years ago. This is in keeping with this great writer's interests. In many of his writings he directed the readers' attention to the folk layer in our culture which had come down alongside the elitist culture. So, this museum houses the utensils and implements used by farmers, fisher folk, weavers, physicians, teachers, and housewives. There are the icons and various utensils used in rituals like exercising (driving away devils) ceremonies.
The latest addition is a replica of the iron-smelting furnaces in use in the area now taken up by the Samanala Weva, in the Belihul Oya Valley.If you go down south, ask your parents or elders in whose company you are, to visit the museum.