Harry Potter magic continues
Harry Potter and The Half Blood Prince made more than 100 million on its first day on worldwide release, Warner Brothers has announced.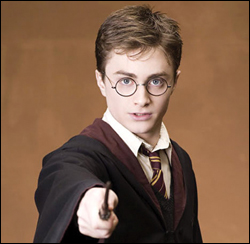 The sixth film in the fantasy series opened in 20 countries on Wednesday, July 16 raking in an astonishing 104 million US dollars in ticket sales.
Half-Blood took US 58.2 million dollars in America and Canada" a tally that included a record US 22.2 million dollars from mid-night screenings.
The only other summer blockbuster to do better on a Wednesday debut in America was Transformers: Revenge Of The Fallen, which opened last month with a US 62 million dollars haul.
"These outstanding numbers are another testament to the universal appeal of JK Rowling's stories," said Veronika Kwan-Rubinek Warner Brothers President of international distribution.
"We owe this record breaking opening to the remarkable fans who have stood by us and who stood in line to be among the first to see Harry Potter and The Half-Blood Prince," added Warnrer's Studio Chief Alan Horn.
Warner Brothers plans to split the final novel Harry Potter and the Deathly Hallows into two movies" part one will arrive in cinemas in Nov 2010 and part two in May 2011.
The franchise has brought in an amazing US 3 billion dollars in revenues around the world to date since Harry Potter and The Sorcerer's Stone was released in 2001.
---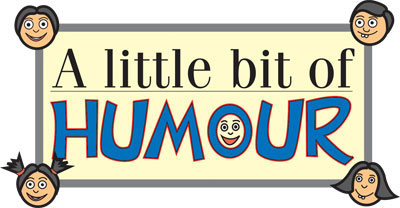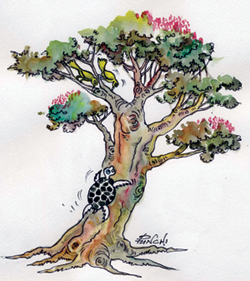 Deep within a forest a little turtle began to climb a tree. After hours of effort he reached the top, jumped into the air waving his front legs and crashed to the ground. After recovering, he slowly climbed the tree again, jumped, and fell to the ground.
The turtle tried again and again while a couple of birds sitting on a branch watched his sad efforts. Finally, the female bird turned to her mate.
"Dear," she chirped, "I think it's time to tell him he's adopted."
---
Birth and death anniversaries
from July 19 - July 25
August 2
Colonel Henry Steele Olcott, co-founder of the Buddhist Theosophical Society was born in 1832.
Alexander Graham Bell, a Scottish-born inventor of the telephone died in 1922.
Prof. Nandadasa Kodagoda, former Vice Chancellor of Colombo University, died in 1997.
August 3
Hema Basnayake, former Chief Justice died in 1902.
Stanley Thilakaratne, a former Speaker of Parliament was born in 1929.
H. S. Ismail, former Speaker of Parliament (1956-1959) died in 1974.
Ven. Kotikawatte Saddhatissa Nayaka Thera, was shot dead in 1989.
August 4
Hans Christian Anderson, Danish fairytale writer died in 1875.
Queen Elizabeth 1, Mother of the present Queen, Elizabeth II was born in 1900.
Ven. Yatawara Sri Sangharakkhitha Anunayaka Thera, chief incumbent of Asgiriya chapter passed away in 1998.
August 5
Dingirala, a leader of the Kandyan rebellion was executed in 1848.
Guy de Maupassant, French writer was born in 1850.
Fredrick Engles, German philosopher died in 1895.
Neil A. Armstrong, American astronaut, the first man to step on the moon was born in 1930.
Marilyn Monroe, Hollywood actress died in 1962.
Richard Burton, Welsh actor died in 1984.
August 6
Pope John Paul VI died in 1978.
Sir Alexander Fleming, Scottish scientist, who discovered penicillin was born in 1881.
August 7
Rabindranath Tagore, Bengali writer and a social philosopher, died in 1941.
Greg Chappell, former Australian cricket captain was born in 1948.
Kumar Anandan, holder of several Guiness records died in 1984.
August 8
Weera Puran Appu, a Kandyan rebellion leader was executed in 1848.
Nittawela Gunaya, famous kandyan dancer died in 1986.
General Denzil Kobbekaduwa and eight other high ranking military officers died in a bomb blast in 1992.
Dustin Hoffman, American actor, was born in 1937.
---
Special events which took place in
history from August 2 - August 9
August 2
Survey Department of Ceylon was established in 1800.
Sri Lanka Mahila Samithi was formed in 1931.
Iraq invaded Kuwait under the leadership of Saddam Husain in 1990.
August 3
The first sod was cut to inaugurate the railway line from Colombo to Ambepussa in 1858.
Times of Ceylon, acquired by the Government in 1977.
August 4
The Red Cross Society was founded in England in 1870.
August 5
The State Pharmaceutical Manufacturing Corp, was inaugurated in 1988.
Upper Volta became independent in 1960.
August 6
Ceylon Savings Bank was Established in 1832.
The first atomic bomb was dropped on Hiroshima of Japan by America in 1945.
Bolivia became independent in 1825.
Jamaica became independent in 1962.
August 7
The Electric Chair death sentence was first used in Auburn Prison in New York in 1890.
August 8
The Colombo Tea Traders Association was formed in 1894.
Cargills Ltd was founded in 1844.
The Great Train robbery, first biggest mail train robbery took place at Chedington, England in 1963.
---
Over 1,000 rural schools benefit from Nenasa
Sri Lanka's first Digital Satellite Television based Distance Educational programme, organised by Dialog Telecom PLC in collaboration with the National Institute of Education (NIE) was launched in a rural school at Moneragala recently under the patronage of President Mahinda Rajapaksa.
According to the programme which commenced under the theme Nenasa ', over 1,000 children in rural schools will be able to learn local and international educational programmes from their school computer rooms, like other children in several other schools.The educational programmes are prepared by the NIE, and children who have access to the Internet could view them via www.nenasa.lk.
President Mahinda Rajapaksa, Education Minister Susil Premajayantha and Dialog Telekom PLC, Group Chief Executive Dr. Hans Wijayasuriya were at the official launching which took place at Ranjan Wijeratne Maha Vidyalaya in Pelwatta, Moneragala.Dr. Wijesuriya said that Dialog spent over Rs. 100 million towards this programme and television reception equipment and audio visual devices will be donated to all schools to connect to the Nenasa network.
Nenasa is a digital satellite television channel, managed and operated by the Ministry of Education and the National Institute of Education (NIE). Education Minister Susil Premajayantha said the programmes will cater to the G.C.E (Ordinary Level) and (Advanced Level) students sitting for their syllabus in Sinhala and Tamil mediums."In addition, teacher training and skills development programmes for the benefit of teachers and school leavers could be viewed, especially after school sessions," he said.
---
Model UN Conference starts today
Burning issues pertaining to Sri Lanka today, such as terrorism, economy, child abuse and various other international issues that have an impact on our country will be the main topics to be discussed and debated at the Sri Lanka Model United Nations Conference (SLMUN), commencing today at the BMICH, Colombo. It will continue till August 4. Over 900 children from 45 schools, including schools in Jaffna, Trincomalee and Kilinochchi will attend the conference.
Education Minister Susil Premajayantha will be the chief guest at the opening. Speaking to the Junior Sunday Observer, SLMUN, Charge d' Affairs', R.L. Ellawala highlighted the importance of conducting this conference annually and said that such conferences will immensely help the younger generation to express their views on a public platform.
SLMUN, Secretary General, Isuru Kotigala said the conference will help to bring various ethnic groups in the country together, under one roof, to discuss the pressing issues of the modern world.
AK
---
More entertainment at Leisure World
Entertainment, amusement and surprises are the main features of Sri Lanka's first ever theme park, 'The Leisure World' that celebrated its third year anniversary this year.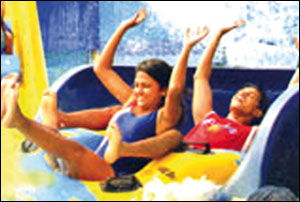 The management of the 'Leisure World' introduced a number of new additions recently to provide more entertainment for visitors.
The General Manager, Leisure World', Rezwan Mohamed said the six-acre Rain Forest, Game Park, Aqua Trail, Relaxing Chair and Bumper Car are the new additions, introduced to the `Leisure World' recently.
He said these new additions were introduced mostly for the entertainment of school children who visit the park in their thousands during school vacations.
He added that for the first time in Sri Lanka, a new item, helicopter rides will be introduced for visitors, commencing next month.
"We hope to open the park until 9.00 pm on weekdays and public Holidays during the forthcoming August school vacation," he said.
'The Leisure World' which is located in a 57 acre land at Kaluaggala, Hanwella was ceremonially opened in 2006 by President Mahinda Rajapaksa.
The theme park consists of two sections, the Amusement section and the Water related activities section.
`Leisure World', Guest Relation Executive, Yaseer Saleem and Sales and Marketing Executive Sanoji Wijesundera said apart from the new additions, crescent swing, swing around, boat riding, octopus, lazy river, kiddies pool, wave pool, log flume, happy express, super swing space ship and thunder cruise are the other existing games at the park.
---
A gift for IDPs
A substantial amount of essential items such as milk powder, medicines, toiletries, bed linen, clothing and food was collected by the grade six students of the Overseas School of Colombo to be handed over to the IDPs via the Government Secretariat. The students, who are actively promoting the campaign among the primary and secondary classes are seen here with the items.