Ceylinco scam:
Suicides increase, affects economy
While the legal big wigs are battling it out and Ceylinco mastermind Lalith Kotalawela is resting in a hospital bed, seven depositors have lost their lives and the list is sure to increase.
The scandal, which erupted like a tsunami last November when the Ceylinco Golden Key Credit Card Company failed to honour its payments to depositors, soon spread to other institutions. Today, it is estimated that a sum exceeding Rs. 26.5 billion had to be paid to the 9,054 depositors.
The first victim was Jayantha Cooray, a resident of Kalutara who suffered a stroke. His wife said that doctors had prescribed drugs which had to be taken daily by him to recover. His wife kept Jayantha alive by providing these drugs out of the interest they generated from the Ceylinco Group.
However, with the monthly interest drying up, she had no access to finances and was seen weeping helplessly begging the Ceylinco authorities to give her money (Rs. 3.5 million) back. With no medication Jayantha's health deteriorated and he ultimately met his death. The second victim was Hubert Fernando of Wennappuwa who had deposited Rs. 6 million and died of a heart attack as the interest dried up.
Musician Peter Prince was another victim of the Ceylinco scam along with Bietrice Mendis of Kohuwela. Journalist R. Manamendra also committed suicide due to sheer desperation. Another depositor who had invested Rs. 20 million, hanged himself last Wednesday in Mount Lavinia and M. Dhanapala was the seventh victim to meet his death due to the pain he suffered as a result of the scam.
President of Ceylinco Depositors Association, Anusha Emmert said that all the victims incurred their wrath on the Ceylinco Group and the men behind the scandal.
She asked as to why the long arm of the law is taking such a long time to bring the Ceylinco officials who have fled abroad to Sri Lanka to face legal consequences.
Anusha also emphasized that other than a few individuals all the Ceylinco depositors have invested their hard eared savings.
"Only one percent may have deposited black money," she said.
She said that they would once again lead a massive protest on August 21 in Colombo to open the eyes of the authorities. "It is almost six months and there is no solution in sight. This is why we want to agitate to get the attention of the authorities," she added.
The scandal is also having an impact on the economy as the cash flow to the Western Province alone has reduced by over Rs. 3 billion due to the Ceylinco Group issue.
The Golden Key Credit Card Company and the Ceylinco Group was paying close to Rs. 2 billion monthly as interest to their depositors and this has resulted in reducing the buying power of depositors and their families.
It is estimated that the Ceylinco Group paid around 23 percent interest to their deposits on average.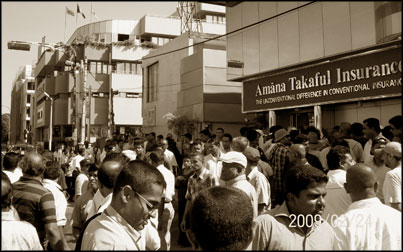 The Ceylinco issue started with the Golden Key Credit Card Company sham and soon spread to its other subsidiaries resulting in over 2,000 employees being deprived of their salaries.
In addition, due to the 'financial storm' in the Ceylinco Group over 3,000 jobs have been lost or put on hold and this too is minimizing the cash flow to the economy resulting in the employees having less purchasing power.
Senior Manager Special Projects, Ceylinco Golden Key Credit Card Company, Ravi Perera said that they request at least their EPF be paid to them.
"This is not a solution. However, it would ease our financial tension," he said.
The Central Bank maintains that they are not in a position to intervene as depositors have placed their deposits in unlawful financial institutions.
"We have been publishing names of these institutions and depositors should have been careful," an official from the Central Bank said.
He, however, said that since the issue is a major scandal they have taken meaningful steps in giving over the management of the Seylan Bank to a consortium saving the banking sector from collapse.
*************
Ceylinco scam at a glance.
November 2008.
Some of Ceylinco financial companies fail to pay interest to their depositors and stops withdrawals Golden Key Credit Card Co. payments made by cheques start bouncing
December 2008.
Golden Key Credit Card Co. crashes and closed down.
Chief Executive Director of the Golden Key Credit Card Co. Ltd, S.
Khavan M. Perera, is arrested.
Chairman, Ceylinco Group, Dr. Lalith Kotelawala issues a public statement that during the last few days, he had realised that the Golden Key has been involved in a major credit card fraud and that the employees of Golden Key are now beginning to reveal certain facts regarding the involvement of Khavan Perera.
Perera admitted to mismanagement In newspapers advertisements Golden Key customers are summoned for a meeting to BMICH where angry depositors chased away the Chairman of Ceylinco Group Lalith Kotelawala who says that his group would exit Seylan Bank to raise funds.
January 2009.
Due to panic withdrawals, Central Bank appoints a new board to Seylan Bank with senior banks at the helm.
February 26, 2009 -
Court orders Chairman Lalith Kotelawala to be remanded in connection with the Golden Key fraud.
Depositors Union stage series of protests.
March
First depositor dies as he does not have money to pay for his medicine.
April
The Colombo Magistrate Courts issues a restriction order on the director board of the Finance and Guarantee Co. Ltd (F and G Co.), another affiliated company of the Ceylinco group from leaving country.
Court proceedings are still pending with depositors not being paid.
Some of Ceylinco Group companies:
Golden Key Credit Card Co. Seylan Bank, Ceylinco Savings, Ceylinco Insurance, Leasing, Real Estate Developments, F&G Proper Developers, Ceylinco Takaful, Diabetic Detection Centre, Bakery, Gramaen Banking, Loan Schemes for Agricultural Small Holders, SOLO-U, Ceylinco-Gramaen Automobiles Private Ltd, Ceylinco Travels, Car Rentals, Employment Agencies, Security Services, Home-Nursing Services, Ceylinco Sarana Cattle Protection Centre and a total of 300 institutions.