Public support sought for anti-rabies drive
With reports of rabies being on the increase, it's always best to take precautions by ensuring that your pets are given their annual anti-rabies vaccines.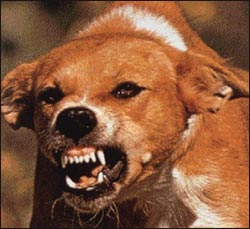 As there are hundreds of stray dogs roaming the streets, the Government, other Non-Governmental Organisations and Animal Welfare Associations regularly conduct anti-rabies campaigns and sterilisation programmes to control the stray dog population and also prevent the spread of rabies.
According to the Director of Public Health and Veterinary Health Services Dr. P.A.L. Harischandra, the Healthcare and Nutrition Ministry spends nearly Rs. 500 million annually on anti-rabies campaigns.
Under this scheme, domestic and stray dogs are given injections while sterilisation operations are carried out on dogs. Accordingly, 600,000 domestic dogs, and 58,498 stray dogs have already been given anti-rabies injections, while another 70,000 have been sterilised, explained Dr. Harishcandra.
Around 55,000 deaths due to rabies are reported annually around the world, while in the Asian region alone nearly 31,000 deaths have been recorded annually.
In Sri Lanka, upto June, this year, 28 deaths have been recorded. Annually, around 400,000 patients are admitted to hospitals with rabies and by June, this year nearly 250,000 have been inoculated against rabies, according to available data.
At the district and provincial level, too, these inoculation and sterilisation programmes are being conducted to arrest the increasing canine population.
Healthcare and Nutrition Ministry requests the public to extend their cooperation in the task of eradicating this menace by 2016.
---
Birth and death anniversaries from
August 16 - August 22
August 16
Edward Henry Pedris, a national hero was born in 1888.
Madonna, American pop singer was born in 1959.
Elvis Presley, famous American pop singer died in 1977.
Prof. Ediriweera Sarathchandra, former Chancellor - University of Peradeniya ,died in 1996.
August 17
Robert de Nero,an American actor was born in 1943.
Rudolf Hess, a Nazi leader, died in 1987.
Zia-Ul-Haq a former president of Pakistan died in 1988.
August 18
Genghis Khan, Mongolian conquerer, died in 1227.
Roman Polanski, polish film director, was born in 1933.
Ven. Piyadassi Maha Thera of Vajirarama, Bambalapitiya passed away in 1998.
August 19
Augustus Caesar, Roman Emperor ,died in 14 A.D.
Bill Clinton, a former president of U.S.A. was born in 1946.
Orville Wright, an American pioneer aviator ,one of the Wright brothers was born in 1871.
August 20
Emily Bronte,famous English novelist was born in 1818.
Leon Trotsky, a philosopher of Socialism assassinated in 1940.
August 21
G.B.Alwis Perera, Sinhala poet died in 1966.
Ven.Kotagama Vachissara Thera passes away in 1969.
Benigno Acquino, a Philipine opposition leader assassinated in 1983.
William Merdeck ,Scottish engineer who introduced the gas light system was born in 1754.
August 22
Jomo Kenyatta, first president of Kenya,died in 1978.
Wimalendra Wathuregama,Sinhalese poet died in 1991.
Ananda Coomaraswamy, scholar and a freedom fighter was born in 1877.
Dorothy Parker,an American writer was born in 1893.
---
Special events which took place
in history
from August 16 - August 22
August 16
Official Languages Department was established in 1956.
First motor bike was invented in Germany, in 1883.
University of Ruhuna was inaugurated in 1978.
Present Constitution of the Democratic Socialistic Republic of Sri Lanka was adapted by the Parliament in 1978.
August 17
First steam engine ship was invented by American engineer,Robert Fulton in 1807.
Sri Jayewardenepura General Hospital at Kotte, gifted by Japan was inaugurated in 1984.
August 19
Passport System was introduced by the USA in 1861.
An elephant ran amock at the Kandy Dalada Perahera killing 10 people and injuring many others in 1959.
August 20
Vitamin E introduced by a team of scientists at the University of California, USA in 1935.
August 21
The Nilwala Ganga scheme was inaugurated in 1982.
B.B.C. Radio station started their TV news broadcasting service in England in 1936.
August 22
International Red Cross Society was formed in Sweden in 1864.
Post Card was issued for the first time in Sri Lanka in 1872.
---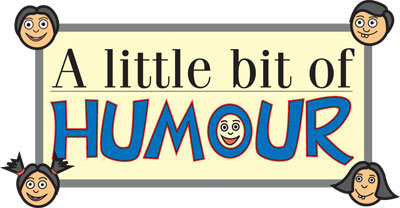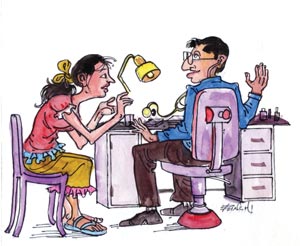 A woman went to her psychiatrist and said, "Doctor, I need your help. My husband thinks he is a refridgerator." "That's not so bad," the doctor said, "it's a harmless complex." "Maybe so," said the woman, "but he sleeps with his mouth open and it keeps me awake."
*******
* What would you find on a haunted beach?
A sand witch.
***
* What do you call a fairy who doesn't take a bath?
Stinkerbell
***
* What did the teddy bear say when he was offered dessert?
No thanks, I'm stuffed!
***
* What do you call a ship that lies on the bottom of the ocean and shakes?
A nervous WRECK!
*******
---
Massive inoculation drive in the North
Over 40,000 IDP children under the age of five were immunised against diseases such as polio, tetanus, Japanese encephalitis and rubella under a massive inoculation drive held in the North.
The Health Ministry initiated a series of programmes to upgrade health facilities provided for IDPs in the North including the immunisation project, in welfare villages, which commenced early this month.
During the three day programme supported by the UNICEF and WHO, over 40,000 children identified in accordance with a survey conducted by officials of the Public Health Division of the Ministry under the instructions of Health Minister Nimal Siripala de Silva were inoculated.
The Ministry has deployed over 150 medical assistants and over 1,200 trained volunteers to effectively carry out the programme within the stipulated period.
The Ministry is to implement the project through its Public Health Division covering all welfare villages, housing IDPs.
In addition, the Health Ministry has also equipped the Chettikulam hospital with a state-of-the-art operating theatre at a cost of Rs. 35 million and the new theatre is expected to ease the congestion experienced in the Vavuniya hospital. It will also lessen travel costs and difficulties faced by patients in remote villages and welfare camps in the area. Ministry sources said the Health Minister had put forward a proposal to the Cabinet seeking its consent to bring the Chettikulam hospital and relevant health service providing units at all welfare villages under the direct control of the Ministry (Central Government).
The direct intervention if given, is expected to speed up decision-making procedures and supplement efforts in providing an enhanced service to improve health facilities provided to the IDPs.
---
'The reality' of life in colours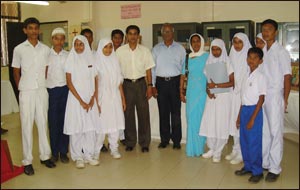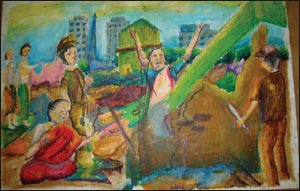 It was an unforgettable day for students of Al-Ameen Vidyalaya, which is located opposite the Army Headquarters, Slave Island. Almost all 300 students in the school were present to see a unique painting exhibition, conducted by a group of children under the theme "The reality".
About 40 paintings were displayed at the exhibition which was declared open by Principal M.Y. Thaha. Teachers-in-Charge of the exhibition Mrs. F.N. Ismath and Janaka Mahabellana. Several other well-wishers were also present on the occasion.
When asked by the Junior Observer, as to why the exhibition was considered to be unique, the Teacher-in-Charge of the exhibition, Mrs. Ismath pointed out it was so because of the concept; 90 per cent of the children in this school are living in slums and shanties and they wanted to show the others 'The reality' of the present day society.She explained that the children expressed their feelings through pastel paintings.
Teacher Janaka Mahabellana said unlike the majority of children in present day society, most of the children in this school have no proper housing facilities or playgrounds. They use common bathrooms and some parents are drug addicts and also engaged in various unlawful activities. Yet, the children are striving to make a difference.
He thanked the students for conducting an exhibition of this nature.