Itipahan (Burly Lamp) Chapter 1 continued...
(Translated by Ranga Chandrarathne and Edited by Indeewara Thilakarathne)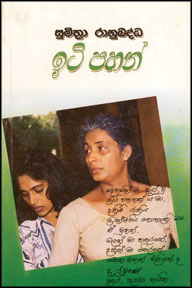 "I am a lamp burning
on both ends
Known well that
I cannot pass the night
Yet
See my friends
Foes
How powerful light
Burnt
To dispel the darkness"
Continued from last week...
"I call her Somawathie in memory of my late sister Somawathie", said Duleena who took a piece of stick and scratched her back by inserting it through the jacket.
"Somawathie died by devil's attack. I can still remember how she lay down at the well with a bluish body. Duleena, there is no such a beautiful girl as Somawathie in the village", said Kumatheris looking at Somawathie.
Kumatheris imagined as if today, how Duleena's sister Somawathie who went to the well in the morning had died as victim of the devil's attack. Kumatheris experienced pangs as he recalled inviting smiles thrown at him by Somawathie on her way to gather firewood.
"She could also be a beauty as your elder sister was. Do not allow her to walk around alone. Devil might attack her," he advised the sister-in-law.
However, Kumatheris thought that the girl was not in the age which attracts devil. Devil attacks girls in their teens.
When the news spread that Duleena's roof is being thatched, villagers gathered to help. Duleena who disappeared for years had returned to the village as a very attractive woman prettier than she had been. Everyone attracted to her brand new garments and the way she knotted her hair. They looked at the girl as if looking at a pandol during the Vesak. The girl looked down on the earth with a frowning face. She saw villagers as apes. She saw apes both on top of rubber plantation and on the ground.
Sominona, Elisiahami and Jane Nona together came to see Duleena. When Duleena was a teenager, it was with them that she went to the temple on the Full Moon day, for bathing, washing clothes and walk along the paddy fields for Mallum. Sominona married Haramanis, who is wealthy. She, now, has seven children, at the rate of one child per year. Elisahamie eloped with a man from a neighbouring village. Jane Nona lives together with her sister's husband.
"Duleena, you are now a different type of a person and you changed in your complexion. But you should have come with the man," said Jane Nona.
Duleena as well as the other understood what Jane Nona wanted to know and was about to utter. There was no husband for her to accompany to the village.
This fact Duleena knew had been speculated by Jane Nona. Duleena thought that she should not respond to queries regarding her husband. Though the father of the girl asked for her, she could not agree to sacrifice her even to his father as the girl is her only possession. Girl's father had asked for the girl by good and foul means. She knew that by no means could she make the girl loathsome to her. She has got nothing to lose and she could not sacrifice the only thing. She knew that Somawathie has to endure hardships as she lives with her. It was true that the girl could have led a princely life if she had been given to her father. Even though, she could not agree to an unbearable task. What should be done, now, is to look after the girl like a princess. As if in a dream Duleena thought that she would be able to live up to her expectations.
Duleena made it a point not to respond to any question posed by Jane Nona or Sominona with regard to her husband. (Women started to chat and gossip).
"Now, we have thatched your father's cottage so that you and your mother can live. Why are you frowning at us? Don't you like to live in it?," asked Welung Goiya who gave Somawathie a rubber shell fan. Somawathie did not take it for something to play with. Instead she looked at Welung Goiya with wide-opened eyes. She became happy when she saw Sirinatha from afar. Sirinatha clad in a striped -Sarong and Baniyan hanging from a shoulder. He had a catapult in his hand.
"Why is Sirinatha Punch Mahattaya here? "Welung Goiya asked Sirinatha. " Aunt told me to see whether they have finished thatching the roof," said Sirinatha shooting a pebble at dried rubber seed* with a catapult. As the pebble hit the target, he sported a proud smile. Somawathie liked the catapult in Sirinatha's hand. She wanted to shoot with the catapult. "Let me try it out," she said reaching out for the catapult.
"You can't ", said Sirinatha.
"Why can't I? I also can," said Somawathie whilst trying to grab the catapult from Sirinatha. Welung Goiyya stopped the attempt and gave the catapult back to Sirinatha Punchchi Mahattaya.
"She seems to be very tough," said Walling Goiyya loud enough so that Kumatheris could hear it. The girl frowned at Kumatheris. Her eyes were wetted with tears. Welung Goiyya joined Kumatheris and others who were thatching the roof saying "Punchchi Mahattaya, you may go now". He whispered to himself, "She is a tough bit".
Sirinatha offered the catapult to Somawathie. He was sorry over not giving the catapult to Somawathie. Aunty said Somawathie was younger to him.
Then Sirinatha reminded father telling him that younger children could not comprehend anything. Though Sirinatha gave the catapult to Somawathie, she did not take it. Instead she hit a rubber seed with a stone that she picked up. Though it missed the target she was very happy as if it hit the target.
"Duleena, we leave now. Now, you and your daughter could shelter from the rain. If you need any help, tell us. Heen Appu is no longer there to look after you ", said Kumatheris Aiyya. Kumatheris, Welung Aiyya and few others went saying "let us go to bath".
"Thank you. What else could I say? ", said Duleena looking at them.
Sirinatha looked at Somawathie's frock. He thought that it was good enough for a wedding. Sirinatha reminded of Aunty telling that Duleena's daughter was like a grape fruit (Jumbola). Though Jane Nona, Sominona and Elisahami tried to fondle the girl, she was disturbed by it. Therefore, women went away giving up the attempt to play with the girl. Duleena turned on to two children. As Nanawathi Haminie told her, Punchchi Mahattaya is eight years old. Daughter is seven years old. Duleena thought they would make good playmates. Duleena thought instead of associating with ordinary children of the village, it was better that the child should associate with Sriyadari Nona and Punchchi Mahattmaya.
"Sirinatha Punchchi Mahattaya, our daughter speaks fluent English. There she talked mostly in English. Will you speak with her in English?," said Duleena patting Sirinatha's head. Sirinatha smiled with shame.
"Oh, I could not speak in English", Sirinatha smiled.
"Why can't you? Amarawardena Ralahamie those days spoke in English with high ranking officials. There are English books there too."
"Yes, that was father. Now father is no more and we do not know English", said Sirinatha shooting a stone with the catapult without any target.
"Then Sirinatha Punchi Mahattaya, you may learn English by speaking with our daughter. She is fluent in English. Aren't you dear? ", asked Duleena passionately embracing her daughter on the head and the face.
"Duleena, does she attend school?" asked Sirinatha looking at mother and daughter.
"No, she does not attend school there, Punchchi Mahattaya. But she learnt English and she speaks English fluently. Can't we send her to a school? Can Punchchi Mahattaya accompany her?"
Sirinatha nodded with a smile. The girl also smiled after a long time.
"Then you may talk while I will sweep the house," said Duleena walking into the house. The girl and the boy looked at each other.
"What's your name?" Sirinatha whispered.
"I am Somawathie."
"That's not the way you answer. You say my name is.... That's how we were taught in the school. I have two eyes. I have two legs. That's myself."
Somawathie laughed with pursed lips.
Foot notes
Aiyya is a colloquial Sinhalese term for elder brother which is commonly used in villages in addressing elder males.
Kaiyya is a practice of communal harvesting of paddy where the owner of the paddy field provide food and beverages such as tea during the harvesting free of charge in return for labour and when harvesting is done in the neighbouring field, all the farmers engage in the harvesting in the same manner.
Mallum - a dish made out of fresh leaves which are mixed with scraped coconut and cooked on a pan.