Shyamlal Rajapaksa's funeral tomorrow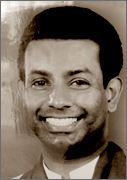 Tanzanian Police are continuing their probe into the mysterious death of prominent Sri Lankan lawyer Shyamlal Rajapaksa (43), associate trial attorney of the International Criminal Tribunal for Rwanda (ICTR).
He was the brother of Parliamentarian Nirupama Rajapaksa and a nephew of President Mahinda Rajapaksa. He was the only son of the late prominent Southern politician Fisheries and Health Minister George Rajapaksa and Lalitha Rajapaksa. He was one of the prosecutors at the tribunal which is trying suspected perpetrators of the 1994 Rwandan genocide.Rajapaksa was educated at Royal College, Colombo, and was a member of the Southern Provincial Council from 1999 to 2004. He obtained his LLB from the University of Buckingham and his LLM from the University of London. He was a Barrister at the UK Bar.
He was attached to the Attorney General's Department as a State Counsel from 1993 to 1999.
Shyamlal Rajapaksa was found dead on Tuesday morning at his Arusha residence. Police are checking whether he had any visitors on Monday night and are also looking at several other leads, according to Tanzanian newspapers and news agencies.
He is survived by his wife, Prashanthi, a prosecutor for the United Nations International Criminal Tribunal for Yugoslavia in the Hague.
The remains are lying at their residence at 25, Flower Road, Colombo. The cremation will take place at 5.30 p.m. on Monday (August 17) at the Crematorium of the General Cemetery, Kanatte.