Health News :
'Sleep lab' open at Colombo National Hospital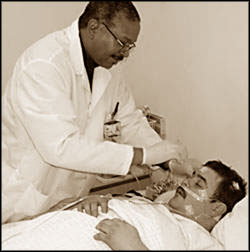 What is the reaction of your family when you wake up in the morning? What is the reaction of your friends when you get up in the morning and meet them for breakfast while on a trip? Do they say ,`Yesterday we couldn't sleep because of your sawmill'? If they do, read on.
The first ever `Sleep Lab' in Sri Lanka is now open at the Colombo National Hospital. The persons who have sleeping disorders, especially snoring can obtain treatment from this lab located in the ENT Unit.
The clinics are conduct edon every Monday, Wednesday and Friday.
The sleep lab opened last week under the purview of three ENT specialists Dr. Ms. Chandra Jayasuriya, Dr. R.P. Dayasena and Dr. S.C. Perera. The patients who suffer from Obstructive Sleep Apnoea (OSA) have two options. OSA is a disease and it can be cured through an operation which opens the respiratory track or using a special machine to breath while sleeping.
According to a Healthcare and Nutrition Ministry official majority of persons who snore during sleep suffer from OSA and snoring can be a symptom of a fatal disease. But most patients do not know this and ignore snoring treating it as something normal.
People snore when the oxygen supply to lungs becomes weak. Now Sri Lankans who have sleeping disorders can obtain treatment free of charge at the new unit in the Colombo National Hospital.