Focus on local sugar cane cultivation
The price of sugar globally has shot up due to the use of large quantities of sugarcane to manufacture ethanol, a cheap bio fuel, said Chairman, Sugar Research Institute (SRI), Dr. C.S. Weeraratne. He said many countries have increased the acreage of sugarcane cultivation to produce biofuel which is a viable alternative to the costly thermal energy.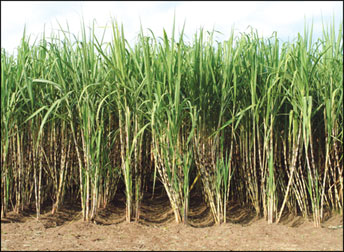 "The increasing global demand for ethanol has caused a drastic decline in the manufacture of sugar for consumption.
Sugar prices will continue to rise due to the excessive use of sugarcane to manufacture biofuel" Dr. Weeraratne said.Ethanol is produced mainly in Brazil, certain Latin American countries, India and Australia.
Sri Lanka spends around Rs-. 20 billion annually on import of sugar.Over 90 percent of the requirement is imported while around 8-10 percent is produced locally.The country's annual sugar requirement is 500,000 mt.
The drain on the country's foreign exchange should be curtailed by increasing the cultivation of sugarcane. The output from Kantale and Hingurana factories should be increased, he said.
The SRI has introduced high yielding varieties of sugarcane to Pelwatte and Sevanagala cultivations.Controlling pests, diseases and the proper application of fertilizer are vital to increase production.The sugarcane cultivation was hit badly by the Woolly aphid insect which spread fast across the country causing damage to the crops.
The SRI has implemented a biological control method to overcome the spread of the insect.
Dr. Weeraratne said the SRI is promoting the production of jaggery in various parts of the country and already around 1,000 families in Badulla are supplying jaggery to the local market at a price ranging from Rs. 50-70 per kg.