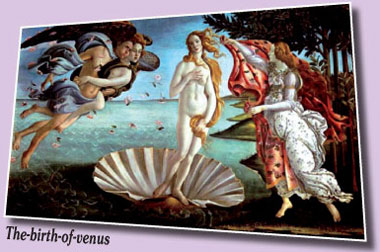 Florence is the capital city of the Italian region Tuscany, located in the valley of River Arno, surrounded by olive planted hills on the north and the famous Chianti vineyards on the south.
Florence is better known as the cradle or the birthplace of Italian Renaissance. The museums and galleries of this prestigious city are a priceless treasure that captures the admiration of thousands of visitors who go there throughout the year.
In 1581 Uffizi Gallery was built on the request of Francisco de Medici. It was originally designed by Giorgio Viscari, a leading architect and painter of that period. Today it is reputed as the most important museum of art in Italy. This particular museum contains the largest collection of Italian Renaissance paintings and sculpture in the world.
The works of Italian masters such as da Vinci, Michelangelo, Cavaraggio, Raphael and Titian are displayed. German, Dutch and Flemish masters are also well represented with important works by Duerer, Rembrant and Rubens.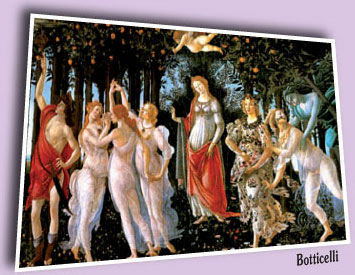 Great Florentine painter Sandro Botticelli's breathtaking works, "Spring" and "The Birth of Venus" are among the most admired works in the Uffizi Gallery. "Spring" (circa 1482, 203cm x 314cm, Tempera on canvas)
This masterpiece is well-known as "Primavera" in the Italian language. In this wonderful painting Botticelli presents the garden of Venus. Venus, the Roman goddess of love and beauty, is the main figure and the rest of the happenings take place around her.
To the right of Venus there are three figures, Zephyrus, Chloris and Flora.
Zephyrus the god of wind grasps the nymph Chloris. As a result Chloris is changed into Flora, the goddess of spring and flowers. To the left of Venus, the three Graces dance celebrating the spring.
Mercury banishes the clouds from the garden. The Cupid is poising above the head of Venus, aiming an arrow of love at the three Graces."The Birth of Venus" (circa 1485, 172.5cm x 278.5cm, Tempera on panel)The beautiful goddess Venus emerges from the ocean as a grown woman on a shell, blown towards the shore by Zephyrus, the god of wind. Then, Venus is joined by one of the Horae, the goddesses of the seasons, who offers her a flowered cloak.