At first meeting, you wouldn't think that the effervescent Shehani Gomes was a real writer. Typing rapidly on her laptop at a zillion letters per minute, even though Shehani takes her job as a Management Consultant at a carbon trading company seriously, her passion is writing.
"Writing has always been my passion and my first attempt at a novel, 'Learning to Fly' took me a good five years to brainstorm and when I finished the book I was 19 years," said twenty-something Shehani who started writing after she left school. "I actually started writing poetry but then progressed to novel writing but it's all about enjoying what I write as well," said Shehani who likes to use the 'Notes' application on her mobile to do some writing when she is bored or killing time.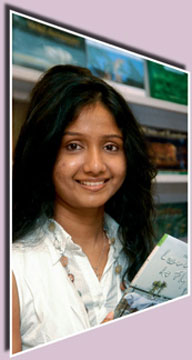 Mentioning how she found the writer in her, Shehani said her father's relatives are rather artistic and she puts down her talent to probably her paternal side while her mother has been her guiding light.
She mentioned that the novel is about three central characters, their experiences of adolescence and eventually, their search for happiness. "I broach topics like first love, the generation gap, suicide and a multitude of areas that are part of growing up," she said, noting that adolescence was like a grey area of your life. "It is somewhat linked to personal aspirations but it is an unstructured novel with surprises and sudden outbreaks of thoughts and similar aspects," said Shehani.Shehani said she's already working on her second book which is currently being done in conjunction with her CFA (Chartered Financial Analyst) exams. "I just sat for my CFA in June and I hope to release my second book by December 2009," she said.
Shehani's publishers Ameena Hussein and Sam Perera have been instrumental in shaping her literary career and recently organised a book signing for her at ODEL. "Working with Ameena and Sam was a great experience, and I think together, they form a bold outfit which recognizes Sri Lankan writing talent," she said.
Having got a diverse response from many who have read her 'Learning to Fly' book, Shehani said she was happy with the feedback. "People from different age groups had different things to say, the younger crowd particularly identified with the themes and the characters," she said.
As for advice, Shehani said, "Follow your heart and give writing a shot.
However, in Sri Lankan English literature, the structure of the industry needs to develop to an extent where Sri Lankan writers can get visibility on an international platform."
Talking about how she would like to be recognized as a writer, she said, "It'll be good if a book is recognized for its value rather than a writer.
I think that there is a good readership for Sri Lankan writers." At the second Galle Literary Festival, Shehani said it gave her good exposure and it was a good experience to rub shoulders with great literary figures from around the world.