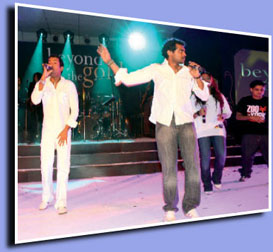 Bathiya 'N Santhush in concert

The students of Methodist College, Colombo especially the Class of '90 are going all out to make this fund raiser a great success. The concert by Bathiya N Santhush will go on boards on September 5 at 7.00 p.m. at St.Joseph's College, Auditorium.

The concert will also feature Ashanthi, Randhir and Umara. Bathiya and Santhush who were out of the island for sometime are now back to entertain their fans who no doubt will he present in droves to groove their cares away.

All the hits of Bathiya N Santhush we understand will be performed including the new catchy songs which they released recently.

News from the grapevine, reveals that the group is working on newer material for release for the forthcoming season. In the meantime join the fun and excitement that Bathiya N Santhush always generate when they are on stage.