Travel
Making a difference through Analog Forestry carbon trading
Carbon Conservation Company, a firm set up to offer 'carbon footprint consultancy and an ecologically responsible alternative to current carbon offset trading', announced the formal launch of its first vintage of voluntary carbon credits. Company CEO Subramaniam Easwaren invited 'concerned companies and individuals who wish to obtain carbon offsets that are more than mere licences to pollute' to consider investing in the company's 'sustainable carbon credits'.
The firm specialises in helping companies calculate their impact on the environment including their carbon and water footprints. After helping them monitor their footprints, they then offer the companies ecologically sound credits to offset what they cannot reduce.
They are now working with several boutique eco hotels to reduce their carbon footprints while also advising individuals and organisations on how to manage their lands in an environmentally sound manner. Conservation Carbon Company (CCC) carbon credits are earned through a special process known as Analog Forestry, which helps preserve biodiversity and benefits local communities even as it sequesters carbon through the planting of trees.
Analog Forestry is the brainchild of Dr. Ranil Senanayake, a famous biologist, conservationist and champion of the world's rainforests, who is celebrated for the discovery of several new plant and animal species and who founded the International Analog Forestry Network in 1996.
Dr. Senanayake serves in a senior capacity on the board of CCC. Making biodiversity profitable unlike traditional carbon-capture projects, which tend to be monocultural and industrial in nature, Analog Forestry preserves natural habitats and biodiversity by making them economically useful to local communities.
The system is financed by trading carbon credits earned by planting trees and other forest vegetation to promote and extend these habitats. 'Thriving, ecologically self-sustaining forests are one of the best ways of keeping Earth - and ourselves - healthy,' says Dr. Senanayake. 'Analog forestry offers, in my opinion, the best way forward. It's a complex setup, involving businesses in the West, traditional communities in poor countries and a lot of ecological and forestry expertise. These factors interact to the benefit of all. Everybody profits.'
In each of its Analog Forestry projects, CCC seeks to extend and replicate existing forest coverage over a selected region, picking a threatened ecosystem and building on it.
The company's experts, in collaboration with Rainforest Rescue International, choose what trees to plant, as well as what additional flora and fauna to introduce and cultivate, based on what is local to the area plus what can be added to enhance biodiversity and sustainability.
Local communities also play an integral role in each project, which CCC encourages by picking trees and other plants that produce foods, medicines and other products that community members can use or sell.
Carbon credits produced by projects like Hiniduma are independently monitored and validated.
At present, this function is performed by Forest Garden Product Inspection & Certification, the first accredited certification authority under the International Analog Forestry Network (IAFN). The Analog Forestry-based carbon credits offered by CCC are voluntary rather than mandatory, but offer qualitative and quantitative benefits well beyond those packaged in a typical Kyoto- or EU-based credit scheme.
Purchasers of credits are offered the further assurance of involvement in the process themselves, by becoming partners in monitoring and evaluation through membership in IAFN. Carbon stocks are monitored quarterly for the first three years and twice yearly for the remaining period of investment.
Annual progress reports are issued to clients based on the monitors' findings. 'Accountability is key to all our operations,' says Subramaniam. Endorsement by international experts Subramaniam also notes with pride that CCC's activities have won praise and endorsement from a number of prominent environmentalists and ecologists.
Mohan Munesinghe, an internationally celebrated physicist and climatologist who won the 2007 Nobel Peace Prize together with his colleagues on the Intergovernmental Panel on Climate Change (IPCC), has called it 'a brave and imaginative way of leveraging Kyoto to obtain real, sustainable environmental benefits.' A number of other ecologists and environmentalists have also offered plaudits. CCC's efforts have a hardheaded business side to them as well.
'To ethically committed companies around the world, we're saying: if you or your organization are looking to purchase carbon offsets, please take a close look at us. What we offer is a triply-integrated solution to the problems of climate change, habitat loss and rural poverty.
---
Spice Food Festival to delight your taste buds
The fourth World Spice Food Festival marking nine days of thrilling culinary extravaganza from November 6 to 14 will start off with a tantalizing array of edibles at Water's Edge on November 5.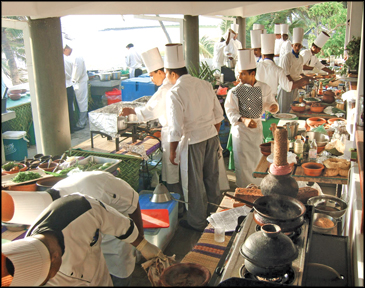 Organised by the Sri Lanka Tourism Development Authority (SLTDA), the World Spice Food Festival will comprise of a three day Food Village at Galle Face Green from November 6 to 8 followed by individual food promotions at each of the participating hotels, up to 14th, to culminate with a closing ceremony on November 15.
The spectacular highlight, which will bring a distinct flavour to the festival is the Spice Food Village. Eighteen Colombo-based hotels and restaurants will participate at the Food Village at Galle Face Green manning stalls with 21 signature chefs specializing in various cuisines of the world, specially flown in for the event from Vietnam, Singapore, Hong Kong, Malaysia, Spain, and also already working in Sri Lanka, attached to some of the leading hotels in the country.
The World Spice Food Festival was initiated in 2005 as an annual event based on Sri Lanka's reputation of being an island abundant in spices, to create more dining options for visitors to the country, while providing an opportunity for the Sri Lankan culinary fraternity to exchange culinary know-how with specialty chefs from around the world. The Galle Face Green will take on a festive air for the first time after its re-opening, with live music and cookery demonstrations including the first ever spice art competition, Sri Lankan crab cooking competition, cooking with signature chefs for housewives, and special cultural performances giving a truly unforgettable dining experience for the whole family.
The Spice Art Competition will be held at the Galle Face Green on November 6 from 7 p.m. to 10 p.m. Hotel kitchen artists and students from the University of Visual and Performing Arts will take part in the event, making a total of 30 participants in competition for the Best Spice Artist Award.
---
Built at a cost of Rs. 570 million:
'Serene Pavilions' starts operations
Sri Lanka's first ever luxury tourist hotel to be open after the war 'The Serene Pavilions' at Wadduwa will officially commence operations for local and foreign tourists from November 01 (today).
The 'Serene Pavilions', located within a 45 minutes drive from Colombo is built at a cost of Rs. 570 million. It consists of 12 pavilions and each pavilion has 2500 square feet area.
Speaking to Sunday Observer, Chief Executive and Deputy Chairman, 'Serene Pavilions' Anura Lokuhetty said that each pavilion has its own swimming pool, a large sitting room and a dinning area, a bed room with a sea view, a kitchenette, a butler's pantry and a private bar.
He said that all 12 pavilions are fully equipped with other sophisticated equipment for the benefit of guests.
Commenting on the future developments of Sri Lankan tourism industry, Lokuhetty, the former GM and Director of Galle Face Hotel and former CEO of the Ceylon Hotels Corporation, said as the war is over our holiday makers, and foreign tourists could once again visit the country's beautiful places.
He also said, the ideal time has come to develop the country's tourism industry and it is the duty of everyone to make this a success.
Lokuhetty also thanked the British hotelier Clive Leach for making a huge investment on the 'Serene Pavilions' and expects a large number of tourists arrivals not only from England, but also from other destinations in the coming months.