Cures many ailments:
Life-giving oil
A construction engineer by profession, Sarath Manamperi thought he was fit for his age and had no hidden sicknesses until he suddenly felt that his heart beat was too high after a walk. Gradually, the feeling of tiredness increased. A visit to a cardiologist revealed that his chest pain was due to two blocks in the left and one in the right artery of the heart.
The doctor recommended surgery to place three stents as over 70 per cent of the blood circulation was blocked in the left and 40 to 50 per cent in the right side of the heart. The long waiting list for heart surgeries at the Colombo National Hospital brought him luck. While he was in the waiting list for the surgery, a friend recommended an oil which he thought would cut down his cholesterol level before the surgery. He took one tablespoon of the oil daily without knowing that a miracle was taking place in his heart.
On the day of the surgery Manamperi was taken in to the operation theatre and his heart checked by the doctor. "There are no blocks in the left side; they have cleared", the doctor, who was unaware of the cause, said with eyes wide in amazement.
The miracle oil helped Manamperi save Rs. 600,000 which he would have had to spend on surgery and the 51-year-old engineer now drives daily from Gampaha to Colombo. He's happy that he leads a very normal and healthy life.
"It's nothing but a miracle and shows the value of our ayurvedic medicines", Manamperi told the Sunday Observer from Sethsuwa Hospital, Batalanda, where the miracle oil is prepared.
Talk to the patients at the hospital, and one will realise the point of calling this oil a miracle. 'Pranajeewa' (life giving) - the name of the oil - suits the miraculous healing power which it boasts of.
At the hospital, four cauldrons filled with murky, oily liquid was boiling, on moderate heat, non-stop, emitting an aroma that gave a soothing feeling.
This is the oil that gave life to Manamperi and many others who had suffered from various acute and chronic ailments. It gave the hope of life to many who came to the hospital as a last resort.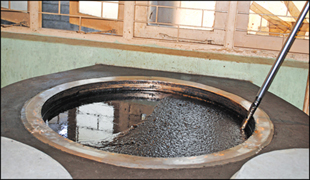 Over 200 natural herbs are cleaned, cut into small pieces and squeezed to extract the maximum, mixed with water in 600 bottles (each containing 750ml) and boiled to make decoctions, whereby the quantity is reduced to 75 bottles. Five kinds of oil - margosa, sesame, castor, mee thel and neem - are added to 36 decoctions which continue to boil round the clock for over four and a half months. There are four tanks where potions for 2400 bottles are boiled using over 18 lorry loads of firewood for each tank. There are over 200 kg of garlic in each tank and some very expensive herbs like 'Kunkumppu', worth Rs. 150,000 a kg, imported from Kashmir, Iran or Egypt.
The oils are made to a 'secret recipe' which was found in an ola leaf that belonged to the veteran Ayurvedic practitioner, the late Ven. Dr. Waga Gnanaloka Thera.
Ancient recipe
The 'Pranajeewa oil' which was prepared by the Ven. Dr. Gnanaloka Thera following the 200-year-old ola leaf inscription which had passed from generation to generation, had cured many patients who came to the Veda Medura in the serene temple environment. Later, his student, Dr. Sujeewa Vithanage, following in his teacher's foot steps, developed the oil after extensive research.
"The percentage of patients that are cured by our treatment is high; this oil can cure over 70 per cent of the high risk ailments", Dr. Vithanage said.
The Pranajeewa oil is popular for its unique ability to bypass bypass surgeries. According to Dr.Vithanage, over 60 to 70 per cent of his patients who were recommended bypass operations had 'escaped' surgeries after consuming the oil daily. Patients suffering from heart disease, diabetes, hypertension, diseases of the nerves, kidney diseases, bladder stones, certain types of cancers, all kinds of diseases of the skin, gastritis, haemorrhoids, fistula, bronchial asthma, catarrh, sinusitis, phlegmatic conditions, pains in the joints, rheumatoid arthritis and osteoarthritis, and numerous other ailments were treated successfully with Pranajeewa Oil.
A study done by the Nawinna Ayurveda Research Institute, Maharagama with 10 patients who needed to undergo bypass surgery had revealed that the Pranajeewa oil had helped them; five have already been found to not require open heart surgeries. Lalith Weerasinghe who had unstable angina was among this group.
He was warded at the Colombo South Teaching hospital, Kalubowila and his operation was delayed as he had suffered from sore eyes and a urine infection. In the meantime, he was introduced to the Sethsuwa Hospital and willingly participated in the research. He was given the Pranajeewa oil and found that his ECG turned out normal. " The ejection function of the heart increased by 70 per cent after taking the oil", said Dr. Vithanage.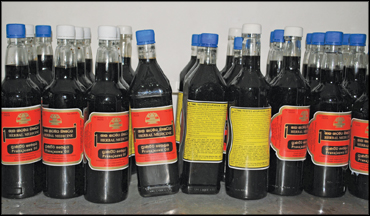 "I lead a normal life now. Earlier, I had chest pains when walking and felt tired. I am happy now. I can tell you that this is a wonder of traditional medicine", the 54-year-old Weerasinghe, the ex-Ports Authority worker said.
Research results
Another research carried out by the Faculty of Science, University of Colombo had found that the Pranajeewa oil has considerable antioxidant and cytotoxic properties to treat cancer and other diseases.
According to Dr. Vithanage, the oil is effective in treating all types of cancers, but especially worked for prostate cancer. It has been proved that the herbal concentration in the oil reduces cancer cell growth, their toxic effects and the spread of the cancers.
An American businessman, Dr. Werner Gregg, who had his cancer cured now supplies Pranajeewa in the USA. He was recommended radiation treatment for cancer, after discovering that his PSA growth was doubling every three months. He had suffered for years, but had been afraid to undergo treatment after he heard about the terrible side effects of the treatment. The only option left for him was to inject female hormones which also had side effects.
Dr. Gregg sought the help of his Sri Lankan friend, a retired group captain, who introduced him to Pranajeewa, which had cured a family member of the latter with heart disease. With strong faith and confidence, Dr. Gregg started to drink two tablespoons of the very bitter oil base with a warm glass of water, daily. He gradually felt that the hot flushes and fatigue he was experiencing was drastically reduced. In just a month's time he felt better and discovered the PSA value had become normal.
After realizing the magical curative properties of the oil, Dr. Gregg started popularizing Pranajeewa among his friends and relatives - a cancer patient undergoing chemo treatment, his sister-in-law with terminal cancer among others. Now he is the sole distributor of Pranajeewa oil in the USA, through a specially formed company called Sun Imports.

According to a laboratory test carried out by the US-based Compu-Food Analysis Inc in Bellingham, Washington, the oil does not contain alcohol, artificial colouring or preservatives, heavy materials or poisonous chemicals and is free of sugar and micro-organisms, bacteria and yeast.
Laboratory tests conducted by the Industrial Technology Institute of Sri Lanka (ITI) also show that the oil doesn't contain any ethyl alcohol or heavy materials. The ITI also certified Pranajeewa as a traditional medicine product and as better than the energy boosters available in the market.
Dr. Vithanage said he follows the great teaching methods of his guru, Dr. Gnanaloka Thera and wants to see people who have lost hope and live desperately, face life with hopes. "When a person suffers from an illness, especially from a sickness with no cure, he lives in a lost world. Our aim is to give life to such people. Lots of people who come to me are poor. When they come to me, they have already spent their wealth searching for a cure", he said adding that he spends over Rs. 150,000 a month to treat patients free-of -charge. Dr. Vithanage was honoured in July 2007 with the prestigious Jeewanashoori Award by the Sri Lanka - United Nations Friendship Organization (SUNFO).
Free treatment
The doors of the Sethsuwa Hospital are open for free treatment for children and Security Forces personnel. "The best lesson I learnt from my Veda Hamuduruvo is not to run behind money, but to help the sick to gain happiness", he said.
The cost of preparing a bottle of Pranajeewa oil (750ml) is more than Rs. 2,000 and the prices of herbs have skyrocketed due to scarcity. Dr. Vithanage who faced immense difficulties in finding herbs hopes to grow his own herbal garden in a land donated by the Government.
"I faced many difficulties to maintain the same medicinal value and standard of this oil with a shortage of supply of herbal ingredients. We mostly import herbs from India, Iran and Egypt and others are found in the forests of Sri Lanka", he said.
When he explained his problem to Minister Rajitha Senaratne, he was able to secure him land under the directives of President Mahinda Rajapaksa.
Dr. Vithanage cited the names of many top Government and military officials and other well known personalities who seek the healing powers of Pranajeewa oil.
Dr. Vitanage, cautioned the public about fake products where Pranajeewa oil is sold mixed with other oils. He said that Pranajeewa oil is sold only at the Nawinna Ayurveda Hospital and Suwasetha Hospital.
Announcing another achievement of Pranajeewa oil, Dr. Vithanage said the oil will be exported to USA as a dietary supplement. The first sample will be handed over to President Rajapaksa in early November.
"If someone somewhere in the world is experiencing pain, suffering and discomfort, it is my first consideration that I make him or her well. We strongly believe that those in the medical profession - especially in ayurveda - are here for a purpose - that is to cure, and not to make an extravagant living out of the profession."
That is the motto of Sethsuwa Hospital which manufactures the miraculous life-giving oil.
Finally, it is a wonder that each plant grown in the country's forests has its own unique therapeutic values to cure the popular ailments of this century.