Itipahan (Burly Lamp) Chapter - 14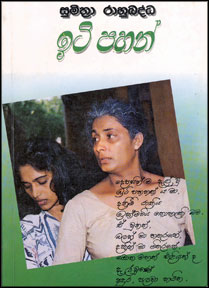 (Translated by Ranga Chandrarathne and edited by Indeewara Thilakarathne)
"I am a lamp burning on both ends
Known well that I cannot pass the night
Yet
See my friends
Foes
How powerful light
Burnt
To dispel the darkness"
Daisy looked curiously at the fellow male and female students who gathered at the King George Hall for the first lecture. Daisy noticed from the enthusiasm of some students nearby that they had great expectations to listen and learn from the first lecture in the university. Daisy thought that the tall hall with external pillars had been named after King George by the white Europeans. She understood that the chairs with extendable hand-rests were meant to take down notes and to keep books. When she turned back, she saw a large clock with Roman numbers hanging on the wall. Daisy recalled having a similar clock at Sirinatha's lounge room. Chatting with one another was like an uproar. She saw senior students entering the lecture hall to perform their duty of ragging as it has not been over yet. Daisy thought that her entire life that was a torture, hence could not find it difficult to face inhuman ragging. On the other hand, whenever she was subjected to torturous ragging, a comrade would rescue her. Therefore, ragging was not that rough for her.
Domingue Sir entered onto the wooden platform in the George Hall to teach basic mathematics for the benefit of newcomers. Domingue Sir with a handsome muscular body and a matching height did not even welcome the student before the lecture. Senior students who had been inside went out of the lecture hall one by one. Domingue Sir was thoroughly engrossed in the lecture as if thinking that his only friend was mathematics.
Everyone wrote down what he was uttering with indifference. Daisy took the pen hurriedly. She realised what was to be required was to write down notes unresponsively. All of them took note as a new born baby sucking mother's nipple as a reflexive action. While taking down notes, Daisy looked at the face of Domingue Sir. His face was round and he had a deep voice. She thought that only thing he knew was mathematics. From time to time, student in couples walked up and down along the corridor outside the hall. Daisy turned back at the sound of each and every step of shoes. He was finding the value of X.
At the end of the lecture Daisy went out of the hall and walked through the crowd with an intense sense of indifference. Along the corridor were lovers huddled up and whispering to each other. They were whispering like she had been with Sirinatha. Despite all her efforts she was unable to erase that enchanting memory coming back to her like a memory with a fragrance of the past. All of those who were learning mathematics in the George Hall were heading towards Art Gallery where the next lecture was to be held. Until someone stopped her at the rear entrance to the Art Gallery, she was fighting with the memories of Sirinatha.
"Soome, I knew you would come here for the next lecture," Sirinatha said calmly. Daisy looked amazingly with wide-opened eyes as if she could not quite believe Sirinatha to be present. She smelled the scent of flowers in the Sal tree behind the Art Gallery.
"How do you know that I have enrolled at the campus?" Daisy asked Sirinatha getting closer to him.
"I work in the College House and I knew that Daisy would come here," said Sirinatha handing over an envelope to her. Daisy shivered and looked at Sirinatha .
"Go to the lecture. You will be late. If you need anything come to the College House," Sirinatha said. Daisy thought whether it was that enchanting memories of her and Sirinatha that tried to spring up from an old tree producing fresh leaves and saplings as it was cut again and again.
"I am going," said Sirinatha and disappeared. Daisy sat on a chair at the corner of the last row of chairs and looked at the female lecturer who delivered the lecture. She had a mild but a sharp voice. She spoke on American Short Stories. She passionately talked about a love of a person named Kahana Wilasa. Daisy opened up the envelope that Sirinatha gave her.
There was no letter in it. Three ten rupee notes were inside. Daisy placed the envelope containing three ten rupee notes into her bag made of cloth without any emotions. Having her name in the time table, Daisy recognised the female lecturer as Wasanthi Randeniya. Daisy thought she had a certain style in her speech as well as in her mannerism. She passionately talked about love and overwhelming feeling for life of an American thief named Kahana Wilasa.
Daisy, who sat on a comfy chair in front of the Women's Common Room, saw female students who came in and went out of the room. Thinking that she was sitting there aimlessly, Daisy got up. She could not tolerate the noise of the girls playing carom. Daisy went to the newspaper rack under the cherry tree in front of the Common Room and began reading a paper.
"Are you, comrade Daisy Suzan," a stranger who came to the newspaper stand asked.
"Yes, why?" Daisy asked a question with her answer.
"Sister comrade, our comrade has come to meet you sister comrade at Grandstand Canteen," said the stranger. Daisy, who did not stop to ask any further question, ran into Reid Avenue accompanying the comrade and reached the Grandstand Canteen. From a distance, Daisy saw a couple of comrades on a common table drinking plain tea. Since she had never seen party comrades smiling, she did not expect them to smile with her. Flies were perched on the common table.
No one seemed to be interested in chasing them away. Crumpled papers that were used to wrap Tala and crumpled Kenda leaves used to wrap Halape were on the table and also on the floor. Daisy smelled a foul order that emanated from the water and tea spilt on the table. Comrades were engaged in an important discussion.
"The Leftist movement in this country could not and did not want to apply Marxist ideology to our unique situation. At least, the Leftists could not teach the masses Marxism in plain language," said the comrade who led the discussion. Daisy thought that there was an element of truth in that. The Comrade, who stopped his lecture in the middle, introduced himself as 'Peradeniye Wimal'.
"Is the leader Comrade different to other Leftist leaders only because of language?" asked an unknown comrade. Soome thought that she too wanted to ask the same question.
"Very good question. Our leader is a person who is entirely different from other Leftist leaders. Let's take Philip Gunawardane. He is from Boralugoda Walauwa. N.M though is not from a Walauwa, is a person who learnt from the white and leads a life as a White. Their mentalities and life styles are different," said Peradeniye Wimal starting a lengthy description.
Leader was a man from an ordinary family. This country's leadership should be given to such a person. Those who have positions do not know how floods occur in this country or how erosion takes place. Brain drain, is due to economic issues.
We who have a clear vision of the system should take over power," said Peradeniye Wimal looking at Daisy as if to seek her approval.
Since the discussion went on for over two hours, she could not attend the next lecture. But Daisy thought that this lecture was more important than the lecture delivered by Domingue Sir and finding the value of X.
Daisy thought of reading the biographies of Leftist leaders at the library before deciding on whether the leader comrade was correct or incorrect.
Daisy felt that her attraction to the SLFP led coalition with Leftist leaders N.M, Colvin, Keuneman and Wickramasinghe was on the wane. Keuneman was a Burgher. Dr. Wikcremasinghe married a white woman. N.M had no sense of indigenous thinking. Philip changed his position and joined the UNP.
"Do we support the coalition at this election?" Daisy asked comrade Wimal at the next discussion. An immediate response was given. " If ther is a separate path, why should we support United Front", asked a Comrade.
"We should support the coalition and chase away this Yankee government which supports the colonialists. In this journey, we must identify the friends and enemies. The UNP which tries to carry on a dictatorial rule should be overthrown."
"There is no readymade road for revolution. Every country where revolution occurred has not gone on readymade roads." Wimale said. Although that response did not provide an answer to the question, the person who asked the question was satisfied. Daisy thought it would be better if she could discuss matters with another comrade other than comrade Wimal. Daisy had doubts that he had only readymade answers. She thought Peradeniye Wimal had no answer outside the framework.
"Sirimavo had no political knowledge," comrade Wimal once said. Daisy began to entertain the belief that political knowledge was not having a university education on politics or acquiring a bookish knowledge of politics.
"But Sirimavo is a political attraction", Daisy said.
"Political attraction is one thing and political knowledge is another.
Sirimavo is an aristocratic stem", Comrade Wimal responded hurriedly.
"Then, does comrade believe that the United Front would not be successful? " Daisy asked. "Sister, the United Front is not a strong force against imperialism. It is true that The United Front has progressive ideas. But they do not have a political stance, a firm foundation against imperialism. No strength. This country needs a revolution. It is only by revolution that all the ties of imperialism can be destroyed," said Comrade Wimal and took another half an hour to explain why they should make a commitment for the victory of the United Front.
As usual, mother went out in the early morning to tap rubber. Daisy was sad that she had no idea about the forthcoming election.
"Mother, to whom are you going to vote this time?" Daisy who was reading a book lying on the camp bed, asked Duleena who was weaving a basket of reed.
Duleena thought that she should weave a basket of reed even without sleeping during the night as Nanawathi Hamine wanted one.
"I do not know. I have no idea ", Duleena answered uninterestingly.
"Mother, you should vote for Sirimavo to defeat Dudley Hamu," said Daisy putting down the article she was reading. Duleena looked at Daisy, stopping her task.
"Isn't it Mathini better than Dudley Hamu? Is it better a male goes to the parliament than a woman?," asked Duleena. Daisy looked angrily at mother.
"Being a woman how can you say so. I lose my temper when you say such things," said Daisy without attempting to control her anger. There was a sign of a surprise registered in Duleena's eyes.
"Mother, to whom you are going to vote for?" Daisy asked Duleena for the second time.
"I will cast my vote to any one if I have time," Duleena said indifferently.
"No, you should vote for Mathini," said Daisy resuming her reading again.
Duleena thought that there was no difference in marking a cross against Mathiniya, Dudley Hamu or any other person. Since the girl requested, she had no hesitation in marking a cross against Mathiniya. She focused on the task of weaving the reed bag.
Besides, everyone knew that the prominent personalities such as Ralahamy, Kandegedara Mahattaya, Vidane, and Thapal Mahattaya would vote for Dudley Mahattaya. However, Nanawathi Hamine said that she would always vote for Bandaranaike Unnahe's party. Duleena remembered that she heard over an Ambula during a harvesting paddy that country would have progressed if Bandaranaike was not killed.
"Only he was there to help ease our plight. All others went to the Council and spoke in English. We are expecting that we would get something when a person dressed in national dress and spoke in Sinhala became the chief of the Council." Duleena recalled Neris Goiya's words the other day while he was wiping his hands with the loin cloth.
"There was a mammoth crowd at his cremation. It is amazing such a crowd is present in this tiny country. He was killed because he helped the poor," said Hendattha continuing the conversation. Now who else is going for the vote other than his wife. Mathini had gone to the Council previously. The group that came for harvesting paddy that day said that Mathini had also come from a highly respected family similar to that of Dudley Hamu. There is nothing wrong in marking a cross against such a person.
"Nanawathi Hamine has been sick for a couple of days. Why don't you visit her?" Daisy was ashamed when mother requested her to visit Nanawathi Hamine.
Daisy had not visited Nanawathi Hamine for a long time. Daisy thought that she had nothing against visiting Nanawathi Hamine although she did not have a desire to do so due to the absence of Sriyadari Akka and Sirinatha. She was also very busy.
"Since our girl and boy left the village, you also did not visit," said Nanawathi Hamine leaning against the railing of the bed when Daisy came up to the bed where she was lying down. Daisy tried to smile getting away from the bed. Daisy thought that a smell of staleness had pervaded the house and the room. The glass on the Nanawathi Hamine's Almaira had been dis coloured.
Daisy looked at the spider in the cobweb between the Almaira and the wall waiting for a prey.
"You should have taken up a job rather than pursuing higher studies. There is unruly surrounding there. But neither you nor your mother listens to me," said Nanawathi Hamine leaning against the railing of the bed.
"Is it true that girls and boys in those university stage protest marches? Sirinatha Putha had written to me that he had met you there," Nanawathi Hamine uttered disjointed sentences as if in a delirium due to fever.
"Yes, I met Sirinatha one day and he gave me thirty rupees," Daisy said smiling. Daisy saw a smile appearing in Nanawathi Hamine's face.
"He is pity for you. He likes you. But he did not mention that he gave you money in his letters," said Nanawathi Hamine who started coughing.
Footnotes
'Kenda' leaves are used to wrap Halape which is a traditional Sri Lankan sweetmeat made with flour and dark sugar.
Tala - Sesame
Mathini- Madam in Sinhala. In this context it refers to Mrs. Bandaranaike
Dudley Hamu/Dudley Mahattaya - Mr. Dudley Senanayake
Ambula - A mid-day meal provided during paddy harvesting
The Chief of the Council - Chief Minister in the Legislative Council
Almirah - A wooden cabinet.