Ravana - historical or mythical figure?
About three years ago I spent about three weeks with three sisters in India. To be specific their abode was in Vaishalee off Pitampura suburb of Delhi. The name Vaishalee resonated with back home childhood Sunday Dhamma school memories of the miserable state that the city of Vishala (Vishala Mahanuwara) was plummeted to during Buddha's time, due to spread of a pestilence. But this Vaishalee was geographically different. In fact, aloof and quiet, it was mostly sprinkled with residences of University staff. Two of the Bhatia sisters were and are on the New Delhi University staff and their father, a retired dean. Their mother was a well-known poetess whose reminiscences of the flight from Lahore to a city in India the young couple indulged in, in a tight packed train in the immediate aftermath of the partition riots trailing India's Independence, just held me spellbound.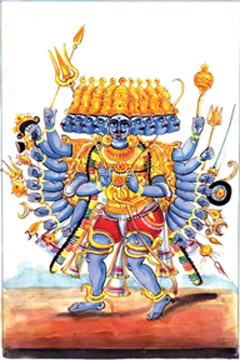 One evening I spotted the three sisters gaily dressed and ready for an outing. They were enroute to the Ravana Festival. We are going to burn him, they said. Annually they, the North Indians do so, according to the three sisters. Not born yesterday I could well understand the Indian wrath against our valiant king of pre-historic times charged internationally with unwarranted aggression and trespass of a foreign sovereign state and kidnapping another's wife.
But having joined them I felt very sad as I watched massive flames converging around the bloated effigy of Ravana and making a bonfire of him.
After all he was my countryman who in certain legendary ways has brought immense glory to it. We and our literature and folklore would have been much poorer without him. Whenever we are down in the doldrums and find nothing to uplift our spirits we can take solace in the thought that the first airplane was built in our small island. The Wright brothers of USA take a back seat. No. Not in the Dandu Monara of King Ravana. Even the airport has been located as Wa - Ri - Ya - pola (Stand where air borne vehicles stop). That could be the world's first airport, this town today hidden in the meshes of Sath Korale vegetation. Who disputes these facts or maybe no one bothers.
If not for him what would have ignited hot debates as to whether Ravana is a mythical or historical figure and stoked imaginations of artists, writers and even beauty queens. Beauty queen? Never heard of that, I hear you say. Let me narrate that briefly.
She, from the North West of Sri Lanka was a raving beauty. And one with brains too. Peradeniya campus opened its doors to her readily in the late 1950s and whenever she entered through the Arts Theatre doors, very tall, lithe, extremely attractive and imperial looking, so smart in the Kandyan Osaree, a neat konde tied behind, not only the male students but we females too were just mesmerized by her. So far so good. Then she went across the oceans to better her fortunes. Again good. Then she returned. Had bidden adieu to the Osaree. As the newspaper photos showed on her arrival at the airport, not at Wariyapola but at Katunayaka, she was wrapped in a swirl of robes, very much like a female Gadaffi.
Back to the beauty. After landing in her home country she made the dramatic announcement that she is a descendent of the mighty King Ravana. Cameras flashed on her, reporters crowded round her. After all not every female especially of Asian stock makes such dramatic and sensational announcements. Such bravado is usually the copyright of European women.
When did the revelation break on her, the inquisitive scribes asked, pens poised. In England, she answered. Perhaps he appeared before her after flying in his Dandu Monera to Heathrow airport. Well, if not for Ravana how could such fantastic stories crop up? Unfortunately the lady no more treads the earth. Kings-Queens, their descendants and all mortals finally take the same path.
Why did I suddenly think of Ravana? The interest was spawned by an E mail circulated by an up and coming researcher named Danesh. Researchers like writers put their fingers into anything that take their fancy and sometimes anything includes "All things under the Sun."
Danesh has already taken the firm stand that Ravana is a mythical figure and is very worried that a State sponsored organization of the country connected to tourism seems to give official recognition to this king.
This bureau's immediate motive here seems to be to attract Indian tourists and set them on the trail of Ravana. I may be wrong but the first incident mentioned in this article reveals that India is no lover of Ravana. Who would decide to spend dollars on treading the trail of a despised character?
Another issue is can an organization, even so powerful as a State body transform a mythical figure (assuming it to be so) into a historical character? Has this sort of thing been staged in other countries? I mean is there a precedent? What research has been done to prove or disprove the legend of Ravana, without merely stating that he truly roamed the earth of Lanka flying above too or on the other hand, that he is a pseudo figure cultivated by fertile Lankan imagination not limited to North West beauties but to a good spread of our citizens? Newspapers given publicity to recent discoveries by luminaries in the archaeological arena that a very high civilized age had existed about a century before the advent of Vijaya. Could this approximate to the Ravana age? It is time that an academic association launch a discussion on the subject. State bodies have much power including the power of injecting life and blood into airy figures. Not that I proclaim that Ravana is an airy figure.
I love the valiant man too much for that and am not ashamed to admit that as Ravana's effigy was burnt to ashes in the outskirts of the capital of India that I shed a few tears for the man who built the first air plane in the world, yet vilified in the neighbouring sub-continent, at least in its Northern part. Was there really a Ravana? It is time to probe into the issue without pre-prejudicial bias. There is no smoke without fire, is a cliche, but true. For the legend of Ravana to spring and entrench itself there has to be some background.