Paranoid in India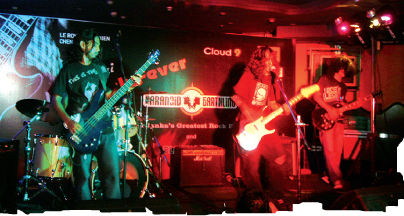 Paranoid Earthling is a name that any member of the Sri Lankan Rock and Roll community would claim to know and love. Delivering they're psychedelic hard rock grooves since 2001, the earthlings are one of the few Rock bands in Sri Lanka who still stand strong after passing the five year hurdle. After eight years of playing music, Paranoid Earthling recently got their first chance at 'wow'ing an audience that was not Sri Lankan.
The boys from Kandy played their first overseas gig in the form of a string of concerts in Delhi, Bangalore and Chennai. It was a big moment for the band and also for the Rock and Roll community in Sri Lanka and from what we have heard from people who saw them in India, they did us proud.
I was able to catch up with Front Earthling Mirshad Buckman for a little chat about their recent stint in India and find out what their plans are for the future.
Me – How did the whole India thing fall into place?
Mirshad – We had a lot of our material up on our myspace, and our manager got through to some people in India. One of those people was Subir from the band Parikrama, who checked out our music, liked it and got it through to an agent there.
That was how the tour worked out.
Me – Give us a rough outline of how the tour went
Mirshad – The first gig was the Hard Rock Café in Delhi and there was a very good response. All along a lot of people gave us a very positive response. The type of crowds varied with the place. The second gig was at the Kyra Theatre in Bangalore, then we went back to Delhi to play at a venue called Turquoise Cottage, and on our way back we played in Chennai at a place called Flame le Club.
Me – What was the first gig like? How did you feel?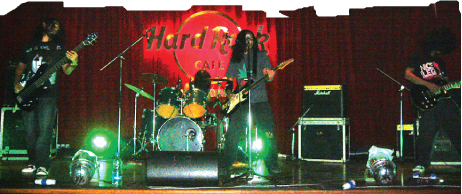 Mirshad – I left my guitar strap at the hotel when we went for the sound check. That's my first memory of that gig. We had to go ready. I had to make sure everyone had everything and everything was sorted and when we got there I realized I've forgotten my strap. We played two sets at the Hard Rock Cafe. I was a bit nervous at the start of it. The response was good but how we felt was different at the beginning. By the time of the second set I was fired up and so was the rest of us I think and we just played out.
Me – What do you think about the scene in India
Mirshad – It's a lot bigger than in Sri Lanka. There's actually a huge industry for it over there. There are a lot more people supporting rock music over there. And personally what I felt was how nice it is to be a musician there because people respect musicians in general. Even a cop would praise you for who you are which does not happen here. If you're an artist or musician you're respected more there. And a lot of people know about rock music, even the media. Almost all the interviews we had there were done by journalists who had a very good knowledge of rock music.
Me - Why do you think it's different in Sri Lanka?
Mirshad – I think Sri Lanka is still in the stage where it's breaking out. There it's already out there. There are bands that have been playing for years and years. I think here we're in the middle of this big revolution happening. There are a lot of new people now who are getting into rock music. We're in the process where it's breaking. That's the energy you'll get here. You'll never get this energy there.
Me – why do you think this kind of music is becoming more and more popular in countries like India and other Asian countries where rock music is not really part of the traditional culture?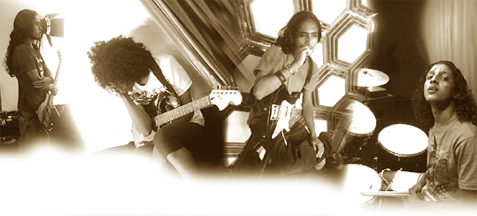 Mirshad – I think Rock music has always been there but it has been restricted but now it's advancing to all these places including Asia where there are more and more new bands everyday. And people here can relate to rock music anyway because rock music talks about the truth. It's the kind of music that's heavy and strong and it brings out the reality and that's the way it has always been voiced. And if you take most South-East Asian countries, all the corruption and confusion happening here is more intense than what's happening in the west. That could also be a reason why this music is becoming bigger here.
Me – The long awaited PE debut record. What's happening with that?
Mirshad - *with a nervous smile and a lot of stalling* Still in the process, I think we will only resume recording next year. But it IS coming for sure.
Me – explain a bit to our readers about what they can expect from the album.
Mirshad – there's actually one new track that we're working on now that will possibly be the title of the album. It'll speak about what many of the young people have to say in Sri Lanka and the idea of freedom. The freedom to do whatever you want to do and judging your own actions. It will be a mix of songs about what's happening around us and what we want to do about it and just basically things that we have experienced all these years.
Check Paranoid Earthling out at www.myspace.com/paranoidearthling