Boozy woman in subway train near-miss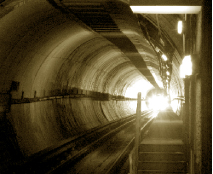 Surveillance video in a Boston, Massachusetts subway shows a 26-year-old passenger waiting for an Orange Line service in the city's North Station. As the train approaches the platform, she tries to stub out a cigarette but loses her balance and falls about 3ft onto the rails. Despite landing on her feet, she stumbles forward before slumping onto her back.
Other passengers start frantically trying to flag down driver Charice Lewis, 27, as a horrific impact appears inevitable.
The fallen woman is barely moving while the train powers towards hers, at about 10.54pm local time. But Ms Lewis quickly slams on her emergency brakes. The fallen woman then stands up and promptly stumbles over again, before bystanders drag her onto the platform. Transit police officers who spoke with the lucky survivor said she had been drinking several hours earlier and was noticeably intoxicated.
"The train came right over her body, and it stopped midway up her body. And when you looked back, it seemed like it could have ended very wrong," said a witness. "When she stood up, we were in disbelief that she was able to stand up." The woman was treated for scrapes on her knees at Massachusetts General Hospital.
Sky news
---
Urine luck, thanks to a beaver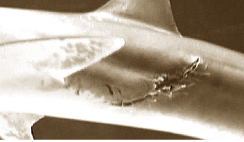 A beaver was the big guest on the CBS Early Show. Make that, a full-bladdered beaver. Though not for long. Blame nerves, blame nature, blame an oddly well-honed sense of urinary precision, but just a few short moments into the animal segment, unsuspecting correspondent Debbye Turner Bell was sprayed by a blast of liquid excretion.
These things happen. But rarely do they happen twice in a row. As Bell made her way toward a towel-bearing minder, the beaver struck again, this time releasing another stream of pee right in her face.
- eonline.com
---
Shark bite C-section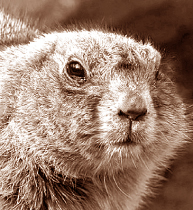 The mother-to-be was attacked by another shark at Kelly Tarlton's Underwater World in Auckland, New Zealand. Already stunned visitors then saw four pups wriggling out of the savaged female's wound. "It (the bite) was on the side and very deep. It was like an impromptu C-section and the sharks actually got born out of the side," one witness said. When a vet stitched up the mother's gaping wound, another four sharks were found.
Kelly Tarlton's aquarist Fiona Davies said it was common for sharks to bite each other but, "It had to bite a certain part to let them out and do it without killing them or her." The eight pups were quickly fished out of the aquarium and placed in a "nursery" tank. They will later be released into the wild.
Ms Davies said the unexpected birth may have saved the babies' lives. Staff did not know the mother was pregnant and, had she given birth at night as sharks do normally, the pups would have been devoured by adult sharks and stingrays.
- Sky news