Royal College among world's best schools:
Royal remains supreme
Being a member of a 'Royal Family' is indeed a matter of great pride.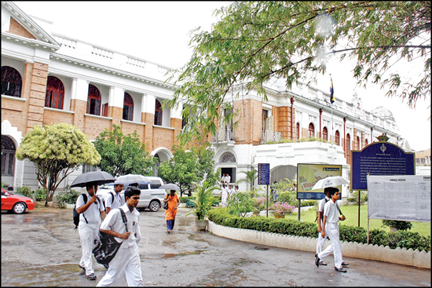 Anyway seldom do ordinary people get a chance to share their happiness or victories. But the pride of Royalists was shared by all when their school was selected as one of the best schools in the world by Microsoft, on the eve of its 175th anniversary!
"This is not only an achievement for Royal College alone but for the entire country." says Upali Gunasekera, Principal of Royal College, Colombo.
"Microsoft is an organization which has penetrated into almost every household. We can imagine how many schools might have participated in the first round. This may be the first time a Sri Lankan school reached this level in a global competition of this nature. In my career I have not heard of such a competition conducted by this type of a globally recognized organization."
"There is another reason that all Sri Lankans should be proud of. As Microsoft announced the list of winners the name of Royal College was on the top. When we inquired about this we were informally told that we have topped the list based on evaluation points!"
Throughout its 175 year history Royal College has always been an ideal haven for students of all races , religions and classes.
Almost every Sri Lankan parent aspires to make their son a Royalist, but not for everyone that dream comes true. As school sources reveal Royal College gets the most number of application forms for Grade 1.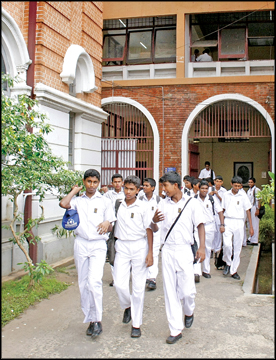 The best 250 students from all over the country enter the school after Year 5 Scholarship exam. Today with a student population of 8300 and 340 teachers, Royal College stands majestically in the heart of Colombo city , eager to nurture, mould and shelter Lankan sons for generations to come.
As one of the key persons who helped compiling the comprehensive report on Royal College to Microsoft, Upul Jinadasa, General Manager, Information Technology, South Asia Gateway Terminals (Pvt) Ltd, too had a lot to say about this unsurpassed achievement. An old boy of Royal College, parent and Secretary of the School Development Committee Jinadasa elaborated on the rigid and effective criteria used by the Global Innovative Education Forum to select the best thirty schools. " In every country the competition was initially conducted at local level. Here it was done by our Ministry of Education in co-ordination with Microsoft Lanka and five schools including Royal College were selected to represent Sri Lanka in the global competition. Over 104 schools were shortlisted for the final round out of which thirty were selected. "
While appreciating the continuous encouragement given by President Mahinda Rajapaksa, Minister of Education Susil Premajayanth and others, Royal College Principal Upali Gunesekera explained to us how Royal College became a Global Pathfinder Schools in the Microsoft Partners in Learning Network following its victory.
As explained by Jinadasa the purpose of Innovative Schools Program is to provide resources for schools to move beyond the limits of the classroom and traditional learning methods and to make education more engaging, inspiring, and relevant to the world in which our students live and the world they influence for years to come. " It's not about giving answers; It's about helping find them."
According to Microsoft this is an attempt to bring schools around the world together. Next they would implement the system of collaborative learning. "For example if Royal College has employed the best practice to perform a task let the other schools too share that. If another school has implemented a better practice than us we can share that."
| | |
| --- | --- |
| | |
| Upul Jinadasa, Secretary of the School Development Committee. | Lakshmi Atygalle, Deputy Principal. |
Mahima Weerasinghe,
Deputy Head Prefect
Tishya Wickremesinghe,
Head Prefect
Royal College is well-known for its use of ICT to make education and learning more meaningful to students. "But that is not the sole reason why our school was selected by Microsoft as one of the best schools." The selection was done by eminent panellists from reputed education institutions around the world. Though all schools across the globe are not identical and have to serve the students in a variety of geographical, cultural, and economic environments, all these schools have several characteristics in common. Panellists have first looked at those characteristics- vision for school, distributed leadership, technology commitment and desire to learn. Evaluation was based on achievements on academic success, innovative culture, leadership development, learning community , strategic development planning and innovative use of ICT. The most prominent feature of this evaluation is that Microsoft will continue to support the school to review their systems and adopt best practices over a two-year program.
IT facilities
The school presently has five fully equipped computer labs with around 250 computers. But at present PC to student ratio is 1 for 32. "We are going in the right direction. But still our resources are not sufficient when compared to student needs." says the Principal.
Anyhow the school always attempts to make use of computer facilities as much as they can in order to give students the maximum benefit.| " Teachers are given the opportunity to use laptop computers in the class room. This is also basically a new concept. At present we have around 20 laptop computers. Earlier the students had to go to the computer lab, but with this new facility children can work on the computer in the classroom itself.
Another noticeable use of modern technology is the introduction of RFID (Radio Frequency Identity Card). All the students above Grade 3 are entitled to this special facility. They have to mark their attendance at the gate as they enter the school in the morning. " In fact this is an easy way for the parent to find out whether their child had entered the school premises safely. There is a website to which every parent has access, so that they can find the exact time their children entered the school." As the Principal explained this system was specially useful during past years when there were frequent bomb explosions in the City."
Royal College has also been selected by the Ministry of Education as the Pilot to implement Interactive White Board (IWB) concept in Sri Lanka. Since the White board could be used as a computer monitor, it is no longer necessary to use a projector. Since the College has now equipped their auditorium with an IWB, a larger number of students could participate in lectures. " This new technique is used for specialized lectures in mathematics, science, social studies and English."
Giving students exposure to the latest in ICT is a major aim. The College has gone to the extent of providing WIFI facilities to students under the careful scrutiny of school administration. "There is a special school network which students above Grade 6 can go through. They can also have interactive communication with teachers and other students wherever they are." As specially noted by Principal Gunesekera this is one special instance where Royal College uses technology fearlessly for the betterment of students in order to keep them in touch with modern technology.
Commenting on the victory, Lakshmi Attygalle, Deputy Principal Royal College says that Royal College deserves to win as it had used ICT under the collaborative learning concept from the primary level. " The school has taken online projects to a higher level whereas children interact with the rest of the world.
| | | |
| --- | --- | --- |
| | | |
| Lal Perera, Assistant Principal - Finance | S. Illeperuma, Sectional Head (Science and Maths) | Swarna Premaratna, Agriculture teacher |
Since 1988, Royal College has pioneered on-line school linkage projects which are introduced by www.iearn.org in order to allow students to engage in educational projects with their local and international peers." As noted by Attygalle the school has opened avenues for the students in the rest of the country to join hands with other schools in their `learn' projects.
Head of Science and Maths, S. Illeperuma, too sees the high use of modern technology as one of the major reasons for this achievement!" During last five years we tried to get the maximum from the modern technology. We did not do that in order to win any award, but solely for the betterment of the school and its students. We wanted to 'equip' our children with necessary knowledge and talents so that they can face up to any challenge as they leave school. They will then face no challenge in both local and global job markets."
Classroom teaching has become easier and more meaningful with the use of new technology. "Unlike in the past now we can browse the net and get necessary information. In zoology there is a lesson where students have to dissect frogs. Now we can get everything on a CD, and go through each step. Teachers do not have to waste time drawing diagrams again and again. Also it is now possible to show those models and diagrams graphically and three dimensionally. Then the students also can get a better idea of the subject."
Tishya Wickremasinghe, Head Prefect, Royal College says that his school could win the award as it did not cater only to academic needs of the students. "Royal helps its students to become balanced people who are able to face up challenges.
Another striking quality is that it is with the help of the students from all three media that we perform all our social work."
Teachers and students of Royal College have reached out to the needy people in IDP camps. Tamil medium teachers have visited IDP camps to teach them while students have involved themselves in serious endeavours to look into their other requirements. As revealed by the Principal they are supposed to visit IDP camps again in a few days.
Mahima Weerasinghe, Deputy Head Prefect too considers it a great pride to be part of this victory. He attributes it mainly to the excellent administrative practices adopted by the principal, other deputy heads and teachers. Students as well as principal and all others helped school reach the top most level."
As Lal Perera, Assistant Principal - (Finance) says the school could reach lofty heights because everyone worked with a team spirit.
Teacher training
In order to develop the skills of teachers the college maintains a specialized Skills Development Centre.
"Teacher training is one of the ways we conduct training sessions to bring up the level of teachers.
Our intention is to give them a knowledge of best management practices and motivation-first how to motivate themselves and then to motivate students. Special mention should be made of Dhammika Kalapuge, a free lance trainer who has been conducting a series of sessions."
Special leadership programs and opportunities to learn languages are also available. In April 2009 the school formed its first Gavel club. Out of 70 clubs and societies, Discussion Forum is significant as students get a chance to discuss and debate current issues.
Royalists have also assisted Mulleriyawa Hospital to set up a home garden. As the school agriculture teacher Swarna Premarathna says , it was done for the benefit of patients upon the request of the then medical officer in charge. | "We are happy to see patients actively engaged in gardening which of course is significant to improve their mental condition. Also now the hospital has set up a fund of Rs.65,000/=s.
Royalists also maintain a home garden in their own school premises and now are about to do a paddy field in Malambe usinig traditional methods..
Evaluation
"Royalists cannot rest on their laurels." concludes Principal Upali Gunesekera with a voice imbued with seriousness. " At the end of the first year we are supposed to go through a process of change." A new program for school development had been launched by the Ministry of Education even prior to this victory. The intention is to bring all stakeholders together for a major discussion about the problems faced by the school. "This is done within the framework of Government Education Policy."
The emphasis is on making a 'complete' person with knowledge, skills and values. "Prior to the commencement of subject lessons, a few minutes are devoted to discuss about some matters of value.It is the intention of Royalists to move forward breaking economic and social barriers and creating a process for positive change.
The opportunities Royal College offers to all the Sri Lankan students to their wings and minds in the ongoing journey of self-definition and identity will be strengthened even further in the coming years.
Pix: Kavindra Perera