Progression from a hamlet to a global village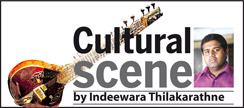 Kalakeerthi Edwin Ariyadasa to whom we dedicate this issue of Montage, celebrated his 87th birthday on December 3. He is a person of unique talents who may be described as the most senior practising journalist of Sri Lanka today. It is difficult to assign Mr. Ariyadasa with a tag such as journalist, teacher, editor, broadcaster, television personality or communicator as he has always demonstrated the qualities of a great humanist who is always there to support and help anyone who seeks his help.
He was born on December 03, 1922 in the pastoral southern village of Unawatuna which is still breathtakingly beautiful despite the centuries of changes following the collapse of colonialism and the emergence of a new socio-economic order.
He had his early education at Buddhist Mixed School in Unawatuna and received his secondary education at Mahinda College, Galle. Among his contemporaries at Mahinda College included young Siri Gunasinghe, Vini Vitharana, Sirimal Ranawella and Nandadasa Kodagoda, and all of whom later became his university mates and experts on their chosen careers.
In the University College, Colombo he read for BA with Sinhala as a major and English as an auxiliary subject at the feet of Sir Ivor Jennings, a vestige of Colonialism and an intellectual of international repute. It was the heyday of Colonialism and inter alia, Edwin Ariyadasa came under the influence of heavily Anglicised culture where the clattering of fork and spoon was the order of the day. Since 1949 when he took journalism at the behest of Edmond Wickremasinghe (then the head of Lake House publications) as Deputy Editor in the Editorial Board of `Dinamina' under the Editorship of Piyasena Nishsanka, Edwin Ariyadasa has been a practising journalist.
Although his scope of activities spanned over many areas such as journalism, Communication, teaching of journalism which he pioneered with the drafting of the syllabi for the first ever course in Journalism at the Junior University set up by the then Minister of Education, I.M.R.A. Irriyagolla, his mainstay has always been the print media. Edwin Ariyadasa is a bi-lingual journalist par excellence who has written over 20,000 articles on diverse subjects in both Sinhala and English. One of the singular contributions of Edwin Ariyadasa is the introduction of Sinhala terms for English terms such as the Internet.
For instance, Sinhalese words such as `Antarjalaya' (Internet), `Madya Rupa' (media images) and `Sajivikaranaya' (live broadcasting) were invented by him. He had either authored or edited a number of publications including the monumental work `The Buddha World' and `Treasure of truth' which is a unabridged English translation of `Dhammapada' running into 900 pages. Perhaps, his brightest period in journalism at Lake House was the one in which he functioned as the Editor-in-Chief of `Navayugaya' magazine.
The period 1970s is considered as the golden era of the periodical bringing the latest development in the field of science and technology to the very threshold of Sinhala readership, thereby contributing to the growth of scientific vocabulary in Sinhala language. As Edwin Ariyadasa himself acknowledged that Sri Lankan born NASA scientist Dr. Sarath Gunapala had mentioned at one stage of his life, `Navayugaya' had created an interest in him in science and technology.
During his reign as the editor of `Navayugaya' Mr Ariyadasa discovered and mentored many novices as feature writers who have progressed into their chosen careers in various fields. One of the 1970s novice writers he introduced through `Navayugaya' was the bi-lingual poet and writer Sunil Govinnage who still writes in Sinhala from down under despite being employed as a civil servant in Perth.
Sage of our time
In retrospect of his illustrious career in journalism spanning sixty years, Edwin Ariyadasa saw the evolution of Sri Lankan society from a rural agricultural society to a partner in a robust global economy. He belongs to a vanishing tribe of bi-linguals who shaped the cultural landscape of the pre 20th century. Writing a personal appreciation of the life and work of Mr Ariyadasa's 80th birthday Ajith Samaranayake wrote: `In fact Ariyadasa's progression from journalist to communicator, from wordsmith to media guru, is indicative of the man. It demonstrates his mental agility, his ability to adapt to the times and his consuming intellectual curiosity which has made him a bridge-head between generations and cultural eras straddling what is almost a century.'
Mr Ariyadasa's role as a cultural intellectual in the formative years of the 20th century is remarkable on many counts. It was the era of cultural renaissance after the dismantling of colonialism in what turned out, as a bloodless transition from the British to Sri Lankan administration. However, one of the cardinal issues confronting at the time, was the absence of an effective vocabulary in native tongues to express the socio-political developments of the emerging world order. The highly Anglicised elite were either out of touch with the reality or simply could not express themselves in native tongues.
So the task of devising an effective vocabulary in native tongues such as Sinhalese and Tamil fell squarely upon the generation of bilinguals, especially, in order to teach academic disciplines in emerging universities like Peradeniya which was modelled on the Universities of Oxford and Cambridge in the UK. It was the cultural intellectuals like Martin Wickremasinghe and Munidasa Kumaratunga who pioneered in introducing Sinhala terms for English words. Over the years, the baton passed on to intellectuals like Edwin Ariyadasa and Professor Wimal Dissanayake with the vast changes that took place in the field of mass communication in general and in journalism in particular.
When Professor Wimal Dissanayake was appointed as the Head of the newly established Mass Communication Department at Kelaniya University in the 1970s, he invited Mr Ariyadasa to be a visiting lecturer. As stated elsewhere in the Montage, Wimal Dissanayake had "first got to know Edwin in the 1950s without getting to know him."Professor Dissanayake who was a school boy then was an avid reader of the series of essays that Mr Ariyadasa had penned under the name of `Janaka' writing to 'Silumina' supplement on arts and letters.
When television was introduced to Sri Lanka in the early 1980s, it was the media gurus like Edwin Ariyadasa who devised formats not only for Sinhala programs but also for English programs. As an expert on foreign affairs, he conducted several programs covering the political developments around the world. At the time, he was among the few resource personnel in television who defined the early part of the development of that media. One of the salient features of his personality is his ocean of knowledge spread over many areas of human affairs and remarkable photographic memory.
A little known facet of his personality is that Edwin Ariyadasa is also a gifted and perceptive creative writer and futuristic poet. In a way, readers would be baffled by the sheer depth of his poetry albeit he has not yet published his creative work in an anthology. Among other things, he cherishes the memories of his rather eventful childhood which he spent in the village of Unawatuna and the mouth-watering Sri Lankan cookery in general and `roti' made with `Elangi' oil in particular.
A foremost cultural intellectual
One of the defining roles Edwin Ariyadasa with his multifaceted personality plays in the Sri Lankan public sphere is the role of a cultural intellectual of the milieu. If Prof. Ediriweera Sarachchandra shaped the contours of intellectual tradition in universities and Martin Wickremasinghe in the literary field, it is, perhaps, Edwin Ariyadasa who profoundly influenced the Sri Lankan media scene and actively campaigned for a vibrant media culture in Sri Lanka. He is an object lesson for young media personnel who aspire to climb the career ladder. He is among other things, famous for the accurate usage of both Sinhala and English. Particularly, his English is perfect and is termed out as proverbial Queen's English. He emphasises particularly on the use of standard language both in Sinhala and English and abhors the present trend of bastardising the language by using slang in reported speech.
We wish Mr. Edwin Ariyadasa good health and capacity to continue his remarkable life and above all, his ability to roam "beyond the galaxies and the stratosphere and reach out to the stars" for a few more decades.