'I deliver what is promised':
President confident of landslide victory
President Mahinda Rajapaksa is confident of a landslide victory at Tuesday's presidential elections. Seeking a second term as the Executive President of the Democratic Socialist Republic of Sri Lanka, two years ahead of his official six-year term, President Rajapaksa said he is confident of securing victory with a clear majority.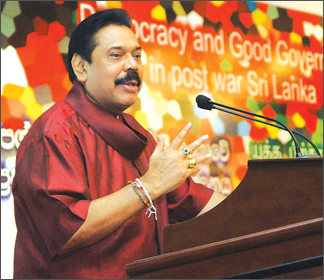 * My policy is to safeguard unitary status
* Government is looking forward to build a land of peace, unity and opportunity for the future generation.
* Friendly countries came to our help due to our pragmatic foreign policy
* Unite to defeat elements scheming to usher divisions
* I will not let anyone to break up this country again
* Resettlement and making the Northern people happy is one of my priorities.
* If I give gold to the South the Northerners too should have the same
* I have given strict instructions to the police to maintain law and order
* Don't be fooled by Goebbel's theory
In an exclusive interview with journalists of Sunday English newspapers at the President's House in Kandy on Wednesday, President Rajapaksa said the masses strongly support him for what they had derived within the first four years of his first term.
He said people of all walks of life are extending overwhelming support for him and the United People's Freedom Alliance for eradicating terrorism and embarking on massive development projects at the same time.
Labelling himself as a person who only makes realistic pledges and a politician who delivers what is promised, President Rajapaksa said he cannot make unrealistic election promises unlike his opponents as it is he who will have to take responsibility for what is said and done.
"Candidates could make all types of pledges and promise the sun and the moon. But I cannot afford to do that as I will have to deliver what is promised. I cannot make promises which are unrealistic as I will be the President from January 27 as well. Hence, I am not in a position to make election promises that could not be delivered," he said.
The following are President Mahinda Rajapaksa's answers to the questions posed, on a wide range of issues, what was promised and what was delivered:
Q: What is the solution that you intend to give to the national problem?
A: With the consent of all political parties in the Parliament, I will present our own solution to the problem of the people of the North and the East during my second term.
There had been a number of All Party Committees appointed to find a solution with no agreement reached on a final solution.
Hence, I would present my own solution so that all parties and groups could discuss it and arrive at a solution acceptable to all groups in the country. It should be within the framework of the Constitution and should not harm Sri Lanka's sovereignty and territorial integrity.
President Rajapaksa said that he is determined to ensure that the people, mostly the younger generation, could live in a country without division and conflict. We have to ensure that all communities living here enjoy equal rights in an undivided country under the lion flag.
Our Government is looking forward to build a land of peace, unity and opportunity for the future generation. Even during the war, the Government did not neglect development and had laid the foundation to create a knowledge-based society and boost development through construction.
Q: What is your prime aim in presenting the Mahinda Chintana Idiri Dakma policy statement?
A: In presenting the Mahinda Chintana Idiri Dakma, we aim at rapid economic development in the country with plans for all sectors, all communities and all provinces.
The first Mahinda Chintana policy presented in 2005 had been implemented successfully with mega infrastructure development projects such as five ports, a new international airport at Mattala, a number of power plants, health and education development programs.
Most of the pledges made four years ago had been implemented and the pledges made for the next six years in the Mahinda Chintana 2 Idiri Dakma will also be delivered in a similar fashion.
My opponents say they would abolish the Executive Presidency if they are elected to power but no Executive President could do so on his or her own. Under the provisions of the 1978 Constitution it could only be abolished by a two-thirds majority in Parliament followed by a referendum.
Hence, the promise made by the Opposition to abolish the Executive Presidency is only a political gimmick to deceive the people.
Q: How do you see the foreign policy adopted under your administration?
A: We have been able to pursue a sound foreign policy during the past four years. It is based on the principle of the Non-Alignment Movement enunciated by the founder leader of the SLFP, followed by Prime Minister Sirimavo Bandaranaike.
It was because of our pragmatic foreign policy that several countries came to our help when it mattered the most. They did so without attaching any strings.
I will give you one good example. When the world oil crisis loomed large, Iran helped us by granting oil for six months on an interest free credit agreement. Other countries including our neighbours India, China and Japan had also helped us in several areas.
Q: Why did you fail to gain the support of the TNA?
A: Even with an election I did not want to give false promises. If I make a promise I make it a point to fulfil it. I cannot betray the country by removing High Security Zones, relax security and so many other similar demands that were put forward to gain their support. These demands are detrimental to the country. So naturally I rejected them.
I also want to emphasise that the recent security measures relaxed in Jaffna were planned even before the election.
These would have been done even if there was no election as I work according to a set plan. I did not do it because another political candidate promised to do so. These were not done to gain any political mileage or for any political reasons.
When the security situation in a country improves security zones are automatically relaxed all over the world. However, a buffer zone is maintained to ensure security. This can be compared to the security zone at the Colombo airport.
Q: Don't you think you could have secured the support of the TNA for half the promises reported to have been made by the New Democratic Front presidential candidate?
A: The stance taken by the TNA to support the Opposition is very clear. The TNA met me and made certain demands such as re-merging the Northern and the Eastern Provinces.
I flatly refused that. My policy is to safeguard the unitary status of the country under one flag.
I am sure that people will rally round me to defeat another unforeseen threat to the country's stability. This threat has come in the form of a secret pact.
I urge all peace-loving and patriotic citizens to unite to defeat elements who were scheming to create divisions in the country again, just to gain petty political mileage.
It is with tremendous sacrifice that we united the nation which was on the verge of being divided. When I took office to govern the country in November, 2005 it was on the verge of being divided.
Terrorists had their own administrative structure, consisting of separate Courts, police stations, Armed Forces including an Air Wing and even separate identity cards for people living in those areas. Some people were even afraid to call a terrorist, a terrorist through fear for their lives.
But we took the challenge head on. We pledged that we would unite this country again.
My vision for a new Sri Lanka - Mahinda Chinthana, emphasised the need to protect the unitary status of the country. To support that, we stood up to this challenge with new resolve and together as a nation, we overcame the deadly challenge of terrorism, bringing an end to the three decades of mindless brutality.
Having overcome that threat posed by terrorists, the Government is now even more focused on diverting its energies to development; continuing the many massive projects launched in the midst of the fight against terror, and launching new ventures for progress that had been denied for a long period.
Q: What would be your priority after the elections?
A: We would maintain the current economic policy and continue with the mega development drive that we have been implementing during the past four years. I would not allow anyone to break up this country and again create a cycle of violence.
We will ensure and create a country where people could live in peace and harmony without intimidation.
I want to bring political changes that would be supported by the masses, after my re-election. This is something that would be decided on after a new Parliament is elected.
I cannot do something of that importance at my own will. This has to be discussed at length to give the 'best' for the people.
Q: How about constitutional changes?
A: That could be done only with the consent of the people once the new Parliament is elected. There are various views on the 13th and 17th Amendments to the Constitution, especially the 17th. That is because these things were done in a hurry.
Hence, I do not want to rush these political packages like the 17th Amendment.
What do the people in the North and the East expect right now? All what they need and ask us is a safe and secure place to live freely without fear.
They want to move away from IDP camps and start life again. They need a roof and demand a better livelihood. They want new roads, electricity, a job, better education and advanced health facilities.
This is my priority and once these people are happy then we can talk about the best political solution needed for them.
When people are resettled in the North East and are living happily then there would be many new political ideas that would surface. These ideas were suppressed and people were not even allowed to think freely by the LTTE. People could not even vote for 30 years.Resettlement and making the Northern people happy is one of my priorities.
When I visited the Manik Farm several youth told me that they want to live in harmony with all communities. What they emphasised was that they should not be divided again and take the country backwards. I saw the expectations in their eyes and this is the society I want to create for all.
Sri Lanka has two main races and their aspirations are different. However, I want to treat all communities equally.
If I give gold to the South the Northerners too should have the same. There won't be any discrimination under my leadership.
Q: Why did the 13th Amendment, APRC and other political packages that were introduced by previous Governments as a solution fail?
A: The main reason for this is the lack of political commitment by other political parties. There were no collective agreements. I promised to end the war which I did and now people including the Sri Lankan Diaspora would start thinking differently. New ideas would emerge from the Universities and new leaders too would be born.
I will then talk to them and implement a political system that would be endorsed both by the North and the South. This would not only bring about prosperity to the North and the East but also for the entire country.
Q: The Opposition is accusing you of a Rajapaksa family tree?
A: If the people vote for them and elect, us, I can't stop that. People have given a mandate to the Rajapaksas. The Rajapaksas have been involved in Sri Lanka's politics since 1936 starting with D. M. Rajapaksa and D. A. Rajapaksa. They were uncontested in the then State Councils.
Later there were other Rajapaksas in Parliament and they all took to politics before me.
When I entered politics too, there were several Rajapaksas already in politics but people voted for me. Similarly, the Chief Minister in Uva, Shasheendra Rajapaksa was elected by the people with a thumping majority as he was suitable for that position.
As far as I am concerned, all are my relations. I have Nadarajas in Jaffna and Hameeds in Beruwela as relations. Politics is a right of the people and people can reject a person if he or she is not suitable.
We would not have been in politics if the people did not have trust in the Rajapaksa family. Not only people in Madamulana but the entire country trusted me and that is why I was elected President.
Don't forget that only the Rajapaksas are in politics. There are so many other families that are involved in politics.
Q: Another 'popular accusation' by the Opposition is that free meals are provided to woo votes?
A: We come from a traditional Southern family with rich values. We never eat alone or enjoy the benefits among us. We always share our meals with fellow villages.
If you had come to my home in Medamulana even 20 years ago you would still have seen that our dining table and kitchen doors were always open for anybody. It is the same even today. But as the Opposition assumes, these are not politically motivated acts but mere traditions and customs we have been maintaining.
I have never used public funds for that purpose. It's my money, my personal money. Should I get permission from anyone to spend my personal funds to give a meal to a known person or a villager?
Q: The Opposition and certain sections are making a big campaign to highlight election violence?
A: This is an unfair accusation initiated by the Opposition and by NGOs and Western elements that want to oust me and destabilise the country again and achieve their sinister objectives.
I have given strict instructions to the police to maintain law and order at all times at the highest level. The Opposition accuses the Government of using state property for the election campaign but even the UNP-JVP backed candidate is using a State vehicle and they are enjoying other State benefits too.
If you study the cycle of violence you can see that they are aimed against the State.
The first murder in Ranna, Tangalle was of an SLFP supporter and the Opposition twisted it differently. Bombs were thrown at my Minister Herat's house in Kurunegala which proves that it is my supporters who are at the receiving end.
My campaign is democratically focused and I have no intention of taking revenge like the Opposition candidate.
He has gone on record saying that he would take people by their ears and shoot them, ask a few individuals to eat bones and made other threats.
This shows that he is heading for a dictatorship similar to Idi Amin's rule. The signs are very similar.
Q: What is your message to the masses?
A: It is time to build on the foundation that we laid during the past four years to secure a peaceful and prosperous nation for the future generation.
To realise this cherished goal, I urge people to act with renewed commitment so that we could defeat the conspirators and protect the stability of the State in the future.I request people to help me to uphold democracy further.
Don't be fooled by Goebbel's theory and again plunge the nation into chaos and drive it backwards. I know that the voters are intelligent and would not take a decision against the country they love.
I call upon all political parties after January 27 to rally round me, shed political differences and help bring about a permanent solution to this problem.