A brief history of radio and radio drama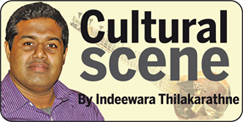 In this week's column I want to focus on the history and evolution of radio drama in Sri Lanka.
Like many other legacies of British rule in Sri Lanka, radio broadcasting was introduced to the island by and largely thanks to the pioneering efforts of the then Chief Engineer, Telegraph and the Ceylon Armature Wireless Society, Edward Harper who was named as the 'Father of broadcasting' in Ceylon. Like many interpretations of history and lack of systematic research and record books the history of broadcasting in Sri Lanka may consist around many stories and personalities.
Asoka Tillekeratne, a well-know retired broadcaster now maintains useful records highlighting the history of broadcasting in Sri Lanka. In his blog, Tillekeratne writes:"In the colonial time, as in other countries, in Ceylon too, radio broadcast was introduced based on the BBC model. In Ceylon, the first experimental broadcast was started on 22 February 1924 at the building of Young Men's Christian Association (YMCA). After a few months of experiments, on 27th June 1924, the radio broadcast was inaugurated in Ceylon by the then Governor Sir William Henry Manning."
The early radio experiments held in Colombo were nothing but broadcasting of music using a gramophone. The earliest radio programs were conducted from a small room in the Central Telegraph Office that came under the Telegraph Department. The technical facilities were limited to a small transmitter built by the telegraph engineers extracted from radio equipment of a captured submarine owned by the German Army!
During the World War II, the radio operations were fully controlled by the allied forces who operated Radio services on South East Asia from Colombo. At the end of the war, the station was handed back over to the Government.
Until October 1949, the radio broadcasting was governed by the Postal and Telecommunication Department except during the war operations. One of the major developments of radio broadcasting in Sri Lanka (Ceylon) was the establishment of the Radio Ceylon as a separate department in October 1949.
Eventually, the Government realised the potentials of radio, as a medium that is capable of reaching out the masses through entertainment, information and education centric programs.
Apart from music and songs which have been the most prominent aspect of entertainment in radio broadcasting, radio play has been one of the popular modes of entertainment from the inception of radio broadcasting in Sri Lanka.
The establishment of Ceylon Broadcasting Corporation (CBC); was named as the Sri Lankan Broadcasting Services (SLBC) on January 5 in 1967. This new identity and the agency changed the landscape of radio broadcasting in Sri Lanka gradually expanding and introducing coverage of radio programs in all three languages across the country.
Development broadcasting
The application of radio drama in the spheres of education and development had begun during the tenure of the first Chairman and the Director General of CeBC, Neville Jayaweera. It was basically development broadcasting aimed at accelerating the 'national development'. Then UNP Government launched an ambitious programme titled 'Grow-More-Food Campaign' from 1965 to 1970s. Programmes were introduced as well as programme strategies were mapped out in order to disseminate information, instruction and advice on agriculture, fertilizer, health, rural development, co-operative, self-help and allied areas. However, it was during Ridgeway Thilakeratne's tenure that radio drama was used as a medium to disseminate messages on development. It was extremely difficult to determine the direct impact of development broadcasting on the increase of paddy harvest.
Early days of radio drama in Sri Lanka
The short drama obtained from Britain in 1927 titled " Wireless drama'' can be considered as the earliest instances of radio drama broadcast in Sri Lanka. The wireless dramas were produced by Colombo Amateur Dramatic Club for CeBC. It was, however, in the early 1950s that the first couples of Sinhalese scripts for radio drama were out of world literature. Owing to the lack of original Sinhalese scripts, celebrated works in world literature such as Anton Chekov's 'The Proposal', Dostoyevsky's 'Crime and Punishment', Pearl S Buck's "The Good Earth" and Nicolai Googol's "Marriage" were converted into series of radio dramas. Among the early radio dramas which was extremely popular, were W.A Silva's "Maha Re Hamu wu Striya", Martin Wickremasinghe's "Rohini" and "Gamperaliya". Lenard Wolf's "Village in the Jungle".
Victor Miguel's drama "Ratmal Yaya" which was broadcast in October 6, 1980 was a popular radio drama. Ananda Sirinsena's radio dramas such as Vajira, Handiye Gedara, As deka, Sadagala Thanna, Gaja Mutu, Sesath Kumariya, were some of the popular radio dramas in 1980s.
Historical radio dramas
Radio drama on history was a trend in the 1980s. Mervin Senaratna was among the prominent writers who wrote scripts on historical themes. It should be stated here that it was a difficult task to make a story out of history and broadcast a program for a long time without distorting the historical facts. Mervin's 'Sugandiha' is an important radio drama in this regard. Inter alia, he had made a structure appropriate for radio dramas on theme from history. Although the P.B Alwise Perera was pioneered the tradition of historical radio drama, it was Mervin Senaratne who introduced continuous historical drama to Sri Lankan listeners. Senaratne's radio dramas such as "Vidiya Bandara", "Dole Landa", "Vasundara", "Swarnapali" and "Sahageevana lanka" were also popular radio dramas. Children's radio dramas were of higher standard.
Sugathapala de Silva and radio drama
The entire landscape of radio drama in Sri Lanka was substantially changed with Sugathapala de Silva's entry into the field of radio drama. It was Sugathapala de Silva who salvaged the Sinhala radio drama from its monotonous and rather predictable format which was modelled on British radio dramas. Ajith Samaranayeke writing on the death of Sugatapala De Silva on his famous 'Sunday Essay' on Sunday, 3 November 2002 provides useful information and insights: "Sugath worked for long at the Sri Lanka Broadcasting Corporation as a producer and in the late 1960's was in charge of the weekly radio drama and the weekly short story programs which were the first stamping grounds of writers and dramatists who are today well-known in their own right."
Silva who joined the SLBC in 1969, had changed the form and content of contemporary Sinhalese radio drama. Rudimentarily, he attempted to evolve characters, their moods and mentalities with a limited space of air time, going beyond then conventional norm of mere presentation of incidents. He did his experiments with radio drama through "Guvanviduli Ragamadala" (Radio theatre) grooming a generation of script writers for radio drama. His own creations such as Vellata Giya Gahaniya, Pathal Karayo and Para Addara were not only popular among the listeners but also inspired a generation of amateur script writers of radio drama. Sugathapala de Silva encouraged and presented creations by writers such as Sumithra Rahubadde, Aravvala Nandimithra, Karuna Perera, Srilal Kodikara, Megala Mudiyanse, Kathleen Jayewardene, Rohana Kasturi and Karunaratne Amarasinghe. Over the years, Sugathapala de Silva made a lasting contribution to the development of radio drama as one of the effective modes of entertainment.
Development oriented radio drama
Apart from uplifting the public taste of literature, radio drama format was utilised to put across messages of development to the masses . A significant aspect of radio drama is its applications in dissemination of information relating to development. For instance, on April 5, 1963, a radio drama titled "Kivule Kumbura" by Tissa Rajakaruna and Berty Galahitiyawa. The drama was woven around a story of a young farmer couple who dedicated their lives to the development of a Government's settlement where they were given lands for cultivation.
A drama "Kumbure Gama" which was broadcast over SLBC in April 3, 1969 was also a development oriented drama. It was written by well known writer, translator and retired civil servant Amaradasa Gunawardena and produced by Jinadasa Yakupitiya. The drama was on the theme of farmers' societies. Pahan Siluva a drama on Community Health (Paul Saukkya) was broadcast from 1974 to 1975. Tamil dramas such as Kandavul Than Thai were on the theme of family health.
What is important here is that radio drama is not only a popular medium of entertainment but also a medium which can be employed in many vital areas such as education, development and dissemination of information on health and community development. But the emergence of television, the role and the impact of radio dramas have diminished but it may be a transient phenomenon.
However, in a country where oral traditions going back to over two millennia, one cannot just ignore that radio drams has no place in the 21st century with the advent of massive development programs going to take place in every district of our nation.