UNP must thank their good fortunes - Kongahage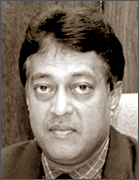 Former Parliamentarian and Presidential candidate Sarath Kongahage said the UNP should be thankful to President Mahinda Rajapaksa for upholding democracy in the country.
"If Sarath Fonseka had won by any chance, there would have been a bloodbath. It would have been the end of democracy. That was the future he was preaching. Fortunately, the masses did not let that happen but rallied round President Rajapaksa who firmly believes in democracy," he said.
Kongahage, who is a UPFA National List member for the forthcoming General Elections, said that the UNP leader Ranil Wickremesinghe should be ever grateful to the President for upholding democracy and shattering Fonseka's dream of a dictatorship.
"It was due to the landslide victory and the clear mandate given by the people to President Rajapaksa that we still enjoy the freedom of democracy and even Wickremesinghe has got a chance to test his popularity in a democratic manner." Kongahage said.
He thanked President for leading Sri Lanka to new horizons. "He is the only fearless leader who had the courage to take bold decisions and put a permanent end to LTTE terror. In the same way, he would soon guide Sri Lanka towards economic prosperity," he added.