104th 'Battle of the Maroons' :
Rajans have chance of winning against Kingswoodians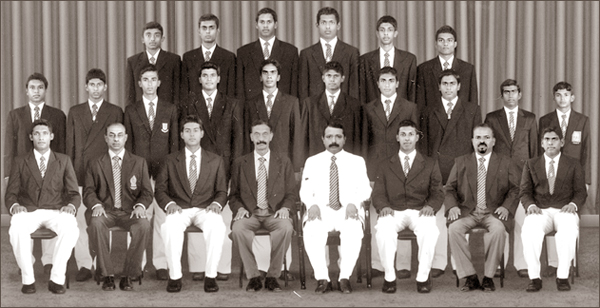 Dharmaraja College (Back row standing from left): S.M.K.G. de Silva, K.N. Rajapaksa, H.M.L. Herath, Arosha Jayatilaka, Viraj Karaputugala, W.L.S. Weerarathna. (Middle row standing from left): S.K. Nakkavita, S.W.G.M.K.B. Wijekoon, R.A.T.L. Ranasinghe, K.A.S. Kalubowila, K.T.D. Jayasinghe, Sasith Gunasekera, Chamalka Abeyrathna, D.H. Munaweera, Nuwan Karunarathna, Sandun Weerakkody. (Seated from left): T.D.S. Silva, Ananda Wijesekera (Coach), Rahula Ekanayaka (Vice-Captain), S.K. Mataraarachchi (Prefect of Games), S.M. Keerthiratna (Principal), Ramesh Bandara (Captain), K.M. Seneviratne (Master-in-Charge), Prathap de Silva.
Pic: Upananda Jayasundera - Kandy Sports Special Corr.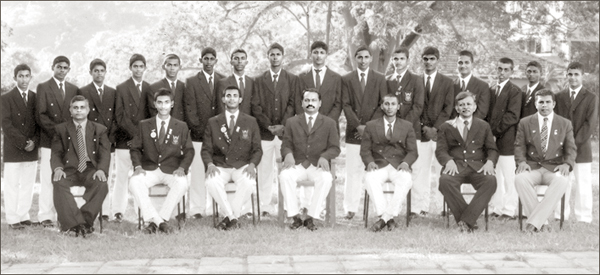 Kingswood College (Standing from left): Tharanga Jayawardena, S. Chalaka Walisundera, Chamila Gunasekera, Thusitha Kandanaarachchi, Madusha Premawardena, Vasindu Atukorala, Dulanjith Pratapasinghe, Rashminda Sandaruwan, Ravindra Srilal, Hasitha Dharmaprema, Kawinda Rabel, Mahesh Dunukara, Devinda Weeratunga, Lakshita Madushan, Thilina Karunaratne, Hasitha Weerakoon. (Seated from left): Sunil Herath (Master-in-Charge), Suboda Premaratne, Udara Hettige (Captain), Rajith Chandrasekera (Principal), Lahiru Gannoruwa, Ananda Weerasooriya (Prefect of Games), Suresh Pieris (Coach).
- Pic: Upananda Jayasundera - Kandy Sports Special Corr.
CRICKET: If the current season's performance is the criteria to go by, then Dharmaraja College should come out with honours in their 104th 'Kandy's Battle of the Maroons' which will be played at the Asgiriya Stadium in Kandy next Friday and Saturday (March 5th and 6th). Play will commence at 9.45 a.m. on the first day and at 9.30 a.m. on the second day.
This match which will played for the T.B. Tennakoon challenge shield is the oldest big match in the hill capital dating back to 1893 when members of the staff also played in the match.
A peep into the records indicate that the Dharmaraja are in the lead with 31 wins and the Kingswoodians have won it 19 times while the rest of the matches have ended in draws. In fact the last time a decision was reached in this series was way back in 1980 when Janaka Mendis led Dharmaraja to a memorable win when the match was played at Police grounds, Kandy. There has been a stalemate of 29 draws in a row. The Kingswoodians last victory came 52 years ago when former Daily News Schoolboy Cricketer of the year led them to victory in 1958 also at Police grounds, Kandy. The first centurian in the series is P.L. Arthur Alwis who 121 in 1942 and also captured a match bag of 9 for 39 to lead the Rajans to Victory. The highest individual score in the series stands to the credit of former Rajans coach Senaka Dissanayake who made 201 in the year 1982.
Kingswoodians led by allrounder Udara Hettige have undergone a very lean season as they have played 14 matches, won 0, lost 4 and drawn the rest. Their dismal performance is due to the fact the senior players have not performed well with both bat and the ball. They could only hope that they will rise up to the occasion and help the side to salvage their reputation.
The Rajans led by fourth year player Ramesh Bandara have a better record of winning 1 match, losing 1 and drawing the rest. Their win has been against Sri Sumangala College, Panadura while their loss was against Ananda College two weeks ago. They have a chance of winning here.
With the weather keeping fine in the hill capital, two full days of cricket is in store for the cricket fans.
DHARMARAJA COLLEGE: (from) Ramesh Yapa Bandara (Captain), Rahula Ekanayake (Vice Captain), Pratap Silva, Tharaka Silva, Hemal Munaweera, Kavinda Wijekoon, Sadun Weerakoddy, Sanjay Kalubowila, Nuwan Karunaratne, Lahiru Herath, Sasanka Nakkawita, Sumith Gunasekera, Tilina Ranasinghe, Chandima Abeyratne, L.S. Weeraratne, Hilupal Rajapakse, Arosha Jayatillake, K.T.D. Jayasinghe, Viraj Karaputugala.
KINGSWOOD COLLEGE: (from) Udara Hettige (Captain), Lahiru Gannoruwa, (Vice Captain), Yasintha Athukorale, Imesh Babel, Subodha Premaratne, Hasitha Premaratne, Lakshitha Madhushan, Madhushan Premawardena, Tilina Karunaratne, Chaminda Weeratunga, Rashminda Sandaruwan, Shaluka Walisundera, Nisitha Weerakoon, Basitha Kandanarachchi, Chamila Gunsekera, Mahesh Dunukara, Dulanjith Prathapasinghe.