Rs. 3 b Senok wind power project launched in Puttalam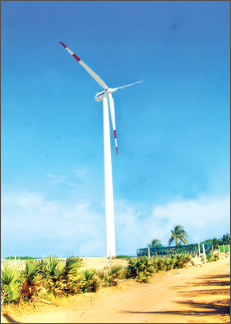 Senok Wind Power will expand its operations following the commissioning of the first commercial wind power park in Mampuri Puttalam tomorrow, said Project Director, Senok Wind Power (Pvt) Ltd., Harin De Costa at the launch of the project in Colombo on Wednesday.
He said there is immense potential for the wind power sector in Sri Lanka which would help uninterrupted power supply for households and industrial development. "The private sector will be encouraged to invest in wind power projects following the launch of the Mampuri project", he said.
The first phase comprising 10MW of the 30MW project will be commissioned by President Mahinda Rajapaksa at the five Kilometres coastal stretch in the southern part of Kalpitiya.
The second stage will be launched at the end of the year.
Group Finance Director, Senok, Pancherine Dias said the project which will be completed in three stages is estimated to cost Rs. 3 billion. Electricity generated by the plant will be sold to the Ceylon Electricity Board (CEB) at a price specified in the small power purchase agreement signed between Senok and the CEB.
The price of a unit of electricity will be Rs. 20.80 for the first eight years and 50 percent of the first tariff slab for the next seven years. The wind plant comprises eight wind turbine generators(WTG) purchased from Suzlon Energy Limited in India. Suzlon is ranked third in WTG sales globally. Resource Management Associates Director Sunith Fernando said there is no truth to the allegations made by the CEB Engineers Unions that Senok had not followed proper specifications in setting up the wind power park and added that Unions are free to comment. CEB Engineers Unions have called upon the CEB and the Sri Lanka Sustainable Energy Authority to stop issuing Letters of Intent (LoI) or provisional approvals for wind power projects as the total capacity to take in is 30MW where as LoI have been given to generate over 300MW.
Wind power is a viable source of renewable energy which has the potential to generate clean energy at a low cost compared to other sources of energy.
LF