Technology
Technology solutions to prevent payment card frauds
Since losses through payment card frauds in Sri Lanka has increased the regulators and the authorities should set up new guidelines for banks and financial institutions to implement technology solutions to prevent such frauds, General Manager of Epic Lanka Viraj Mudalige said.
Epic Lanka, a renowned software solution company specialised in secure electronic payments and information system security solutions has introduced a new solution "EPIC TLE" (Terminal Line Encryption) to prevent payment card frauds and is now marketing it in Malaysia and India.
The Electronic Data Capture (EDC POS) terminals which accept various types of card payment methods such as credit cards and debit cards are widely used all over the world today. According to Nilson report 2009, there are over 37 million EDC POS terminals and 1.77 billion payment cards in usage around the world.
The card frauds are also significant as VISA and Master cards report a US$ 556 million annual loss.
Due to this card fraud Sri Lanka loses US$. 2.2 million a year according to the latest statistics, Mudalige said.
In Sri Lanka we still use 1990s technology and there is no guideline for banks to adopt new technology to prevent card fraud. Many countries such as Malaysia, Singapore and India have given guidelines to banks to implement solutions to prevent card frauds.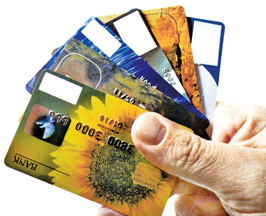 Mudalige said that five threats have been recognised to payment card industry; eavesdropping, usage of ghost terminals, line or wire tapping, host spoofing and replay attacks.
Broadly two solutions can be used to prevent card frauds; introduction of smart cards and encryption of data.
Frauds by wire tapping can be done easily today because equipment of wire tapping are available in the market.
Epic TLE is developed to safeguard against all form of wire tapping attacks by introducing encryption, authentication and key management mechanisms. Epic TLE encrypts information at the merchant terminal and it is decrypted at the bank.
Key considerations of the solution are; can be used in mixed environment, development issues, security, performances, implementation, impact, shared network and cost.
The hardware system components of the solution includes TLE server (high end PC style computer with Linux operating system and Fail Safe options - Linux clustering mechanism), crypto key generator -SafeNet PSG HSM, EDC POS Terminal-Verifone VX510, Routing Device - NAC W1000 and Smart Card -ISO 7816 compliant.
The software applications in the Epic TLE are; Line Encryption Server (encryption and decryption of transaction data packets), Line Encryption Web Application (field engineers and terminal registration, host management, server configurations, automated backup system and log files), POS terminal (key downloading, transaction processing - encrypting the message using a unique key) and PSG Host Security Module (generate terminal master key and MAC encription key for terminals, general systematic shared keys for smart cards and key injection terminals).
Mudalige said, that the security key downloading mechanism in the Epic TLE solution is novel technique used for first time in the world.
To rapidly implement the system in Sri Lanka a macro level guideline is needed for the banks from the regulator, Central Bank. India, Malaysia and Singapore have issued guidelines and they have set deadlines for implementation.
The Epic TLE adheres to latest guidelines of major global credit card operators and complies with the highest international standards in electronic payments and security. It also complies with the guidelines in the Computer Crime Act and Electronic Transaction Act.
Two banks in Sri Lanka are now testing the solution, Mudalige said.
In efficiency aspect Epic TLE is far ahead to present technology which takes 4-6 seconds to complete a transaction. Epic TLE takes only 300 millisecond for a transaction and therefore it can complete more than 100 transaction per second.
It can be used with existing hardware. Epic TLE is a total solution and each and every component is supported by Epic, he said.
---
LG Unveils the world's first LED 3D TV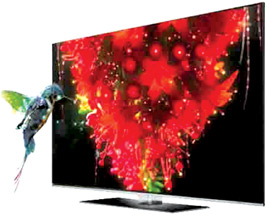 LG Electronics of Korea, the world's most innovative home appliances and entertainment systems manufacturer, that has several firsts in introducing unique design and technological feats, has just unveiled the world's first LED 3D Television.
The LG LX9500 LED 3D TV, a part of LG's INFINIA 3D line, is illuminated by innovative panels of LEDs directly behind the screen for local dimming, with the 55-inch model alone boasting 1,200 of the semiconductor light sources. The LEDs help the TV to achieve a mammoth 10,000,000:1 dynamic contrast ratio while sporting an ultra-thin 22.3mm (less than 1-inch) deep body with a stylish 16mm super-narrow bezel.
This unique TV also features full HD 1080p, TruMotion 400Hz (480Hz), NetCast Support, Wireless AV Link and HDMI 1.4 among many other high tec features. Video Calling using Skype is also possible with an optional video camera. The unit is DLNA ready with an optional DLNA dongle.
The LG LX9500 has active shutter glasses that can be recharged via USB for upto 40 hours of uninterrupted viewing.
This amazing TV can also play HD DivX, MP3, JPEG play and MPO files through its USB port.
The low profile bezel hides the units 10W + 10W + 5W "Invisible Speakers". The set also includes LG's Clear Voice ii technology to help clean up and present crisp and clear dialogue.
The 47-inch and 55-inch versions of the LG LX9500 has just been launched in Korea and will be available in North America, Europe and other key markets by May.
The preamble to LG's innovative LED 3D TV is the 42-inch LED "Borderless" TV which was launched by Abans recently. This state-of-the-art LED TV has a contrast ratio of 3,000,000 : 1 and is only 1.9cm in width. It has full HD 1080p and its innovative flourescent blacklight provides unmatched image clarity, soothing to the viewing eye and helps to conserve electricity usage.
---
Spotlight on Local Innovation :
Microsoft Imagine Cup Returns
Imagine Cup 2010, Microsoft Sri Lanka's best known and anticipated annual student competition, will be held on April 29 in Colombo.
The competition will see students from universities and education institutes across the island compete in innovation and creativity categories for a spot within the contingent that will travel to Poland later this year to take part in the global event. The 2010 Imagine Cup challenges its participants to 'imagine a world where technology helps solve the toughest problems' encouraging young minds to reflect on the Millennium Development Goals proposed by the United Nations to generate their inventions.
'Together we can make a difference' has been the core aphorism behind this world renowned student technology competition which brings together hundreds of students from around the world each year to display their creative talents.
The Imagine Cup has grown over the years and to over 300,000 students registering for last year's global competition. This year Imagine Cup offers new echelons of challenges with the introduction of three separate awards in addition to the four categories of competitions.
The new award additions this year have been the Interoperability Award, Touch & Tablet Accessibility Award and the Next Generation Web Award. Categories like Software Design, Embedded Development, Game Development, Robotics and Algorithm, IT Challenge, Mash Up, Photography, Short Film and Design give students an unlimited scope to work with. This year, the local competition received an unprecedented number of entries with over 25 students applying to compete.
Speaking on this year's competition and his hopes for the teams Wellington Perera, Director - Developer Platform Evangelism, Microsoft Sri Lanka said 'Through the Imagine Cup, Microsoft aims to encourage our youth to take a stand on issues and work on ways to solve problems to make the future better for themselves and the country. Our competing teams have always done us proud with many wins at the global competitions. The amount of work and time they put into these projects really shows in the passion and commitment the teams put across in their presentations.
Our track record at previous global competitions has also reflected our teams' hard work with many recognitions and achievements to our name. I believe that this year's teams will raise the bar even higher'.
At the recently concluded first round of the local competition, 8 teams moved forward to the final round which is to be held on April 29. The 8 finalist teams comprise three teams from University of Colombo (Teams Collectivists, Saturnin and GreenBros), two teams from Sri Lanka Institute of Information Technology SLIIT (Teams JIIB and HELY), two teams from the University of Moratuwa (Teams 4-Alliance and Saggezza) and one team from the University of Peradeniya (Team MakeIT).
Nuwan Kodagoda, Head, Department of Information Technology, Sri Lanka Institute of Information Technology, speaking on the impact of the competition said The Imagine Cup has now become one of the key events, showcasing the talents of IT undergraduates in Sri Lanka. It has helped inspire IT Undergraduates to use the latest technologies to solve real world problems and has opened many opportunities for those who have actively participated in the competition in the past.
In 2009 winners of the Sri Lankan edition of the Imagine Cup Team Mahee from SLIIT were able to proceed to the second round in the World Finals held in Egypt.
The overall theme of the Imagine Cup events is for students to employ different technologies to solve problems or better standards. The creativity and innovation aspect of the competition comes from the students themselves, who will work in teams to present and justify these projects to a panel of judges who will evaluate them based on the creativity and technical merit of their project as well as the viability and innovativeness of their idea.
This year's local winners will move on to compete in the global competition in Poland where they will come up against some of the brightest young minds in the world, giving them a platform to learn from other countries while also exhibiting local talent and innovative skills to the world. Microsoft Sri Lanka firmly believes that given the success of local teams in the global competition in previous years, this year's teams will do their universities and country proud and wish all the competing teams the best of luck.
---
SLASSCOM sets up Mobile and Telco Center of Excellence
SLASSCOM announced the setting up of the SLASCOM Mobile and Telco Center of Excellence (CoE) with the vision to bring together leading solution providers, education institutes and service providers in advancing the fast growing Mobile and Telco IT/BPO Industry vertical in Sri Lanka.
As National strategy, Sri Lankan IT/BPO industry is focused on several niche areas to build globally competitive products and service offerings to targeted market segments.
Leading Mobile Telco solution providers including Dinota IT, Eurocentre, hSenid, Informatics, Mortorola, Sabre, Virtusa and Wavenet are members of the CoE who have come forward to collaborate within the CoE. SLASSCOM welcomes all mobile solution providers to join the CoE to take advantage of the collaborative force. "Mobile Telecommunication is a fast growing industry sector with massive global growth potential.
We believe in the next five years, large part of IT solutions will be mobile based in a way which is unimaginable today.
Our focus is to stay ahead by leveraging our collective forces as an industry."
said SLASSCOM Mobile & Telco CoE Leader and CEO Dinota IT Nayana D. Serasinghe.
---
BCS, a fast and convenient option for an IT qualification
BCS Higher Education Qualification is considered as the "gold standard" for internationally recognized IT qualifications, accepted by all Sri Lankan and European industries alike, These exams are also referred to as the highway to proceeding to a Masters qualification since the Chartered Institute for IT Higher education qualifications gives students the opportunity of being professionally qualified in IT with a UK honours degree equivalent by the age of 18.
Three levels of the qualification can be completed within 18 to 20 months which is half the time that one would normally invest in a degree programme.
In addition, the examinations are held twice a year, in April and October, for the convenience of completing the qualification at the earliest possible time.
Apart from the preeminence of the time saving factor, BCS boasts a great economical aspect where students can save over 60 percent in course fees as compared to the cost of obtaining a degree from a foreign University.
Another advantage that triumphs would be convenience, since the BCS qualification is modular and students can choose the order in which they complete it.
Some students do either the Certificate and Diploma levels in one sitting or the Diploma and PGD levels in one sitting, thereby reducing the time to complete the entire programme. David Clarke, BCS CEO, said "IT, which can be studied in its own right or entered after studying more traditional subjects, is the up-and-coming profession for the 21st century."
People who work in IT have the sought-after skills and experience perfect for the new knowledge economy, and can command good salaries and advance quickly.
"He stressed the importance of attracting young people to IT and convincing parents that IT as a profession "is comparable with the more traditional professions, such as law and accountancy."
Courses offered by BCS are demanding qualifications in IT, both locally and internationally and are recognised by over 50 Universities in the UK as a route to postgraduate study.
The concept of an information society could be achieved only by having a high performing IT education system, IT-literate policies, a respected and well-supported IT profession and a population with the skills and the opportunities to be active and informed citizens.
The highly reputable BCS Chartered Institute for IT boasts qualifications ranging from the ideal introduction for those who have never used a computer before, to professional qualifications which have set international benchmarks of quality for all people within the IT profession.
---
EWIS completes 24 Years
As the pioneering local ICT Company, EWIS celebrated its 24th anniversary, marking the beginning of another successful year.
EWIS is geared towards an eco-friendly initiative; "Green is a shade of blue." This initiative is in place with the vision of directing the local ICT sector towards an eco-friendly platform with many eco-friendly options made available.
On that ground, we want to seek greener shades in our, corporate blue" Sanjeewa Wickramanayake, the Chairman/ CEO of the EWIS Group expressed his vision for the New Year; 2010/ 2011.
Ethics and CSR will be an important topic in the EWIS corporate agenda. EWIS is also the only ICT Company in the Country to affiliate with the United Nations Global Compact (UNGC), which reflects just how seriously it takes its ethics and social responsibility. Sanjeewa Wickramanayake, Chairman/CEO, E-wis, explains: "Our best practices mirrored the tenets embedded in the UNGC and it seemed to us a natural corollary to affiliate with a global code of best practices that has been embraced by world-class corporates."
E-Praja Kirana, the CSR initiative of EWIS is born out of a desire to provide rich employment opportunities in rural areas so that braindrain is eliminated at the grassroot level, discouraging village youth to move to the city and then leave the Country's shores.
"My aim is to take IT to the villages; outsource IT expertise from villages.
By enhancing ICT infrastructure in rural areas, local youth will be empowered to live and work in familiar environments," he adds. Already EWIS has outsourced employees from around the Country who are now involved in many significant projects.
Wickramanayake said, "This year ahead will be a very special one for the country. We are finally facing the world as a peaceful nation without the tension of terrorism. With this positive background, we all should look forward to a prosperous future''.
---
Abans Auto introduces New Tempo Traveller bus
The new Tempo Traveller from Force Motors India comes with a newer, improved outlook and a five cylinder Turbo Intercooler Mercedes Benz AG Germany 2600CC engine with five forward manual engine, which is an upgrade to a faster engine compared to the earlier version which had a four cylinder engine of the same make.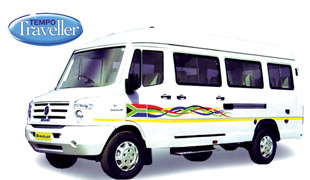 The New Traveller has a 6 ft. internal height and comfortable seating for 17 passengers + driver with plenty of leg room between rows of seats for absolute comfort.
The new five cylinder Traveller was specially developed to meet the unprecedented demand from countries such as South Africa, Morroco, Honduras, Senegal and Nepal for rugged road conditions which required a more powerful engine.
And what's more about the new Traveller is the improved body. The modern and reliable paint process employed uses five protective layers of paint. The body is 'Spray-Phosphated' through a seven stage spraying system.
The process employs 'Electrophoretic Dip Painting'. The Tempo Traveller body is a 'Monocoque' design so as to directly accept the engine, gearbox, wheel assemblies and, suspension springs.
An ultra modern assembly method is followed for assembly of the body and the aggregates for automated underbelly assembly.
Force Motor's R & D Centre is among the most advanced in India with a 150 terminal (CAD) Computer Aided Design network.
Over 90% of the vehicles currently manufactured and sold by Force Motors are the latest designs, where introduction is less than five years old.
The company spends over 5% of its annual turnover on new Product Development. It employs 850 people for their R&D, tooling and project activity - 450 of which are Engineers.
---
ICT facilities for Samurdhi beneficiaries
The Information and Communication Technology Agency of Sri Lanka (ICTA) has taken steps to raise the standard of life of Samurdhi beneficiaries. This is implemented under the e-Samurdhi project.
Accordingly a centre with Information and Communication Technology facilities will be set up based at the Sri Lanka Samurdhi Authority. Through this any Samurdhi recipient will be able to build up relationship with the Samurdhi Authority from wherever he is.
This will also enable the Samurdhi beneficiary to inform the Samurdhi Authority not only about the problems he faces but also about the benefits and privileges he obtains as a Samurdhi recipient. Samurdhi beneficiaries are also able to be in contact with the Samurdhi Authority by making use of the ICT facilities available at Nenasalas.
ICTA says that it has taken steps to provide the necessary training to obtain the assistance of about 100,000 Samurdhi beneficiaries for implementing this ICT internet facility. ICTA said the initial study has already been completed for this purpose and that the installing of the relevant software has by now commenced.