More honours for Malini
The world of cinema is ever changing. Many new faces join the scene and reach the peak of popularity. After a temporary stint in the crest of popularity they fade out of the screen, making way for fresh talent to take over the reel. More than four decades have flown since Wanniarachchige Malini Senehelatha Fonseka entered the cinema with Tissa Liyanasuriya's 'Punchi Baba' (The Little Baby), yet she remains unchallenged, true to the title bestowed upon her as the 'Queen of the Sri Lankan Silver Screen'.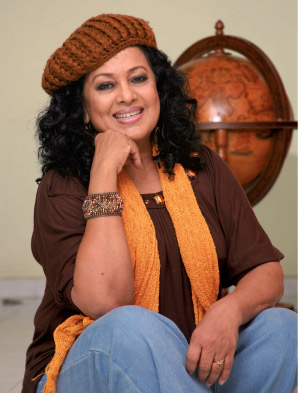 The renowned actress not only captured hearts of the public with her exceptional performing skills but she also imprinted the country's name in global cinema. She was recently named among Asia's 25 greatest actors by CNNGo.
The list also includes Indian actors Amitabh Bachchan and Nargis along with other artistes from countries such as Hong Kong, Japan, Korea, Singapore, Thailand, Malaysia and Cambodia. A special concert to felicitate the actress had been organised at the BMICH to coincide with Malini's 63rd birthday on April 30.
President Mahinda Rajapaksa and a number of distinguished guests will participate. The event will comprise some entertaining items along with a program in which the screen queen will be felicitated for her service to the industry. Malini was the first Sri Lankan actress to reach international heights when she won awards at the Moscow International Film Festival in 1975 and the New Delhi Film Festival in 1977.
Later, she won the Silver Peacock award at the 39th International Film Festival of India (IFFI) and the Best Actress Award at the Levante International Film Festival in Italy. She portrayed roles in a number of magnificent creations in the country's cinema history such as 'Nidhanaya', 'Bambaru Ewith', 'Eya Den Loku Lamayek', 'Siripala Saha Ranmenika', 'Yasa Isuru' and others.
She has also been nominated for the Best Actress Award at the Asia Pacific Cinema Awards organized by the Asia Pacific Ciname Academy for the pivotal roles she portrayed in Prasanna Vithanage's 'Akasa Kusum'. This award ceremony will take place in Australia on November 26 in collaboration with UNESCO. Meanwhile the DVD version of 'Akasa Kusum' had been launched under the Torana label.
The DVD includes the music video, trailers, scenes which have been eliminated before editing, a documentary on the making of the movie and other features. The movie comprises Dolby Stereo and Dolby sound 5.1 facilities. The scrip of the movie was also launched as a Sarasavi publication and will be given free to those who purchase the DVD.