A. D. Ranjith Kumara - Kuromaku
"He was so generally civil, that nobody thanked him for it". -Samuel Johnson.
Kuromaku?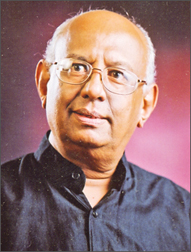 I will come to it presently. But, let us take up A. D. Ranjith Kumara first.
My pen traced his progress, way back in 1972 - that is, 38 long years ago. At that time too, Ranjith Kumara, had risen to a slightly high profile, among his peers who practised art and pursued media professions. When I focused upon him at that time, he was a staff journalist attached to Lake House.
Many of his colleagues were happy being routine-bound. But, Ranjith had an inner urge and a creative restlessness, which made him explore avenues, that, most others would have left alone. A medium he was deeply engrossed in, at that early age, was cinema. His earnest pre-occupation with pictorial expression, lured him into the field of cover-art - an area, dominated by a limited coterie of persons at that time.
Ranjith introduced an impressive streak of innovation to the conventional practice of cover-art. His efforts received the blessings of outstanding men of letters of the country. In those formative years of creative development, his interests were multi-faceted. He assisted in stage-productions. He provided publicity to films. He created credit-titles for cinematic works - these were among many other things. What is essential at this point is to observe his evolution from that stage on.
Today's Ranjith Kumara, is an entirely different kind of personality. The vast variety of cumulative experiences, he has been able to gather over the years, has, quite clearly, given him a stunning uniqueness.
If we so desire, we can adopt a statistical approach to assess his achievement.
He is the only person who has arranged and organised more than 50 film and TV festivals.
He would have provided more than 500 meals to members of film and TV Juries.He would have arranged more than 500 trips, to transport, film and TV panellists.
The decor of an umpteen number of stage sets and festival - backdrops, would have taken place under his supervision.
A steady flow of souvenirs would have been ensured by him.Such a categorisation of what he was involved in, would seem impersonal and lacking in human depth.
What really matters is the way he doing on to detail. I discerned his zealous keenness quite early in his career. I suggested at that time that this young artist and others of his ilk, should do well to remember perpetually the dictum of the great Mies van der Rohe: "God is in the detail".
Ranjith adheres to this credo with an ardent commitment.
To appreciate Ranjith's addiction to perfectionism, one must know him from "within" as it were. If it is a film or a TV jury, that Ranjith is concentrating on, he worries endlessly even about the least detail. His work-style is admirably enlivened by his concern for those others with whom he has to collaborate.
Ranjit possesses a built in P. R. acumen. He has always had a warm rapport with film stars and others associated with the field of entertainment. This, as is quite well-known, is a touching tribe. But, Ranjith has a way of walking right into their hearts.
His capacity to remain unruffled under even the most trying of circumstances, is nothing short of legendary.
As some tend to believe, this may have been conditioned by his childhood and later adolescent and youthful experiences. The environment he was raised in, was constantly a-bustle. He acquired the state of mind.
That enabled him to pursue his own line of thought and his own brand of work, unperturbed by what went on outside.
Ranjith has written vividly about this specific ambience, that gave him the personality timbre, to remain unshaken in any troubling context.
The general perception is that Ranjit concentrates mostly on films, cinema personalities and events, associated with cinema, in his writings.
The series of articles about a vast variety of personalities, that he contributed to Navayugaya, when I edited that publication, is an outstanding literary and journalistic effort.
Ranjit is primarily an artist, journalist and writer. But, by default, he has turned out to be a "planner," worthy of being taken high note of. When a film festival or a TV Fest is in the offing, Ranjit's planning efficiencies come to the fore. During the initial stages, such planning, may have been directed by organizers. But, today, his planning skills have reached an astonishing acme. As I have been (at least peripherally) associated with many such planning efforts, I am fully aware of the stresses and tensions, he has to endure. Ranjith's hallmark is his capacity to remain cool in the midst of all the challenges.
But, in quite a visible manner, these stresses and tensions have taken their toll.
In the early days, as a youthful artist, he displayed a head of jet-black hair.
The stresses have reduced this, to a shining pate. But, fortunately, his soul still exhibits that youthful zest, ardour and enthusiasm.
His professional journalism, took place mainly in "Sarasaviya" and in "Navayugaya." He plunged into his professional duties in these journals, with an unabashed sense of fulfilment.
Though officially he is in journalism today, in an administrative capacity, he makes insightful contributions, through the absorbing pieces of journalism he composes.
Even at events and festivals, he has been centrally involved in, Ranjith Kumara has a way of remaining away from the limelight.
In a prestigious film festival, which he may have sweated hard to plan and organize, Ranjith Kumara may be present only very briefly, performing a minute function - somewhat similar to the signature appearances of Director Alfred Hitchcock, in his own films.
Ranjith Kumara prefers to remain in the background.
Now, this brings us to our "Kuromaku."
"Kuromaku", is very much a Japanese institution. This refers to a 'shadow' personality, who remains unseen in the background, while manipulating what is taking place on stage. The word "Kuromaku" implies "black curtain," and refers to a person who directs the actions of others - unseen - from behind.
In many an instance Ranjit Kumara is a "Kuromaku."
He manages things from behind, to enable others to occupy the centre stage.
His personality has so evolved, that he inspires trust. The unescapable outcome of this development is that, he gets to shoulder a plethora of responsibilities. But, strangely enough, he is equal to all those.
During recent years, he has turned his attention to Buddhist events and Buddhist publications as well.
Ranjith Kumara has been a solid and functional part of Sri Lanka's landscape of art and culture.
The store of experiences and knowledge he has amassed throughout these years, could very well be described as unparalleled.
He should be persuaded to record this history. So that an important facet of the cultural life of this era, could be adequately profiled.
I feel, Ranjith Kumara should do it, at least in memory of the strands of black hair he has lost, under the stresses of these tumultuous times.