National Education Policy to safeguard rights
Education Minister, Bandula Gunawardene highlighted the importance of implementing a new `National Education Policy' to safeguard the educational rights of 4.3 million school children in the country, after taking up his duties as the Minister.
According to the programme, the Education Ministry must closely monitor the educational activities of children from Grade one upto university level.
Minister Gunawardene told the Junior Observer that thousands of Advanced Level qualified students leave the country for higher education in foreign countries every year due to the lack of accommodation in our universities. He said out of 250,000 students who sit for the Advanced Level examination every year, about 160,000 qualify for university entrance.
"But, due to the lack of accommodation facilities, the Government enrols only 22,000 students into our universities," he said. This situation has led students to leave the country to follow various medical, engineering, IT and other courses in foreign countries. He said the proposed `National Education Policy' will facilitate students to have their entire education in our country.
The Education Minister also paid attention towards school in urban, rural and remote areas where some schools have functioned only for ten students.
He said there are 28 schools in the Gampaha District which have functioned with less than 50 students each.
The Minister said in addition, steps must be taken to solve the salary anomalies, annual transfers and other burning issues of school teachers, because education cannot be developed without them.
---
Child Art
Somewhere Over the Rainbow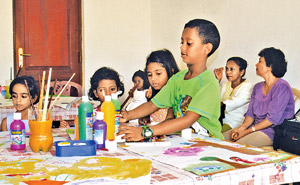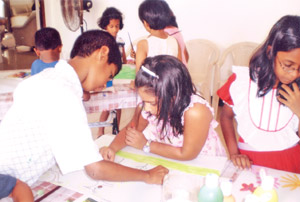 A total of 144 colourful paintings will be on display at an exhibition titled 'Somewhere Over the Rainbow' from May 14 to 16 at the Lionel Wendt Art Gallery.
The colourful paintings will be done by students of Ladies College, Lyceum International School, Asian International School, Colombo International School, the British School, Muslim Ladies College, Musaeus College, Royal Institute, S. Thomas' College, Mt. Lavinia and Gateway International School.
The exhibition which will be opened on May 14, will be open to the public on May 15 and 16 from 9 am to 7 p.m.
---
Egypt finds hoard of 2,000-year-old coins
Other artefacts unearthed included necklaces made of ostrich egg shell :
Archaeologists unearthed 383 bronze coins dating back to King Ptolemy III who ruled Egypt in the 3rd century B.C. and was an ancestor of the famed Cleopatra, the Egyptian antiquities authority announced Thursday April 22.
The statement said one side of the coins were inscribed with hybrid Greek-Egyptian god Amun-Zeus, while the other side showed an eagle and the words Ptolemy and king in Greek.
Founded by one of Alexander the Great's Generals, the Ptolemaic Dynasty ruled Egypt for some 300 years, fusing Greek and ancient Egyptian cultures
The coins were found north of Qarun lake in Fayoum Oasis 50 miles (80 kilometers) southwest of Cairo.
Other artefacts were unearthed in the area included three necklaces made of ostrich egg shell dated back to the 4th millennium B.C. and a pot of kohl eyeliner from the Ottoman Empire.
The objects will all be displayed in the new Egyptian museum under construction near the pyramids of Giza.
---
November 2009
Winners of "Learn About America" Essay Competition
Cash Awards for winners will be provided by Eisenhower Fellowships Association of Sri Lanka
12-14 years
1st Place: Rs. 30,000: Francesca Mudannayake, Elizabeth Moir Senior School, Colombo.
2nd Place: Rs. 20,000: Julianna Solamansz, St. Lawrence's Convent, Wellawatte, Colombo.
3rd Place: Rs. 10,000: Vihanga Lakshani Amarakoon, Sumana Balika Vidyalaya, Ratnapura.
15-16 years
1st Place: Rs. 30,000: Chamila Dihan Gunatilleke, Lyceum International School, Nugegoda.
2nd Place: Rs. 20,000: Shanaei Miskin, Belvoir College International, Colombo.
3rd Place: Rs. 10,000: Azha Ahlam, Janadhipathi Balika Vidyalaya, Galle.
17-18 years
1st Place: Rs. 30,000: Chathuni Uduwela, Visakha Vidyalaya, Colombo.
2nd Place: Rs. 20,000: F. Narzeena Niyas, Mukarramah International School, Colombo.
3rd Place: Rs, 10,000: M. L. F. Sameera, Al Mubarak National School, Malwana.