Variety
Today is Mother's Day:
A special tribute to mothers
W e in Sri Lanka definitely do not need a special day like Mother's Day to remember and appreciate the love, dedication and sacrifices a mother generally makes for the welfare of her children. The majority of Sri Lankans love and honour their parents giving pride of place to the mother, especially, because our culture has inculcated such values in us. But, unfortunately modern life has led to many neglecting their parents today. Perhaps, in this context it is good to focus our attention on this day in the hope that it would at least jolt the conscience of those who are guilty of neglecting their mothers, even allowing them to languish in elders' homes, far away from their loved ones.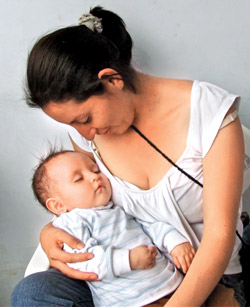 Mother's Day is an annual holiday that recognises mothers, motherhood and maternal bonds in general, as well the positive contributions that they make to society. In the United States, it is celebrated on the second Sunday in May.
The modern Mother's Day is celebrated on various days in many parts of the world, most commonly in May, though also in March, as a day to honour mothers and motherhood. In the United States it was nationally recognised as a holiday in 1914 after a campaign by Anna Jarvis. In some countries, it follows the old traditions of Mothering Sunday.
In its present form, Mother's Day was established by Anna Marie Jarvis, following the death of her mother Ann Jarvis on May 9, 1905, with the help of a Philadelphia merchant called John Wanamaker. A small service was held in 12 May 1907 in the Andrew's Methodist Episcopal Church in Grafton, West Virginia, where Anna's mother had been teaching Sunday school. But the first "official" service was on May 10, 1908 in the same church, accompanied by a larger ceremony in the Wanamaker Auditorium in the Wanamaker's store on Philadelphia. She then campaigned to establish Mother's Day as a U.S. national holiday, and later as an international holiday.
The holiday was declared officially by the state of West Virginia in 1910, and the rest of states followed quickly. On May 8, 1914, the U.S. Congress passed a law designating the second Sunday in May as Mother's Day and requesting a proclamation. On May 9, 1914, President Woodrow Wilson issued a proclamation, declaring the first national Mother's Day, as a day for American citizens to show the flag in honour of those mothers whose sons had died in war. In 1934, U.S. President Franklin D. Roosevelt approved a stamp commemorating the holiday.
In May 2008, the U.S. House of Representatives voted twice on a resolution commemorating Mother's Day, the first one being unanimous so that all congressmen would be on record showing support for Mother's Day. The Grafton's church, where the first celebration was held, is now the International Mother's Day Shrine and is anational historic landmark.
***********
Making her dream, a reality
Muditha is my mother. She is a housewife. She is tall and thin.
She can cook very well. She cooks tasty fried rice. She helps me to do my home work and she always gives me good advice. She is the one who taught me good habits. She is my first teacher. She likes to eat Pizza. She always dresses nicely. Her dream is to make me a good citizen. I try my best to make her dream come true.
---
An honourable woman
She is my life,
She is my blood,
She is my wish,
I love her a lot.
She is my mother,
She gives protection,
She gives education,
Always for me.
Keep the family happy,
Solves all the problems,
Lives very peacefully,
Everyday with us,
She loves me,
Shows the correct path,
Teaches good habits,
For my success.
---
The most interesting person I have met
My mother is the most interesting person that I ever met in my life. She is very kind and helpful and is always trying to instill good manners in me. She always tells me right from wrong. She also educates me as to how I should behave in society and obey the law and elders. She also teaches me to pray. When I do any wrong, she gets angry, but when I cannot do something, she is very sympathetic and helpful. She helps me a lot in my studies. She also helps poor children and beggars. I love her a lot.
---
She's my favourite person
My favourite person is Rizalina. She is my mother. She is thirty-eight years old. She was born in the Philippines. Her birthday is on December 30. She is slim and fair. She likes to play badminton. When she was young she had studied very well. Her hobby is watching dramas. Her favourite place is Mitsubishi and Tokyo Disney land. Her favourite fruit is strawberry. Her favourite drink is orange juice. She likes to eat chocolates and jelly. Her favourite colour is blue. Her favourite dress is the shalwar. She likes to eat sushi and rice balls. She is kind and helpful. She helps me do my homework. She cooks very tasty food. I love my mother very much.