Sri Lanka is Asia's newest Top 5 team after winning HSBC A5N DI Final
Sri Lanka has climbed close to the top of Asian rugby's totem pole after beating Singapore 23-16 in a thrilling final of the HSBC Asian 5 Nations Division I tournament played. In the 3rd/4th place play-off, Malaysia achieved its primary objective by retaining its Division I status after winning the relegation match against a young Chinese Taipei XV, 35-3.
After being pushed to the limit against Malaysia in Wednesday's Semi Final, the hosts and top seeds Singapore could not withstand a second charge from Sri Lanka. The visitors turned in a comprehensive performance in wet and humid conditions at Singapore's Yio Chu Kang stadium to emerge as Division I champions for the first time in three years. Sri Lanka will now be promoted to the elite Top 5 competition in Asian rugby starting in 2011.
From the earliest moments of the match, Sri Lanka's kicking strategy and ability to involve its speed and superior handling out wide had the Singaporeans under pressure. Sri Lanka struck first after the halftime interval with a second penalty from Kumara edging them ahead 9-6 in the 43rd minute. Five minutes later, Weeraratne again popped up, this time finishing off a great roving forward movement to touch down in the corner for the first try of the game, pushing Sri Lanka ahead 16-6 after Kumara's conversion.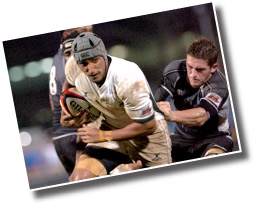 Sri Lanka seemed on the verge of fading as it conceded another penalty this time from 40m which was beautifully converted by Burns despite the baying of a very strong and loud contingent of Sri Lankan fans in the stadium. At 16-all with 20 minutes on the clock the action seemed a reprise of Singapore's earlier match against the Malaysians where Singapore found just enough to keep their opposition out of the win column. But this time it was not to be for the Rugby Lions as the Sri Lankans simply refused to lose. Sri Lanka now becomes the 7th team to take part in the elite Top 5 competition since the inception of the HSBC A5N in 2008.
(courtesy www.heavensgame.com)