Golden rules in Time Management
Time Management by Professor M. Nadarajasundaram,
Department of Management Studies,
Faculty of Management Studies and Commerce,
University of Jaffna.
Publications - Fine Printers and Publishers,
K. K. S. Road, Inuvil East,
Inuvil, Jaffna.
First Edition - October 2006
Professor M. Nadarajasundaram, the head of the Department of Management Studies and former Dean of the Faculty of Management Studies and Commerce has written a book on Management Techniques and Time Management for the benefit of Managers and top officials who are employed in the Banks, Private and State Institutions and others who run their own organisations.
In fact, management plays an important role in any society beset with conflicts and contradictions, trials and tribulations, challenges and competitions. This book on "Time Management" helps individuals face challenges with vision and foresight.
Indeed, Time Management and Management Techniques are essential for us since we are living in a world of transition.
Professor Nadarajasundaram graduated from the University of Peradeniya in 1970 with second class honours in Economics (Banking). He obtained a Masters Degree in Economics from the University of Jaffna in 1983.
He was employed in the National Savings Bank as Research officer and Accountant before he joined the Department of Commerce and Management Studies as Senior Lecturer, head of the Department of Management, Dean of the Faculty of Management Studies and Commerce at the University of Jaffna.
His book on Time Management is a source of need for Managers who are employed in prestigious organisations including Banks and even for senior staff in colleges and universities.
In fact, he is eminently suited to write this book due to the vast experience he gained in the National Savings Bank as a Research Officer and Accountant and Head and Dean of the Faculty of Management Studies and Commerce. Besides, he had participated in several National and International conferences and seminars and contributed immensely to the development of private and state organisations and Banks by way of applying Management Techniques and Time Management principles.
Indeed, his suggestions and constructive ideas were largely accepted by Chairman, Managing Directors and other Executives in Banks and other organisations in Sri Lanka.
Professor Nadarajasundaram is the most sought after professor for the purpose of solving several complicated problems particularly in the Banks.
Realising his capability and efficiency most of the Banks particularly Hatton National Banks under his guidance is conducting Training for those who are interested in seeking employment in the Banks.
His selfless, and admirable services have been duly recognised by most of the high officials in the Banking Sector.
In this book, Professor Nadarajasundaram has explained "understanding Time Management," "Golden rules in Time Management", "Importance of Time Management", "Spending time at the right time," "Dealing with problem people", "Causes of perfectionism," "Crisis Management" "Positive thinking", "Relationship with Management," "Relationship with Customers" and so on.
His other publications are "Money Management" and "International Financial Management" which won the North-East Provincial Council Sahithiya Award. "Understanding Modern Management" and "ABC of Cricket" are in print at present.
Indeed, this book on "Time Management" and "Management Techniques" is of great value to everyone particularly to the Managers in Banks and various other organisations.
My fervent appeal is that everyone should read it so that he could discharge his responsibilities and duties to the greatest satisfaction of customers.
---
Unique handbook for English learners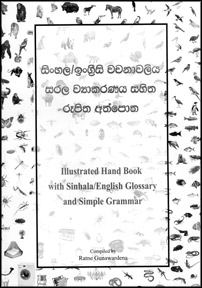 An illustrated handbook with a Sinhala/English, glossary and simple grammar is a very handy guide to the enthusiastic English learner. It has been compiled by Ratne Gunawardena, who has conducted English classes for job-seekers, schoolleavers and adult students over the past few years.
A special feature of this unique hand book is a categorical series of colour illustrations to help the learner with correct spelling and proper identification.
A glossary consisted of most commonly used words is an indispensable tool ideally suited for students, employees and professionals, who are keen to learn through self learning techniques.
The glossary used in the lessons has been arranged in alphabetical order for easy reference.
This will effectively help them to learn the most important and commonly used words with the minimum usage of dictionary and improve their word power.
Lessons of simple grammar are given on the most vivid basis of Eight parts of speech, explaining various inconsistencies in the English language, which are to be studied with much diligence.
Facts of academic interest are also included in a very comprehensive manner to educate the learner with general knowledge.
The hand book is available at No. 14/A Nicholas Mawatha, Wattala and also at Ninehearts branches islandwide.
---
Marauding monkeys on the rise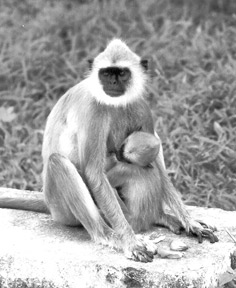 The origins of the word 'monkey' are unclear. It may have come from 'moneke' the name of the son of Martin the Ape, a medieval animal story or from the Dutch word 'manneken' (little man)," a monkey is any primate that is not a human, prosimian, or ape.
Once upon a time, in a tiny bazaar, we stood in a semi-circle and watched enthralled to the performance of a pet monkey mimicking human actions to the commands of a colourful gripsy. The bazaar was Kubiyangoda, comprising an untidy string of road side shops.
The monkey was a rare and endearing animal then and a performing monkey even more so. This was over half a century ago.
Today when we see them, our blood curdles, the desire "to cuff and kick and hate" springs up. With the passage of time, they have become an eyesore.
In our own environment troops of monkeys lived, and depleted numbers still live, in and about, the forests patches of mountains and on high plains, above the villages of Tenne, Tibutuwawa, Dobagasdeniya, Henepola and Meegastenne.
They kept to themselves when their habitat was secure. Since then surreptitious inroads have been made into their domain by village expansion schemes, encroachment, privatisation of estates . and enthusiastic villagers have cleared highland forests for chenna cultivation.
In the night from the bottom of the plain we can see the blood red flames licking the darkened sky and hear the crackling sound of the forest fires. The monkeys are seriously threatened by the loss of their habitat, a habitat that is fast disappearing. For the sake of survival they are forced into the villages. This problem is today islandwide. Patchwork solutions have been attempted. There has not been a concerted overall plan of action to resettle them.
In passing, I shall make mention of one such abortive attempt. It is alleged that troops of monkeys from the municipality area of Kandy were brought and let loose on the foothills of Balakaduwa. The end result was for them to descendt into our villages with extra vigour having fraternised with the local troops.
In at least three places fair numbers of them were poisoned to death by exasperated peasants, mixing curita with food placed out for them to eat, other methods to get rid of them have been and are being used, though not so effectively.
Their arrivals are viewed with anguish and apprehension and at their departures the tired and anaemic feeling of one being bled to death lingers on. The general attitude to them has changed drastically; they are undoubtedly considered as a pest because the damage they do to us is so crippling and complete, they are as bad as the rats in the "Hamlin Town in Brunswick." The time has come to enlist the services of a Pied Piper to lead them to where they belong.
We still have forest reserves where they could be accommodated. If not, the fact that they are an endangered species will be proved true sooner than later. After all who could tolerate such mischief? When marauding troops, (carriers of tuberculosis, hepatitis and simian herpes) destroy our crops, our houses, dislodging the tiles and flinging them helter-skelter, damage our electrical fittings, and our tap lines, invade our kitchens, bite the dog and take away the side mirrors of our vehicles as souvenirs.
It is analogous to the proverbial destruction of the begging bowl of the beggar, we are "poor humble people with wasted hands," fighting to survive, and they have become, belligerent and more aggressive. They are not afraid of us anymore, they tell us so, in their own language by head bobbing and jerking of head and shoulders and of bringing their lips in, and yawning. These gestures are said to be, expressions of aggression in monkey body language.
Policy makers, departmental men, animal lovers, naturalists, philanthropists, wildlife conservationists, and of course N.G.Os take heed, for god's sake, and find a solution soon.
---
Book launch
Pini Palasa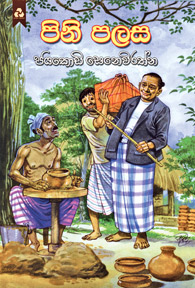 Jayakody Seneviratne's latest adolescent novel Pini Palasa will be launched at Dayawansa Jayakody book exhibition hall, Ven S. Mahinda Mawatha, Colombo 10 on May 11 at 10 a.m.Seneviratne is the author of several other novels such as Kumarihamy, Loku Putha, Vajirapani, Kolaniya, Athavesiyo, Sudu Rukada, Rantharuvz, Rubara Doni, Hituvakkari, and Ridee Sela.
Pini Palasa is a Dayawansa Jayakody publication.
---
Treatise on electrocardiography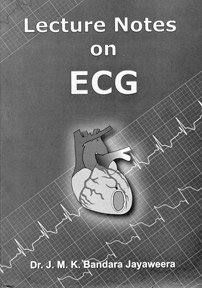 Lecture Notes on ECG
Author: Dr. J. M. K. Bandara Jayaweera
BJ Publications, Nugegoda.
"Lecture Notes on ECG" is a comprehensive transcript on all available data about ECG recording and interpretation. The author has collected information at various lecture sessions that were held in Colombo. He also has included a great deal of the text, which he had gathered at the lecture sessions while he was studying at Saint Petersburg Medical Academy, Russia. The book also discusses the performance of modern diagnostic and therapeutic criteria in cardiac diseases.
The significance of the book has been enhanced by the quality of printing with clear and impressive graphics that adorn most of the pages.
The experience that Dr. Bandara Jayaweera had gathered over 40 years as a clinician, is reflected in this very impressive piece of work. It will be a book of great value to senior medical students and young doctors.
- Ramanie Prematilaka