illuminating the world during May:
Vesak is one of the main festivals celebrated by the Buddhists all around the world. They commemorate the Birth, Enlightenment and the Passing Away of the Buddha. Among various activities carried out this season, making Vesak lanterns tops the list.
Not only children but adults also love to make and decorate these. Though they are readily available to buy these days, making them is always fun. How would you feel, if the beautiful, large lantern you made inside the house is too large to be taken out? Many of you might have various experiences related to making lanterns.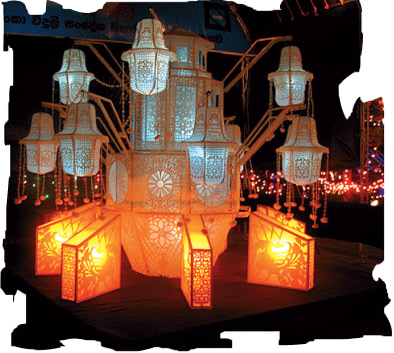 The history of lanterns goes back to many years. Generally, people light a lamp or a lantern to pay their gratitude to the Buddha for giving us the valuable gift of Dhamma. In ancient days, people used to light clay oil lamps on Vesak Poya day.
Later when candles became popular among people, they made colourful lanterns to light these candles. Year after year, the art of making lanterns has evolved. People use lanterns to display their creativity. Nowadays during Vesak some groups of people exhibit larger lanterns, which depict Buddhist stories. For those who love to make lanterns, but no idea how to do it, no worries, today we are going to give you a step-by-step guide of making Vesak lanterns.
Though there are various shapes of lanterns available, we will be featuring the simplest shape, 'atapattama'.
You need:
* 24 sticks of the same length. Split bamboo will be ideal; you can also use wood strips or any other light material.
* Light weight string; twine
* A piece from an old cardboard box
* Materials to cover the lantern; this can be coloured tissue paper, wrapping paper, or transparent plastic sheets. Choice will depend on the style and the look you want.
* Small candles; candles which are in metal dishes are ideal. It prevents the lantern from burning down.
* Patience - Making a lantern needs a lot of patience. Doing this as teamwork will make everything easier and fun.
Method
* Make six squares using the sticks and the string. Finish tying each square with diagonals - running the string to and from opposite corners in both directions. This can ensure that your square is indeed a square. You can also measure the diagonals and make sure that they are both the same distance. You could go one step further by putting a blob of glue on each of the four intersections. This not only adds strength to the finished lantern but also helps keep the squares intact when you are assembling the final frame.
* Tie the squares together. There is no easy procedure and it can be a bit difficult. Working in pairs is good; then you have another one to hold, the other to tie.
* Decide what face will be your base. Cut a piece of card to fit - this can sit on the sticks or can be glued underneath. The latter is the more attractive but it is not as easy. Your candle will eventually rest here so it needs to be reasonably strong.
* Gluing these new connections makes the lantern last longer. However, it is not necessary.
* Tie string from at least two of the opposing corners of the top frame to hang your lantern.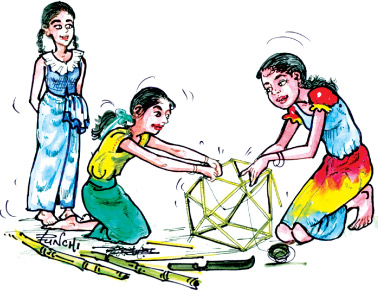 * Cover the framework. This adds strength but you will have to judge how well you have tied the corners. Make cutouts in some places to make it beautiful. Remember we are playing with light. Use your imagination to get the best look. Using cellophane will add a wonderful effect to your lantern.
Before pasting materials, think how you want your lantern to be. Whatever you use, if it needs painting or cutting, do it before you paste. Always remember not to cover the top. You may end with a ball of fire if you do. For a moment, the sight will look spectacular but who will want that to happen...?
* Hang strips of tissue paper, tinsel from projecting corners to decorate. Sprinkle on some colourful glitter. If your lantern has some strength, you can also try hanging smaller lanterns from corners.
* Put in your candle. This is usually best in the middle of the base as this minimises the risk of catching fire. Others hang their lanterns on a lightbulb which can be a bit safer
* Hang your lantern in a suitable place and light it at night. When you are hanging the lantern, be cautious about the surroundings. Unfortunately, if your lantern catches fire, make sure there is no chance of spreading it. Windy places can increase the probability of your lantern burning.
* Finally yet importantly, enjoy. You made it all by yourself.Boasting a little will not do any harm.