Tap your toes to Tapas!
The sensational and sensual chef in cuisine, Chef Ivan Tarrago Sole has brought the wonderful delights of the tapas straight to our doorstep! Serving his signature tapas creations in every design imaginable with fresh ingredients, the Spaniard can be seen busy at work in the 7ºNorth kitchen at Cinnamon Lakeside. Born and bred in Almatret, a small village on the outskirts of Barcelona, Ivan hails from a family of chefs. After completing his secondary education, he went on to study at the Escuela de Hosteleria y Turismo (School of Hospitality and Tourism) in Lleida, where he carved his cooking skills. Later on, in 2002, he followed a Dietetic and Nutrition Course at the University of Lleida, U. D. L.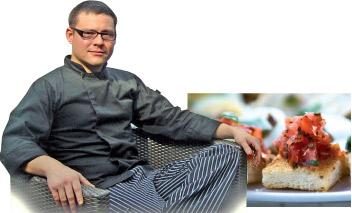 Ivan's promising career has evolved over the years with reputed experience as a Chef de Partie, Sous Chef and Executive Chef while also taking charge as Manager at fabulous restaurants in Spain, Mexico and London. His specialties include fine dining, fusion, gourmet fast food and tapas. Among the many feathers in his hat, he worked at Rincon de Diego, a fine dining restaurant in Cambrils which was awarded one Michelin star; at the L'Albufera restaurant of the 5-star Hotel White House Melia in London, which was named the best Spanish restaurant outside Spain in 2004; and organising the young chefs' summit, 'Jornadas Gastronomicas Cocina de Autor Mercado' in 2006 and 2007.
We were treated to a delightful tapas platter with fresh bread topped with fresh tomato and mixed leaves along with a special sauce conoction over a bed of lettuce. Chef Sole delicately designed an original tapas dish to encompass the different regional flavours and leaves with a generous serving of gazpacho (chilled Spanish soup) to soothe the soul. "Cooking is an art in the history of humanity - that people need food is a basic fact of life" he said. Today, Ivan has joined the enthusiastic team at the popular hangout and restaurant, 7ºNorth whipping up the typical tapas dish into a mind-blowing menu. So tap your toes to tapas!
---
Want to dance?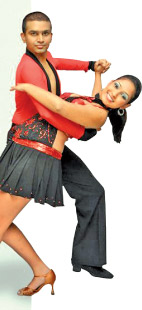 Sway your hips, swivel your body and groove to the beat of the rocking beats! Charitha de Silva is one of Sri Lanka's coolest and energetic dancers who can not only make your toes tap but can also train you with the best way to gyrate and twist.
Today, he has formed his own dance troupe called 'Sway' which has many dancers involved in freestyle, hip hop, Latin and ballroom dancing.
The Sway Dance Troupe is exploring the possibilities of expanding the scope for dancing among the young talented youth and they can earn extra pocket money too! All girls and boys who are keen to join will be given special training and they should be willing to learn.
Charitha will also help those who love to dance but too scared, to overcome stage fright. All keen and interested youth in the age category of 16 to 25 can apply to be part of the best dance experience by submitting a CV describing and highlighting their talents in the dancing arena.
E-mail swaydancers@gmail.com by May 30 if you want to be part of the toe-tapping experience!