Towards cleaner cities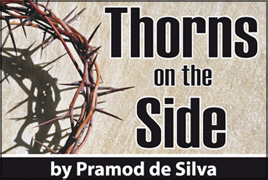 The recent eviction of pavement hawkers from Colombo (The Pettah especially) and other major cities in the country has become a controversial topic. One needs to look at this issue dispassionately before jumping to conclusions one way or the other.
Take one example, pedestrians could hardly walk on the pavements or sidewalks in the Pettah as all the pavements had been virtually 'invaded' by hawkers who sold everything from pins to toys to clothes of questionable quality at dirt cheap rates.
The pedestrians had two choices - somehow squeeze their way through the maze of hawker stalls in great discomfort or literally take to the road.
The latter option was very dangerous, especially for children and the elderly as buses and other traffic flowed at breakneck speeds. But many people were compelled to walk on the road endangering their precious lives simply because there was no room for them on the sidewalks.
Another major problem was that the pavement stalls blocked access to the legitimate shops operating in the Pettah and indeed in other cities.
Some shops could not even be seen, having been 'covered' by the pavement stalls. This led to massive losses for the shops, which generally sell higher quality goods sourced from reputed suppliers albeit at higher prices.
It goes without saying that the pavement stalls everywhere are unauthorised constructions. They do not have any type of permission from any recognised authority.
As the recent floods demonstrated, semi-permanent unauthorised structures could lead to various problems. It is well known that pavement hawkers dispose of their garbage right on to the streets, often blocking drainage vents. The authorities were thus right in their decision to remove pavement stalls in this respect alone.
There is another factor which is not often mentioned. Pavement hawkers have been known to provide refuge to, and operate in connivance with, certain criminal elements.
There are many smuggled items on the pavement hawkers' inventory as well. They have also become a conduit for underhand deals from dangerous drugs to pornographic DVDs and magazines. The authorities seem to have taken this factor and the security aspect also into consideration.
Pavement hawkers are also a major source of noise pollution, as many of them use megaphones to attract customers. Their collective din can sometimes be unbearable. The streets are definitely quieter sans the pavement traders.
Above all, pavement stalls are an eyesore. Colombo can never aspire to become a major Asian commercial hub if they proliferate. Take any major European, North American or indeed even a South East Asian city and you will instantly notice one thing - there are no pavement stalls at all.
There are designated car free pedestrian zones and weekly fairs (Pola in local parlance) where sidewalk sellers including food vendors can operate in these countries, but they are definitely not permitted to sell their wares anywhere they please.
Major city centres/central business districts are strictly off limits to them. Thus the gradual removal of pavement hawkers can be described as a progressive step in Sri Lanka's march to join the front ranking nations of Asia.
One has to look at the other side too in a case such as this and look for solutions to any problems. Pavement hawkers sell a variety of items at very affordable prices and especially for those whose wallets do not stretch far, they are a godsend.
There are many people who do not or cannot patronise shops and who regularly patronise pavement stalls for day to day items.
Thousands of people depend on the pavement industry for their livelihood, from traders to suppliers. It is important that they are channelled to alternative, legal means of livelihood so that they do not turn to crime and other nefarious activity.
Alternative trading places are being arranged for the evicted pavement hawkers. This is a step in the right direction. Colombo's new World Market is one such example, though one nagging problem is that most of the traders there maintained a presence in the streets as well.
That should not be allowed. Once they are moved to another location meant specifically for street vendors, they should not be allowed to set up stalls on the roadsides. In other words, they become owners of real shops, not pavement stalls.
Sri Lanka has a lot of traditional polas (village fairs) where vendors can freely sell their wares. This concept could be extended on a permanent basis to designated pedestrian zones in Colombo and other cities.
The Galle Face Green is one such example where food vendors are permitted to operate freely. There could be separate food streets as well, as seen in countries such as Singapore. This well help attract tourists as well.
The authorities should also consider a mechanism for seasonal pavement vendors, who put up stalls only during events such as Vesak, Sinhala and Tamil New Year and Christmas.
They cannot be considered as long-term vendors in any case. The same goes for mobile sellers who push their goods-laden carts in busy streets.
The authorities should have a system to register these individuals too and if possible, grant them permanent places. Trading in buses and trains has already been banned and many have hailed this step.
The authorities should ensure that the evicted pavement vendors do not return to their old haunts. That will negate the effectiveness of the entire program. No one should interfere in this process - we have seen how previous attempts at cleaning up the pavements ended in failure due to undue political pressure.
Independent and impartial officers should be appointed to track the progress of vendors who are being provided with alternative trading places. The police should also be involved in this task, lest criminal elements take advantage of the situation. It will take a couple of years at least for the program to bear fruit.
The ultimate aim should be a win-win situation for all - pavement vendors, consumers and the authorities. If Colombo becomes a 'clean' city at the end of the day, everybody would have won.